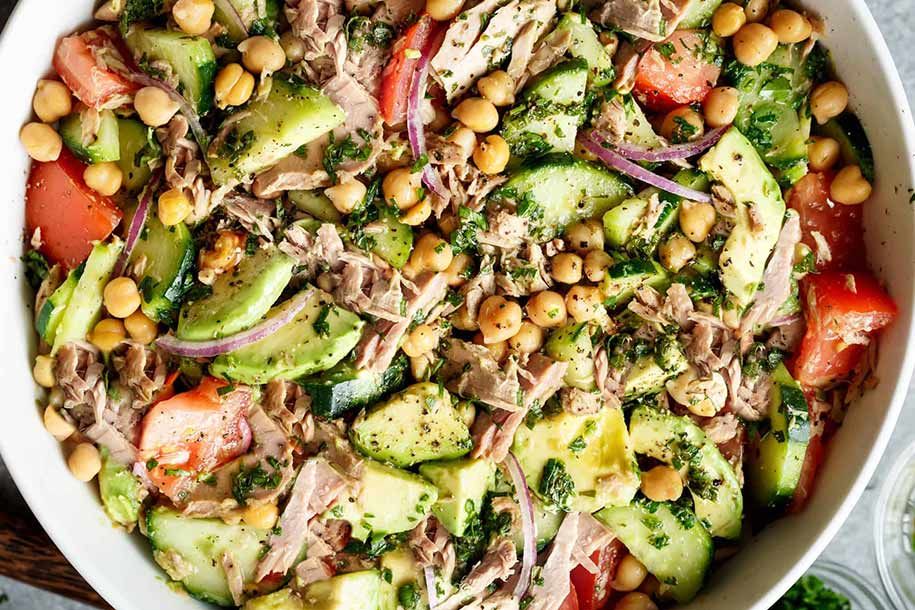 A chopped tuna salad is one of the tastiest, easiest, and most delicious lunches… always has been, always will be. This Rainbow Tuna Salad is a work-friendly favourite.
RAINBOW TUNA SALAD
Dairy-free / Pescatarian
Serves 4
INGREDIENTS
425g can tuna in olive oil
400g can chickpeas, drained and rinsed
2 large avocados, diced
2 large tomatoes, cut into wedges
1 large cucumber, halved and sliced
½ of red onion sliced thinly
Dressing:
¼ cup olive oil
2 tbsp lemon juice
1 tbsp fresh parsley, roughly chopped, plus extra for garnish
1 tsp crushed garlic
Salt and pepper, to taste
METHOD
Combine dressing ingredients in a jar and shake to combine. Keep stored in fridge for up to 3 days, if pre-preparing.
Mix salad ingredients together in a bowl. Toss with dressing, garnish with parsley, then serve.
WANT MORE? CHECK OUT OUR RECIPES SECTION AND OUR BOOKS FOR MORE NUTRITIOUS TASTY MEALS.