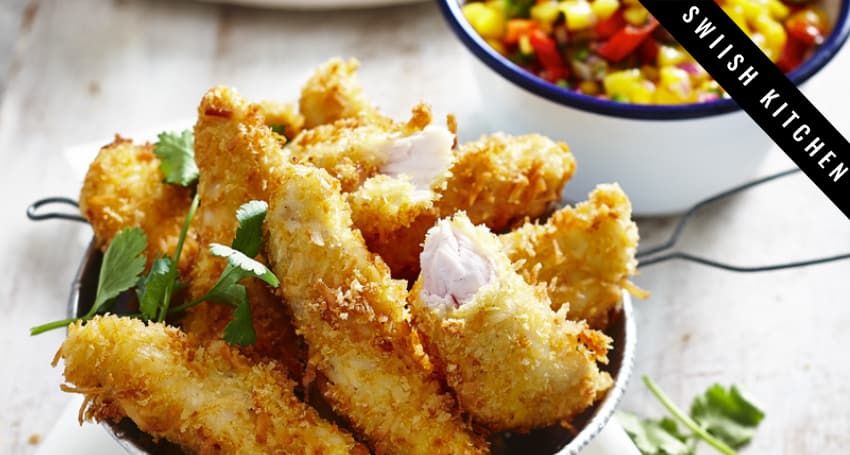 When we think of summer party food, we think of easy, tasty finger food filled with tropical flavours like mango, coconut and lime.  And if it's light on calories and leaves you feeling healthy and lean, all the better!   
This is exactly what we had in mind when we created our signature summer dish – Crispy Coconut Chicken & Mango Salsa.  While we love making this one all year round, the fresh flavours and easy serving style make it a massive hit at summer celebrations.    
With juicy chicken, a crispy coconut crust and a spicy mango salsa, this dish has the perfect mix of textures and flavours.  Even if we're not entertaining, we love making it for dinner any day of the week.  Especially since you can have it on the table in less than 20 minutes!  
On top of being super tasty, our Crispy Coconut Chicken is also dairy-free, nut-free, sugar-free and LEAN.   Finally, you can have your crispy chicken and eat it too…Ha ha!
If you're in need of a quick, easy crowd-pleaser this season, we definitely recommend you give this dish a try.  And if you like it, you'll find heeeeeaps more lean, healthy, delicious, quick and easy recipes in our cookbook, THE GOOD LIFE, which you can pick up now from our online store right here.