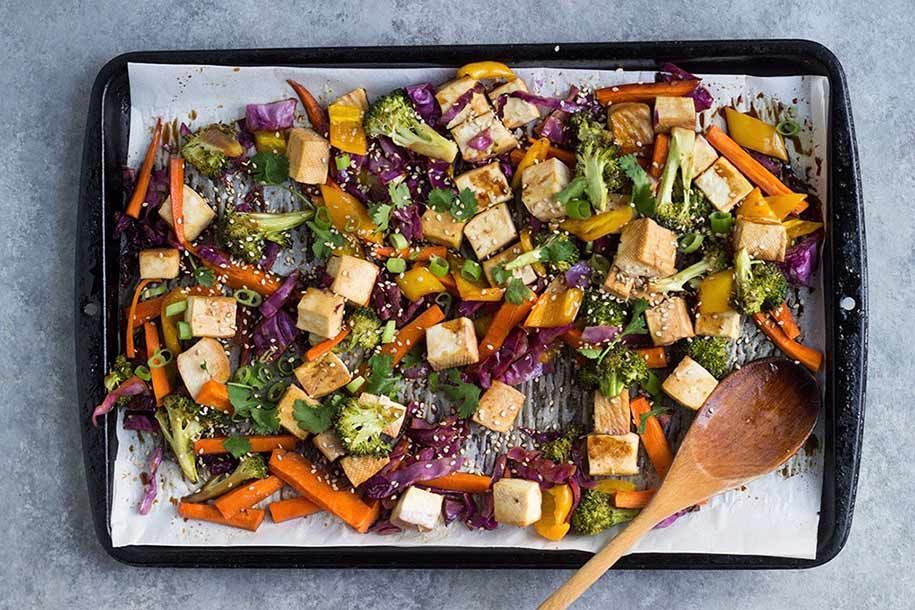 Not a fan of tofu? We guarantee this dish will convert you! So easy, it practically cooks itself. We are obsessed with this One-tray Teriyaki Tofu.
ONE-TRAY TERIYAKI TOFU
Vegetarian / Dairy-free
Serves 2
INGREDIENTS
450g extra firm tofu
1 small head broccoli, roughly chopped
1 yellow capsicum, chopped
2 carrots, peeled and sliced
1 ½ cups red cabbage, thinly sliced
2 tbsp olive oil
½ cup teriyaki sauce
¼ cup shallots, chopped
1 tbsp sesame seeds, to top
¼ cup coriander
METHOD
Preheat oven to 190ºC. Line a baking tray with baking paper.
Cut tofu into cubes and spread evenly on the tray.
Add broccoli, capsicum, carrot, and cabbage to the tray and spread them in a single layer. Drizzle with olive oil.
Bake for 30 minutes.
Add teriyaki sauce evenly over the mix and bake for another 10 minutes.
Sprinkle with shallots, sesame seeds, and coriander to serve.
WANT MORE? CHECK OUT OUR RECIPES SECTION AND OUR BOOKS FOR MORE NUTRITIOUS TASTY MEALS.