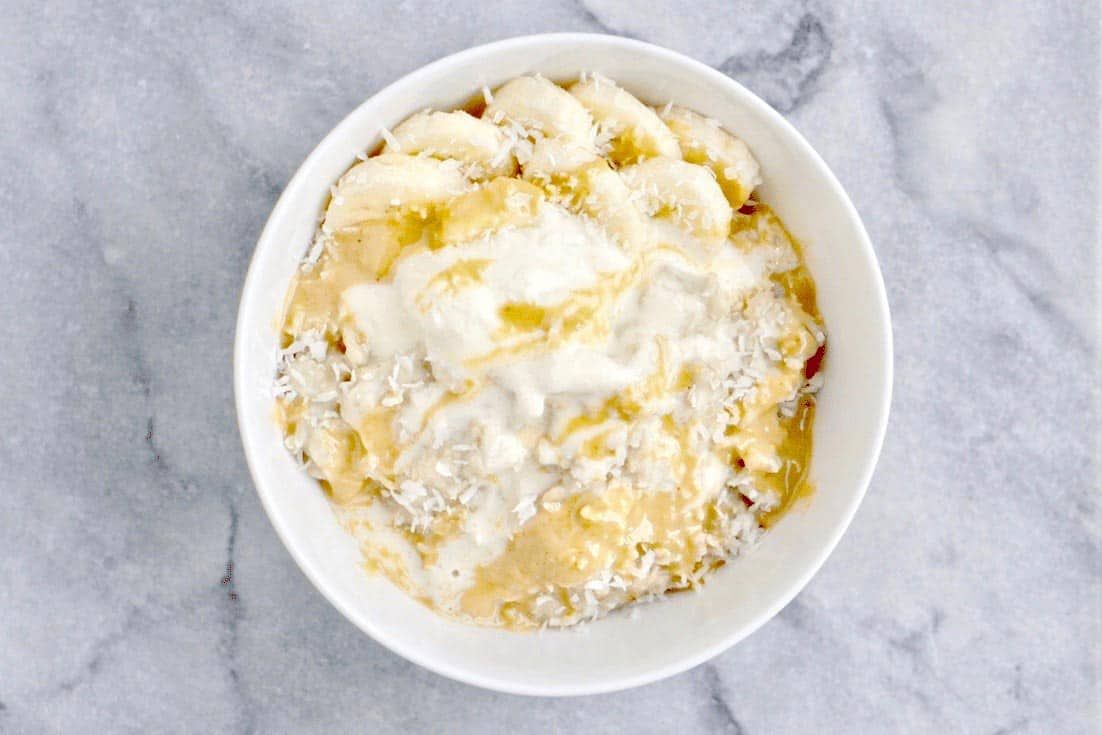 Some days, Creamy Cashew Oats are exactly the warming brekkie your body needs. The best part is that you can even pre-prepare them the night before for a brekkie-to-go situation.
CREAMY CASHEW OATS
Dairy-free / Refined Sugar-free
Serves 1
INGREDIENTS
1 cup milk – we love using almond milk
½ cup oats
2 tbsp shredded coconut
1 tbsp cashew butter
2 tbsp coconut yogurt
½ banana, mashed
½ banana, sliced
METHOD
Heat milk in a small pot on the stovetop and bring to the boil.
Once the milk is boiling, add the oats and stir, then reduce the heat to low.
Simmer the oats for 5 minutes, or until most of the liquid has been absorbed.
During the final minute add in 1 tbsp coconut, 1 tbsp cashew butter, 1 tbsp coconut yogurt, and mashed banana. Stir well to combine.
Pour the oatmeal into a bowl and top with sliced banana, as well as the remaining coconut, cashew butter, and coconut yogurt.
Want an overnight option?
To turn this brekkie into delicious overnight oats, all you have to do is add the ingredients (except the mashed banana and toppings) into a bowl or mason jar and stir to combine. Then just leave it in the fridge overnight and add the toppings in the morning. So easy!
WANT MORE? CHECK OUT OUR RECIPES SECTION AND OUR BOOKS FOR MORE NUTRITIOUS TASTY MEALS.