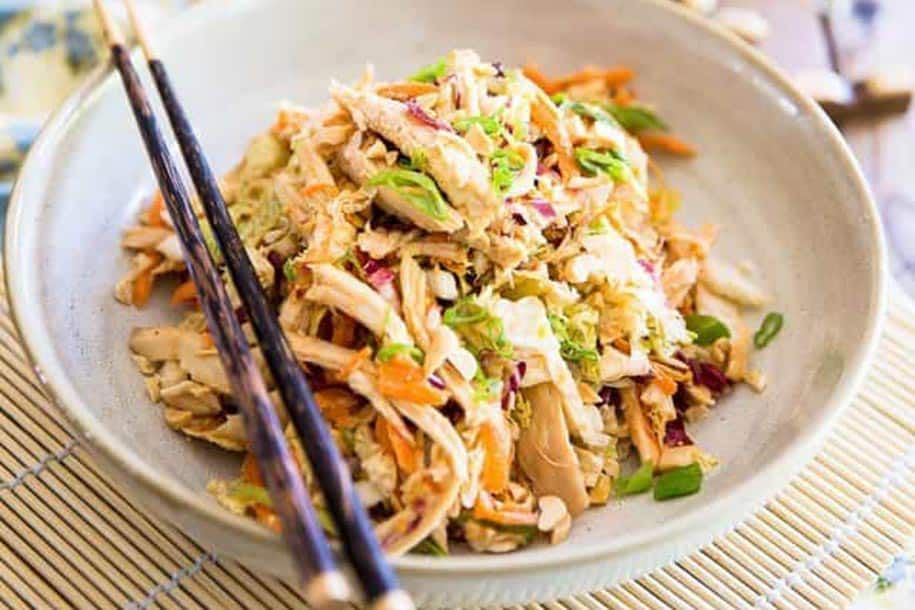 This Asian-Inspired Chicken Salad has it all: a bit of crunch, a bit of sweet, and a LOT of goodness. Who knew eating healthy could taste this good? We've been making this work-friendly salad every week.
ASIAN-INSPIRED CHICKEN SALAD
Dairy-free
Serves 2
INGREDIENTS
3 cups shredded chicken – we love using the Primo Pulled Chicken available at your local supermarket
4 cups red cabbage, thinly sliced
1 cup radicchio, thinly sliced
2 carrots, peeled and grated
2 shallots, thinly sliced
¼ cup peanuts, roughly chopped
Dressing:
¼ cup olive oil
¼ cup rice vinegar
1 ½ tbsp maple syrup
3 tbsp sesame oil
2 tsp soy sauce
1 tsp minced garlic
Pinch of salt
METHOD
In a large bowl, combine the chicken, cabbage, radicchio, carrots, shallots, and peanuts.
Add dressing ingredients to a mason jar. Seal and shake to combine. We recommend making this the night before and storing it in the fridge overnight.
Pour dressing over the salad and toss well. We suggest using your hands to gently massage it into the ingredients.
Serve immediately.
SWIISH Tip: If you want to prep this salad the night before, just keep the chicken and dressing separate and add them all together when you're ready to serve.
WANT MORE? CHECK OUT OUR RECIPES SECTION AND OUR BOOKS FOR MORE NUTRITIOUS TASTY MEALS.