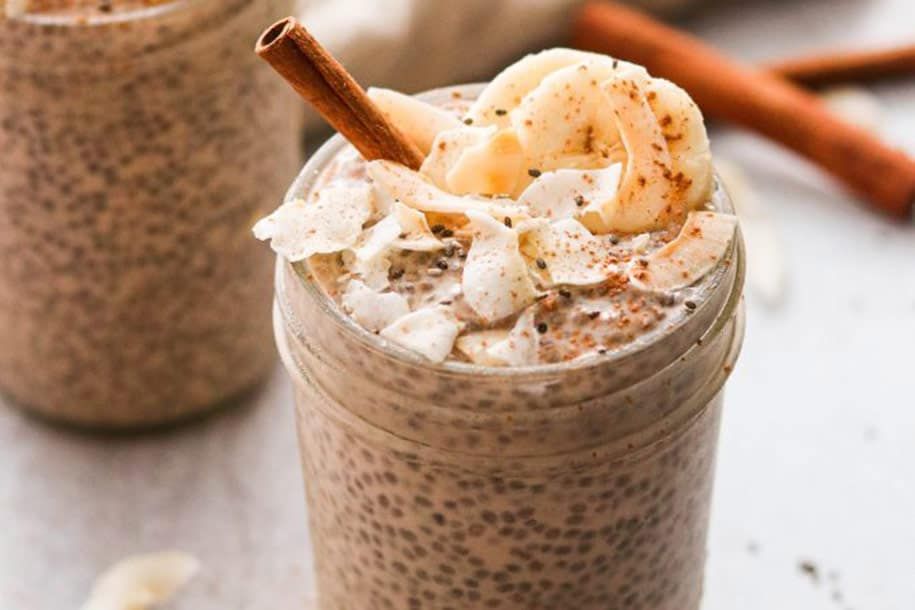 This Chai-Spiced Chia Pudding is a tasty twist on the classic chia pudding. Loaded with an infusion of flavour, this recipe is sweet, spicy, and all kinds of delicious.
CHAI-SPICED CHIA PUDDING
Dairy-free / Refined Sugar-free / Gluten-free
Serves 1
INGREDIENTS
¾ cup milk – we love using coconut milk!
3 Medjool dates, pitted
½ tsp ground cinnamon
¼ teaspoon ground ginger
1 tsp vanilla extract
2 tbsp chia seeds
METHOD
Add all ingredients except the chia seeds to a blender. Blend until combined.
Pour mixture into a mason jar or bowl, add chia seeds and mix until fully combined.
Cover and store in the fridge overnight. Top as desired, we used coconut flakes, banana, cinnamon, and some extra chia seeds.
WANT MORE? CHECK OUT OUR RECIPES SECTION AND OUR BOOKS FOR MORE NUTRITIOUS TASTY MEALS.