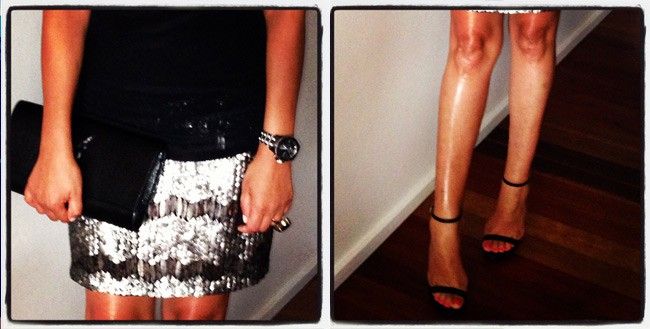 Xmas drinks are the perfect excuse to get a bit dressed up! We had the Channel 7 Xmas drinks last night – this is one of my absolute favourite party nights of the year. It's such a great chance to catch up with colleagues you don't always get to see.
I'm wearing an embellished silver skirt (working the heavy metal trend) and I've kept everything else simple so the skirt is the standout feature.
I've teamed it with a silk Sportsgirl top (you'll see I have a few of these as I think they look smart, they're comfy and they'll last for ages). The top cost around $59, which is amazing value for 100% silk!
My shoes are my US bargain buy from Bakers Shoes but as I have mentioned before, they unfortunately don't post here, so try Tony Bianco, or Wanted or PeepToe.