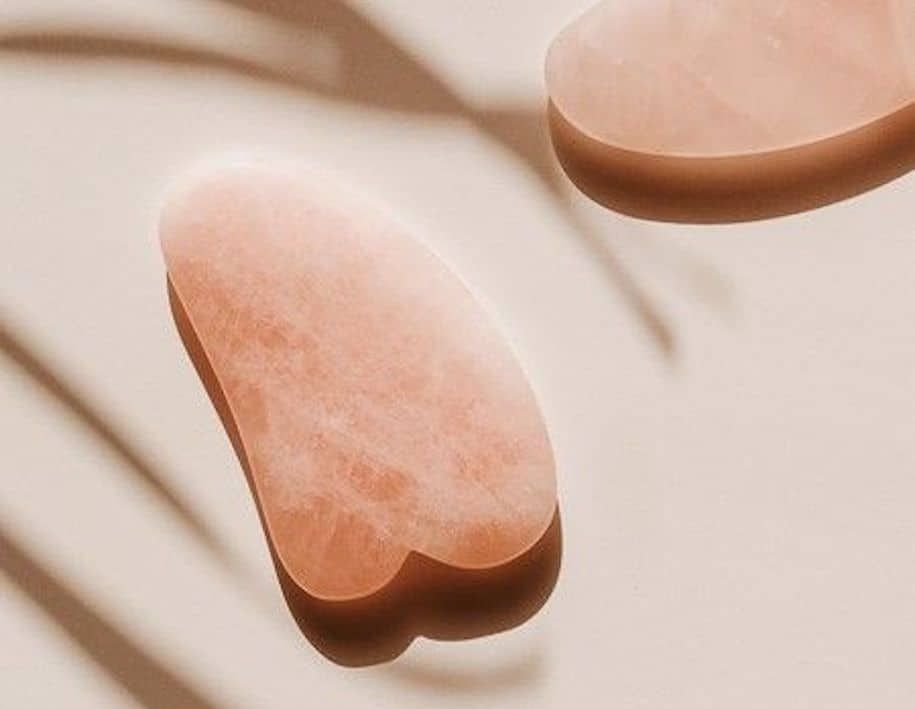 Taking the cake as the most uniquely shaped object we've seen is the beautiful and oh-so-easy to pronounce 'Gua Sha'. Now to the next obvious question… what the heck is it?
As old as time itself… well, at least older than acupuncture, a gua sha is heart-like in shape, providing your skin and fascia (the covering of your connective tissue) with a whole lot of lovin'. This tool combines massage with crystal therapy for the ultimate beauty duo. What does it do?
REDUCES MUSCLE TENSION
In areas of your body that hold tension (such as your jaw and neck), a gua sha promotes blood flow to the area helping to break up the tight fascia. The unique shape allows the gua sha to work in even the trickiest areas of your body.

INCREASES CIRCULATION
When you move the gua sha up and down your skin, the strokes stimulate microcirculation improving blood flow to the soft tissue. In traditional gua sha massages, light bruising can often occur as a natural result, however, this shouldn't occur when using it yourself unless you've pressed a little too hard!
SUPPORTS LYMPHATIC DRAINAGE
Lymphatic drainage is a term that has been thrown around a lot lately and there is a bit of confusion about what it actually means. Your lymphatic system is a network of tissues and organs that support your body's immunity, and a gua sha helps eliminate toxins and waste products that build up in the lymph fluid… (who doesn't want to get rid of that?!!).
MINIMISES BREAKOUTS
When used in the facial region, a gua sha works in the dermis and epidermis to improve detoxification and blood flow. This has shown to reduce chronic blackheads and acne spots, and even support surface level exfoliation of the skin.

ENCOURAGES COLLAGEN PRODUCTION
When trying to maintain a youthful and radiant complexion, too much collagen is never enough. The gua sha is able to improve collagen and elastin by increasing blood flow to the skin. This helps firm and smooth skin, minimise fine lines, and enhance your natural glow.

RELIEVES SINUS & HEADACHES
The gua sha helps prevent and relieve tension headaches when used in a downward motion from your hairline to your shoulders. This relieves the build-up of pressure in the area, helping to minimise any associated pain. Similarly in your sinuses, when moved in an outward motion from your nose to your cheekbones, a gua sha helps reduce the inflammation and mucous buildup in that area.
HOW DO YOU USE IT?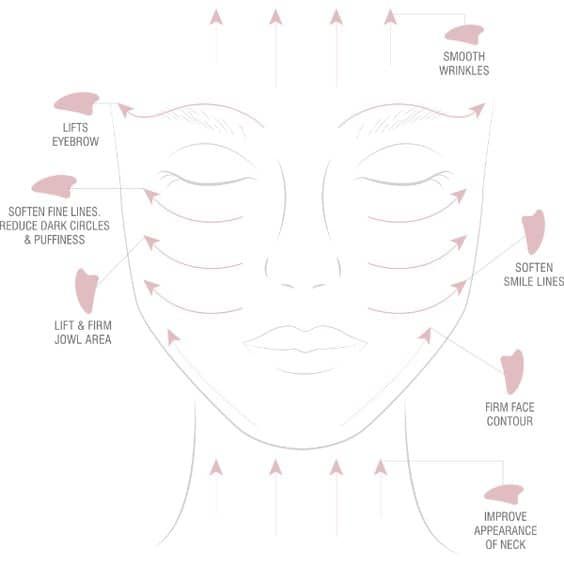 Although it does depend on which area of the body you're trying to target (because a gua sha can work *literally* everywhere), just press it in a firm but gentle motion so that it pulls slowly against the skin.
It is often recommended that you use a serum underneath the face, neck, and décolletage for best beauty results. To learn some of the easy strokes for your facial region, check out this gua sha video:
To use your gua sha over different points in the body, it is always advised that you start and finish at the base of the neck, as this is the major area for lymphatic drainage. Here is another one of our favourite videos to show you how to use a gua sha over your body:
Haven't got your hands on a gua sha yet? We've got you covered below. Looking for more ways to use your gua sha? Check out the ultimate facial workout that will have you glowing in no time.