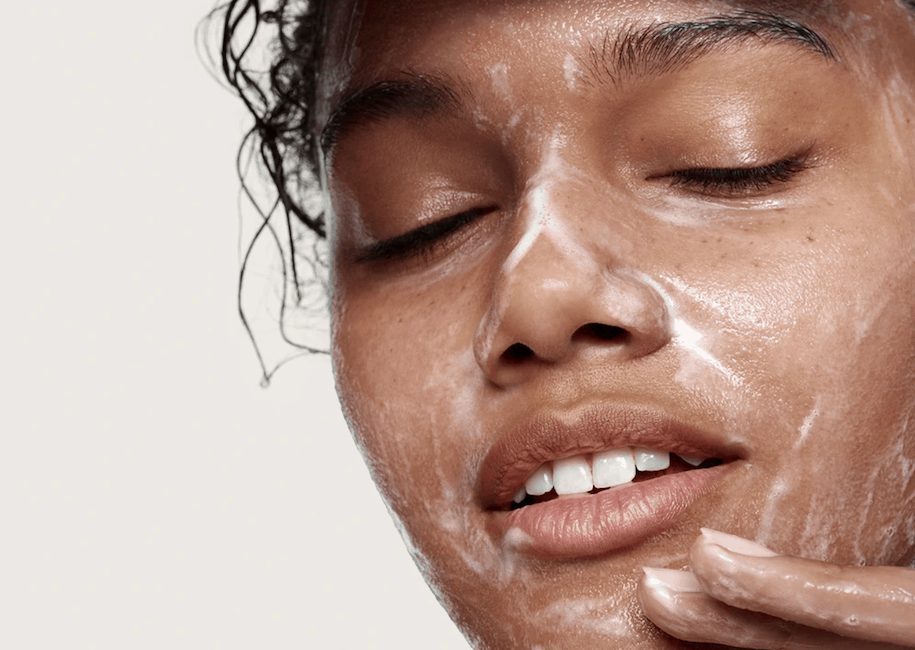 Sure, you've tried out a few workouts in your time… but have you ever tried a facial workout? This celebrity-approved beauty trend claims to help reduce fine lines and wrinkles, plump up skin, and have you looking 10 years younger. So, what are you waiting for?!
WHAT IS A FACIAL WORKOUT?
As the name suggests, this routine gives your face a good workout – morning and night. Your beauty tools will be doing the heavy lifting:
A high quality serum or oil: Our clean beauty SUPERFOOD Face Oil is Sally's favourite.

Face roller: This Rose Quartz Face Roller does the job.

Gua sha: Grab this contour essential here.

THE BENEFITS:
Boosted circulation – Just like with a regular gym workout, that healthy rosy flush is the result of increased blood flow.
Increased collagen production – The massaging action helps stimulate natural collagen production, which helps reduce signs of ageing and gives major glow.
Decreased skin puffiness – The perfect de-puff first thing in the morning.
Improved contour – Helps lift, smooth and firm.

AM WORKOUT: Face Roller
1: Keep your face roller in the fridge overnight for a cooling sensation with extra de-puffing action.
2: Apply your oil or serum to a clean face.
3: Using medium pressure, roll from the centre of your face, outwards and upwards.
4: Use the smaller end of the roller in areas that are more delicate, such as under the eyes.
5: Continue to work in an outwards motion. Use the diagram below as a guide so you cover off all the key areas – just like targeting different muscle groups at the gym!
6: Rinse the roller with warm, soapy water, dry off, and pop back in the fridge for the next morning. Now your face is prepped for makeup.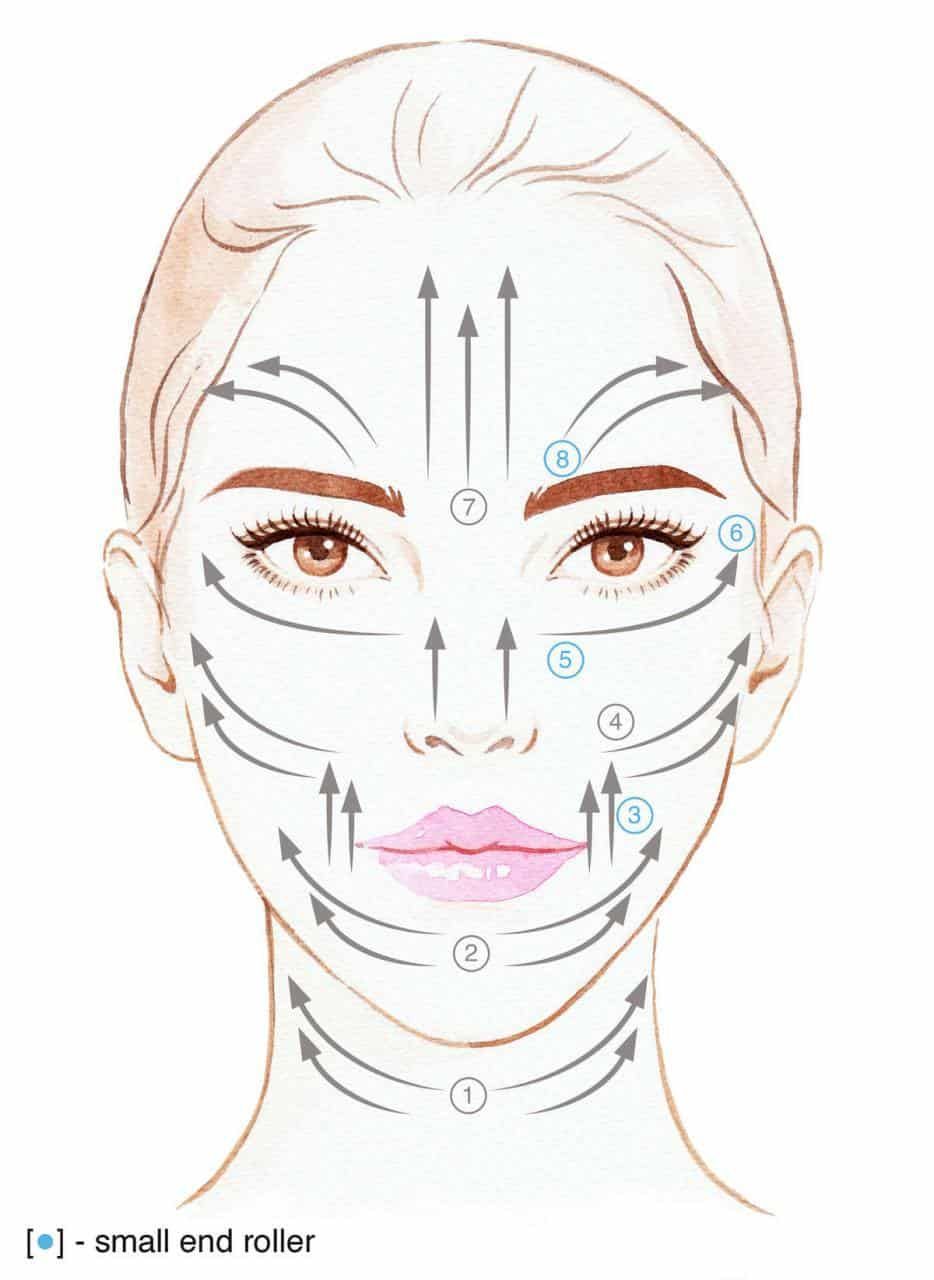 PM WORKOUT: Gua Sha
1: Cleanse your face to remove all makeup and excess dirt from the day.
2: Apply your evening oil or serum of choice.
3: Using the diagram below, apply light pressure when sliding the gua sha along your face. Ensure you hold it pretty much at a flat angle to your face as you drag it.
4: Rinse your gua sha with warm, soapy water, dry it, and store it at room temperature as normal. This easy sequence is a nice relaxing wind-down routine before bed.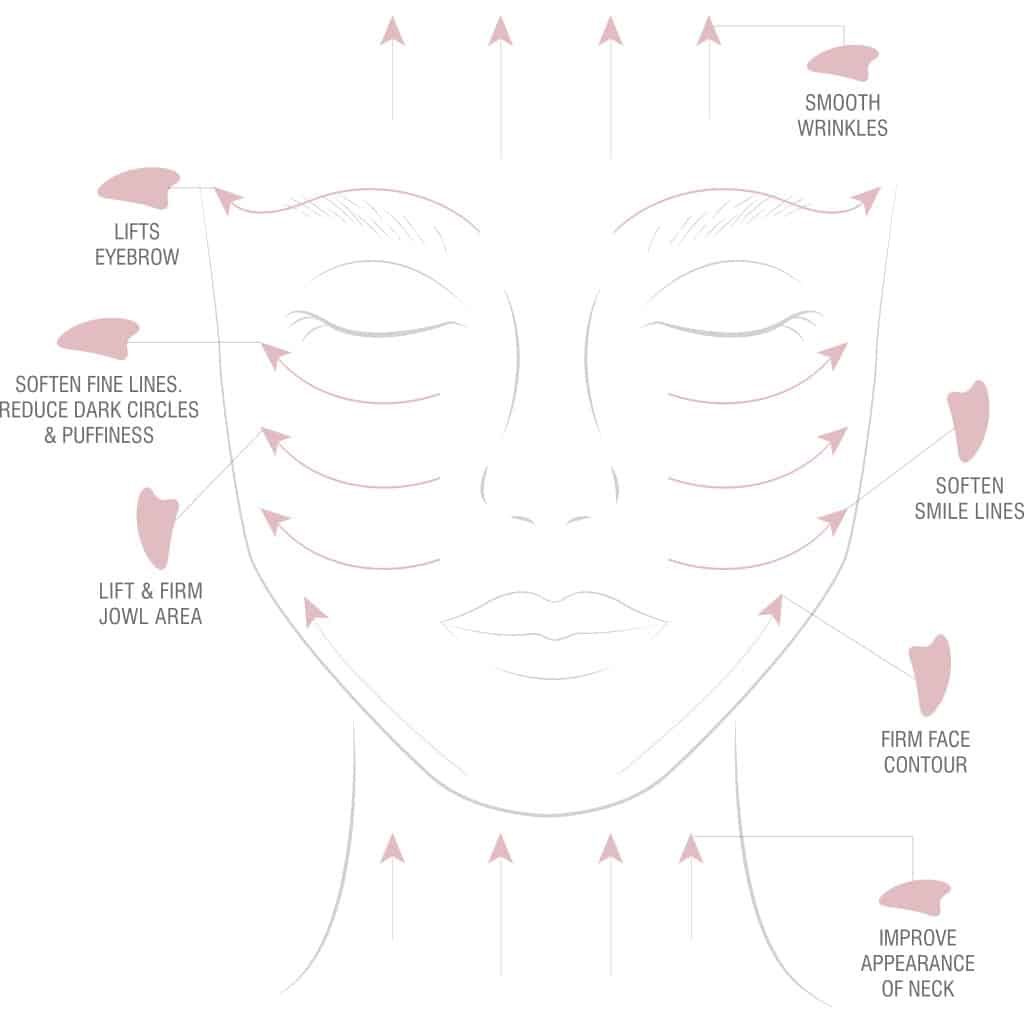 Watch Sally's Gua Sha tutorial below…