Make frozen yoghurt from only fruit? 'Yeah right' I thought.  Surely you have to add cream? No. Surely you have to add milk? No. Fine, but you'll definitely have to add sugar. Yet another no!
Truthfully I didn't really believe it. My friend Kathy Sheeran who is also a shopping addict (that's a compliment) said that the Yonanas changed her life. Hmmm…Like I said I was skeptical, but figured I should test it for myself. So I called up the good people at Yonanas and asked them to send me one to try out.
Before I get into the details, i just want to say that I have since bought my mum one for Mothers Day. I bought one for Marcus' mum for Mothers Day. I bought one for my girlfriend as a housewarming gift. I bought one for my sister for no reason other than I am obsessed with the Yonanas.
Here's why – I love ice cream, but I know I can't eat it every day. Not good for me on the inside or outside. Frozen yoghurt is the next best thing and although it's not as bad for you, it still has sugar and it's not exactly fat-free. It's a treat, but not a daily treat.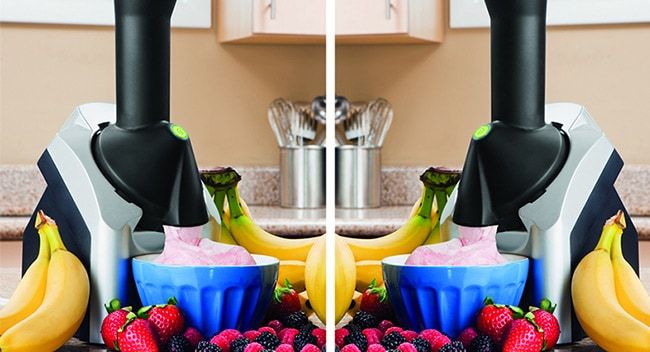 Anyway back to why this machine is the best thing ever. In one sentence – it makes sweet, delicious frozen yoghurt from just fruit. I know it doesn't sound like it would taste any good, but trust me it is INCREDIBLE. Your overripe bananas…you know when they go brown and you usually throw them away? Well don't. Freeze them and that's your base sorted. You can then add berries, cherries, coconut, chocolate, biscuits, mango, mint, pineapple basically anything ….. the options are endless. You can have it as healthy as you like (fruit only) or indulge and have a treat (add chocolate or coconut cream).
The other reason I like it is because usually when my fruit goes overripe I throw it out. Well now I don't. I freeze it and keep it to make frozen yoghurt. No wastage. If you're on a budget you'll also love this because it's the cheapest frozen yoghurt you'll ever get.
Where can you buy it: At David Jones, Myer, Target, Harvey Norman and Bing Lee amongst others.
If you get one, please share your recipe with me and our swiish readers.
I could share hundreds of recipes with you but I've cut it down to my favourite 3 (choosing only 3 was tough!).
Blackberry Vanilla Bean
I love this recipe as a dessert that feels a bit naughty but truly isn't plus it'll wow the pants off any guests you have… My friends thought I was a gourmet chef when I served this up.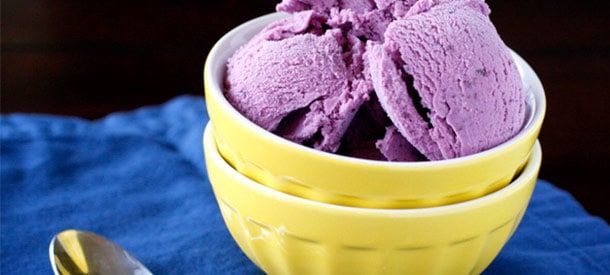 What you'll need:
2 frozen ripe bananas
2 vanilla beans
¾ cup frozen blackberries
¼ cup crushed pistachios (optional)
What to do: 
Split the vanilla bean lengthwise and scrape seed from bean
With a knife spread the vanilla seeds over one frozen banana
Insert one frozen banana into your Yonanas machine
Add ¾ cup frozen blackberries
Insert second frozen banana
Top with crushed pistachios (optional)
Serve and trust me, you'll ENJOY!!!
 Perfectly Peach
This recipe is perfect for those hot summer days plus Annabelle goes bananas for this one which makes me happy to know she's getting her fruit serving!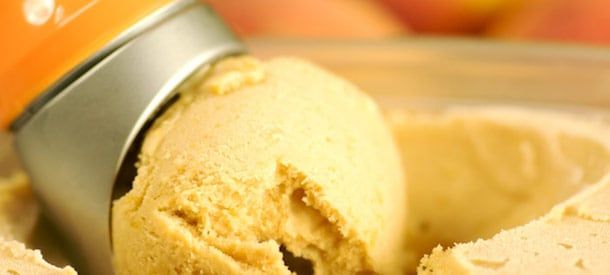 What you'll need: 
2 frozen ripe bananas
¾ cup frozen peaches
What to do: 
Insert one frozen banana
Add ¾ cup frozen peaches
Insert second frozen banana
Stir in bowl to combine
Serve and enjoy!
 Chai Spice Yonanas
I just luuurrrvvveee chai spice but know that chai lattes can add in sneaky calories when I don't need them so this recipe is perfect for when I want to indulge without actually indulging.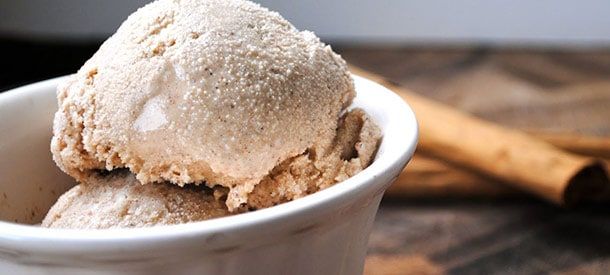 What you'll need: 
2 frozen ripe bananas
1 teaspoon garam masala (North Indian spice blend found in natural and specialty food stores – or make your own – Garam Masala may include a blend of cinnamon, ginger, cardamom, clove and nutmeg. Experiment though, you may discover a new recipe!)
What to do: 
Sprinkle garam masala spice over bananas
Insert frozen bananas
Stir in bowl to combine
Grab your favourite book and sneak off to the quietest part of the house to savour and enjoy!
*recipes courtesy of www.yonanas.com