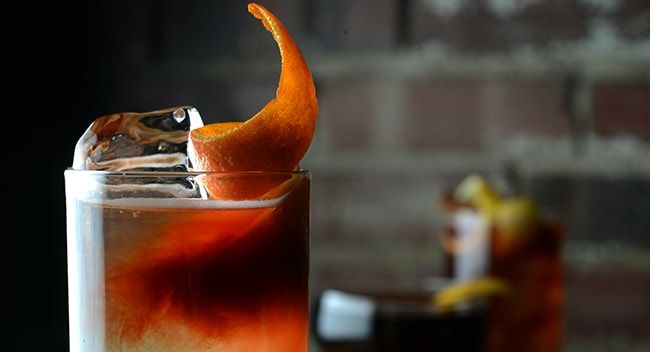 OK, we get it – winter makes you want to stay in your pajamas watching dvds, more than going out and partying with friends. We say – forget that. Don't let the cold stop you from entertaining in style, with a cocktail in hand. We reckon cocktail season isn't just for summer – it's year round. And these delicious concoctions will have your friends saying 'cheers' to the frosty months.
Malibu Coco Snowball

If you love coconut flavours, this will become your new signature cocktail. The recipe is perfect for a Friday night catch up with the girls. Now put those pajamas away!

What you'll need:

60mls Stolichnaya Vanilla
60mls Malibu Rum
60mls coconut cream
A drop of Blue Curacao
Shredded coconut
Honey

What to do:

Gently cover the rim of the glass with some honey and dip it into a pile of shredded coconut (to give it that snowball look). Shake all other ingredients well, before pouring into your decorated snowball martini glass. Enjoy!
Olive Rosemary Martini

Nothing says style like a martini. Yes, you might be channeling James Bond, but after a long day at work, this is one to ease you into the evening. Kick your heels off and turn up the Shirley Bassey.

What you'll need:

60mls Gin
2 x Teaspoons Dry Vermouth
1 x Rosemary Spring
Pitted Olives

What to do:

Mix your gin and dry vermouth with crushed ice and shake thoroughly. Then strain the mixture into a martini glass. Strip some leaves from your rosemary spring and skewer some pitted olives.
Frangelico Hot Chocolate

Mmmmm chocolate! This winter warmer is the perfect after dinner drink and can even do double duty as your dessert.

What you'll need:

1.5L (6 cups) of milk
375ml (1 1/2 cups) thickened cream
125ml (1/2 cup) Frangelico liqueur
200g good-quality dark chocolate, finely chopped

What to do:

Combine the milk and cream in a large saucepan over high heat. Bring just to the boil. Remove from heat. Stir in Frangelico. Divide the chocolate among serving glasses. Pour over the Frangelico mixture and serve immediately.
*Recipes courtesy of weddingsbythebreakers.com, marthastewart.com and taste.com.au