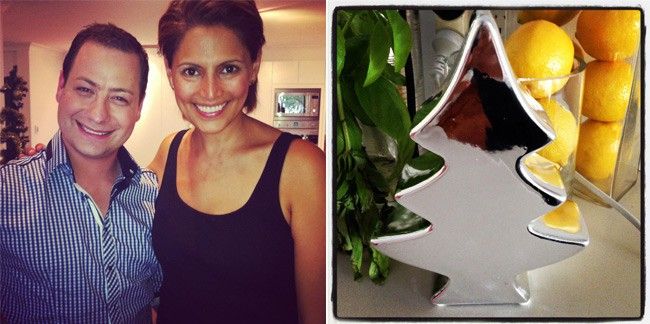 A few years ago, I came up with the idea of getting a psychic to come to the Xmas dinner I was hosting for some of my closest girlfriends. It was such a hit that we have done it every year since. This year, we had the talented and amazing Mitchell Coombes join us!
But first things first. I love decorating a table for a feast. And at Xmas, it's no different. This year I got a mix of table accessories from Coles, Ikea and Kmart. I also made some name place-cards – I just bought some cheap coasters from Kmart and painted over them with blackboard paint, writing guests' names on them with thick white chalk. The place-cards are very cute and it's a really inexpensive way to decorate, that always gets a fabulous reaction from guests! Try it out and let me know how you go!
Now – back to Mitchell, I can't reveal what he told each of us the future holds, but I will say that he was scarily accurate about what has gone on in our lives up until now. I am very excited by Mitchell's predictions for 2013 and beyond, so we will see what happens!
I will definitely be giving a bunch of Mitchell's book 'Sensing Psychic' to friends for Xmas. Make sure you check out his website for more information! We love you, Mitchell!