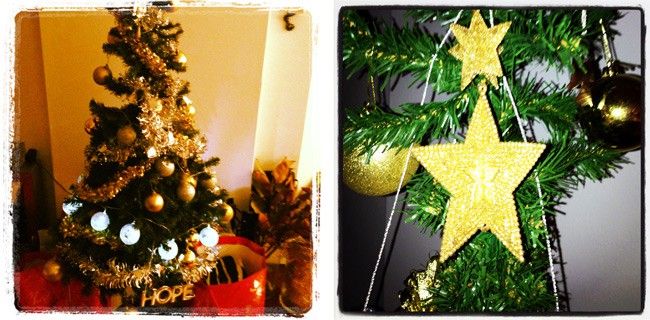 I love Xmas! I just love it! Everything about it – the carols, the tree, the gifts, the long lunches and yes, even that 'I ate so much I'll burst!' feeling.
I put our tree up a few days ago. This is the best tree I've ever had and coincidently it's also the cheapest tree I've ever bought.
Last year in the midst of my sickness I was still keen to have a tree, so I bought this one at The Reject Shop for $15, expecting it would fall apart after a few days, but quite surprisingly it didn't.
Best of all it's so easy to put up and pack away – why? Because all the stalks are attached. You just fold them out and fluff them up at Xmas and then fold them back down in January. Fantastic!
The decorations are all from Kmart and The Reject Shop and I don't think anything cost more than $5.
My tip – if like me, you're buying cheap decorations, there's only one way to stop them from looking cheap and that is to stick to a simple colour scheme. I've opted for gold and silver – expensive looking colours without the expensive price tag. Good news – more money for pressies!