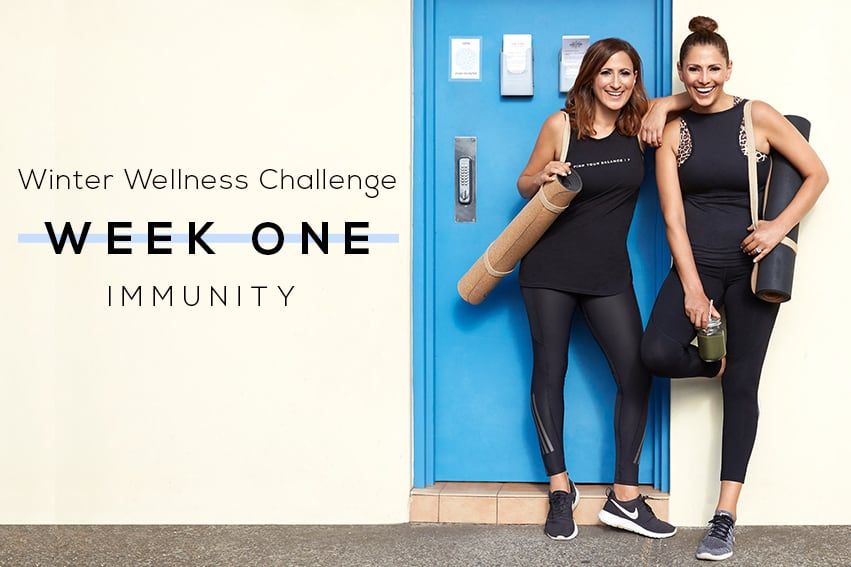 Welcome to week one of our Winter Wellness Challenge! We're so glad you're here and that you're joining us for the next four weeks as we hit the reset button on our wellness.
Do you love winter for its cosiness, endless slow-cooked meals, days curled up on the lounge reading your favourite book and warming up in the season's latest threads? Us too! But on the flip side – are you fighting off the flu? Struggling with a cold? Can't shake a cough? Or just generally not feeling fighting fit? We absolutely know that these conditions, whilst they're not life threatening, they ARE life interrupting. 
That's why we've decided to focus on immunity for week one of our Winter Wellness Challenge because it's the foundation of good health. When our immunity is compromised, we're more susceptible to getting the cold or flu, which is why it's so important to keep our immunity in tip-top shape. If you want to boost your immunity and avoid getting sick, we've got the tools to help you.
This week's Winter Wellness Challenge four tasks are all focused on boosting and maintaining good immunity.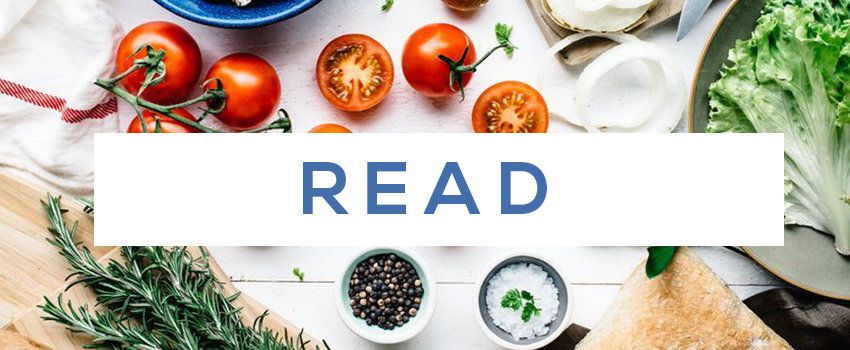 Follow these 10 steps to kick-start your healthy living journey. No gyms or drastic diets necessary.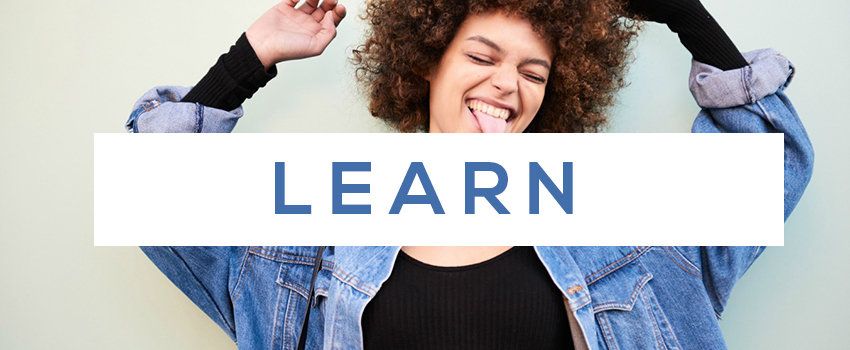 We bet you didn't know that this body part plays one of the biggest roles in your immunity. Find out what you should be doing everyday to boost your immunity here.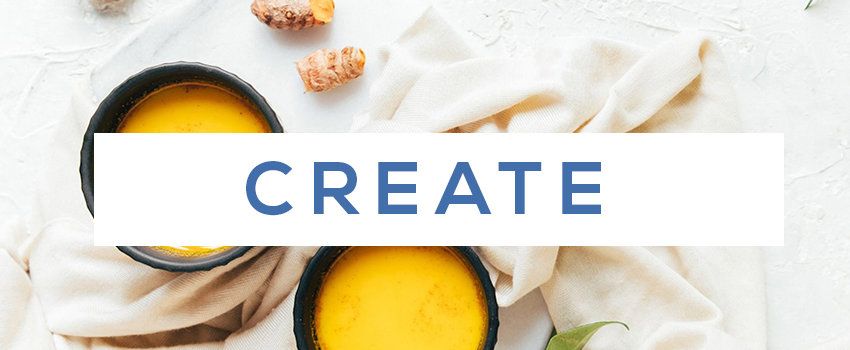 Want to take your winter wellness to the next level? These simple and delicious winter drinks will keep you fighting fit. Watch how Sally makes her favourite immunity booster drink here.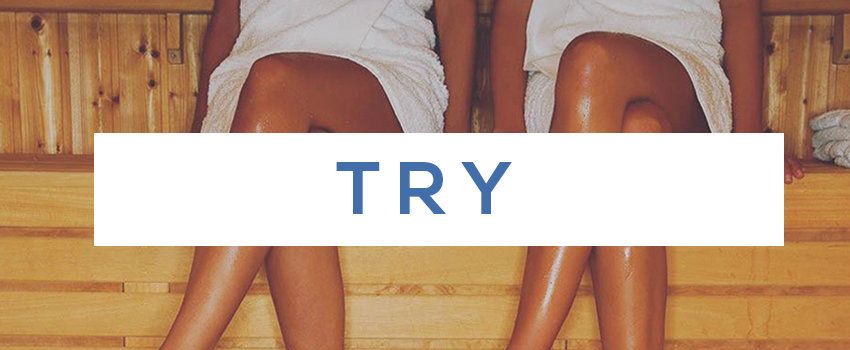 This week, we'd love for you to try an infrared sauna! Yep, we want you to sweat it out, and the best news is, you don't even need to do one minute of exercise. In comparison, we want you to relax and an infrared sauna will help you do just that. Infrared saunas are an excellent way to detox your body. Whilst traditional saunas heat only the air around you, infrared saunas penetrate deep within your body at a cellular level, which means that they can eliminate 20% of toxins from your body. Find out what happened when we tried an infrared sauna here. Plus, we've also rounded up our guide to infrared saunas in every state!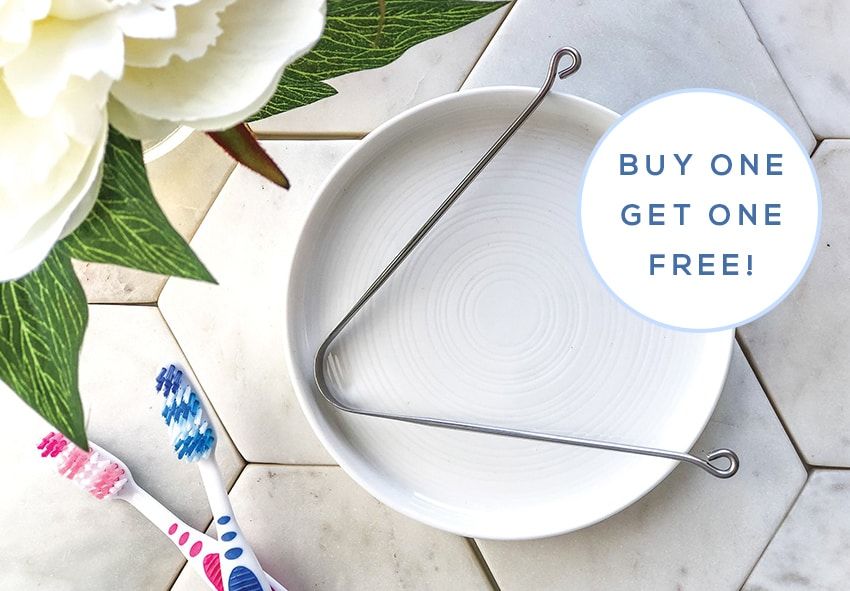 To help you kick start your way to better immunity, for this week only, you can get two of The Ultimate Refresher Tongue Scrapers for the price of one (save $19.95). Get yours here.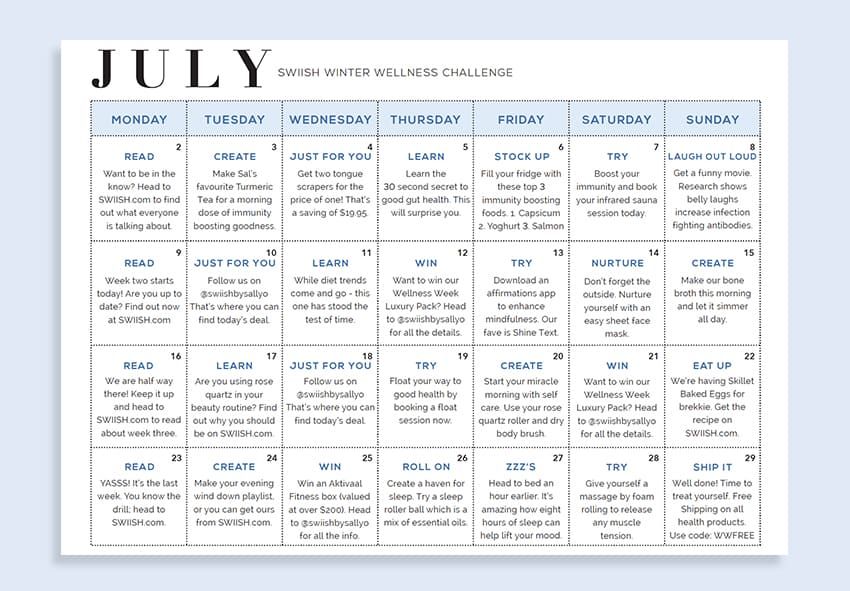 To make our Winter Wellness Challenge even easier for you to follow, we've created a calendar for you that highlights all the information you need over the next four weeks. As you can see, you can expect to find something for every day of the month. Don't worry though, these are all super simple tasks that can easily be slotted into your everyday routine. Click here to download your calendar. We would suggest printing it and keeping it on the fridge or on your desk so it's always nearby and ready to go! 
There you have it, four ways to better immunity! Thanks for joining us on our Winter Wellness Challenge and make sure you follow us on Instagram to get the latest in health and wellness! We'd love to hear how you're going with the challenge so feel free to touch base with us on social media or leave us a comment below. 
Love Sally and Maha and the SWIISH team xx