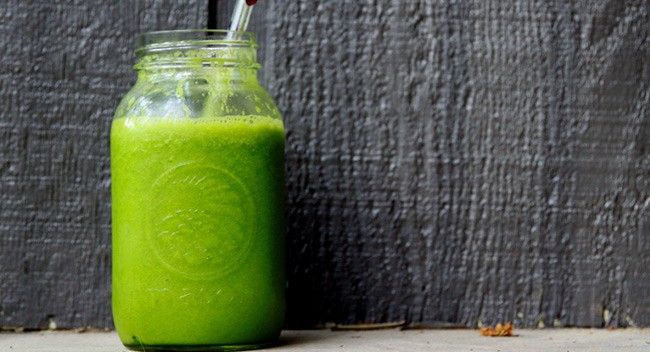 So I've got a new obsession and it's the best kind to have because it's good for me. I have, in short, fallen in love with my Vitamix.
What's a Vitamix, I hear you ask? Basically it's like your everyday blender only a gazillion times better! The Vitamix can make smoothies, soups, icecreams, blend, chop and so much more.
So if you're thinking of throwing out those too-soft apples, wilted spinach, limp celery and overripe pears because they're just too far gone, don't. Simply throw them in the Vitamix and blend them up to make an amazingly nutrient-rich, vitamin-packed super smoothie.
Got some overripe tomatoes, onion, garlic and basil lying around? Well, hey presto – you've got yourself a pasta sauce! Another easy one? Leftover chicken, vegetables that you thought were ready for the bin and a bit of rice? Say hello to healthy and delicious soup.
Seriously the Vitamix is well worth every cent you put into it as it'll save you twice that and more by giving you nutrient rich meals and smoothies every time often using leftovers or food you were thinking of tossing in the bin.

The Vitamix has been perfect for my 2013 health kick. Every morning I whip up a green smoothie for Marcus and I. Since I started doing this, I've lost almost 4 kilos, so now I've dubbed my smoothie the 'Super Skinny Smoothie'. In addition, we get healthy, low-fat, delicious-tasting and nutrient dense smoothies in next to no time, and that's breakfast done for the day! The Vitamix is better than a juicer because when you juice your fruit and veg you're losing up to 70% of the nutritional value but with the Vitamix machine there is almost no waste as it can break down just about everything like seeds and skin, whilst maintaining the nutritional value.
So now, any leftover fruits and vegetables that we have at home get thrown into the freezer instead of the bin. I can't believe the amount of money we are saving week to week on not having to constantly buy fresh fruit and vegetables, plus now I can be sure of exactly everything that's going into Annabelle's mouth when I blitz up a mix of vegetables and fruits for her to devour (and trust me… she devours them!).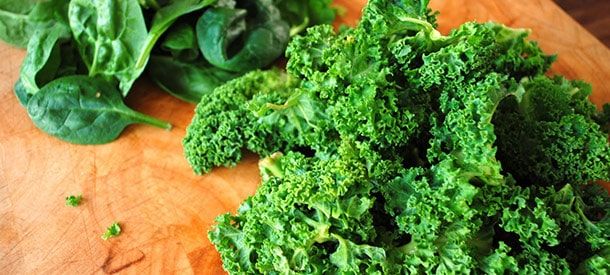 I'm Inviting You To Take The Vitamix Challenge….
So now, swiish readers, I'm going to pose you with a challenge – The Vitamix 7@7 Go-For-Green Breakfast Challenge!
We all know that we're recommended to have at least 5 servings of vegetables and 2 servings of fruit per day but that can prove tricky,  especially for the time-poor (hands up if that's you!). Now you can do it with the 7@7 Go-For-Green Breakfast Challenge. I want you to have your 7 servings of fruit and veg at 7am for 7 days by blending up a delicious green smoothie.
I am doing the challenge too and it will be fab if we do it together! Tweet, Facebook and Instagram us photos of your green smoothies packed with your vegetables and fruit! Let us know new recipes and tell us how much better you feel by getting your recommended intake of fruit and vegetables blended up into one big beautiful green smoothie!
Make sure you visit the Vitamix 7@7 Go-For-Green Breakfast Challenge website, Twitter and Facebook pages for plenty of ideas, inspiration and motivation to get your smoothie on!
As a bit of smoothie-spiration I've included 3 of my favourite green smoothie recipes to get you started! 
Going Green Smoothie
This is a great smoothie to get you started, especially if you're not used to the idea of smoothies for breakfast. The almond milk naturally sweetens it and the oats really thicken it up so you feel fuller for longer!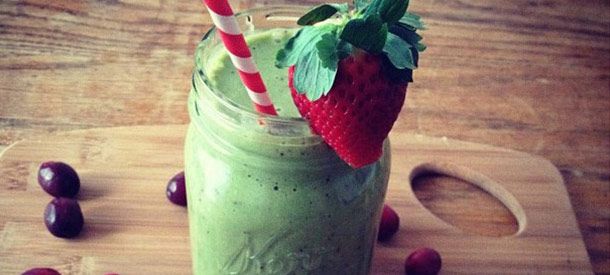 What you'll need: 
2 tbs oats
2 cups spinach (fresh or frozen)
2 cups kale (just the leaves)
1 avocado (great for adding creamy texture)
1 cup almond milk (unsweetened)
1 teaspoon coconut oil (trust me this makes a world of difference taste-wise)
1 teaspoon cinnamon (great for adding a sweetness without sugar)
ice-cubes
What to do: 
Peel the avocado then place all ingredients in Vitamix (or whatever blender you have)
Blitz until smooth. If desired consistency is not reached just add a little water.
Sip and enjoy!
Green and Gorgeous
I love that you can use both the celery stalk and leaves in this one (who knew the leaves were edible!?!) plus the chia seeds give it that superfood kick!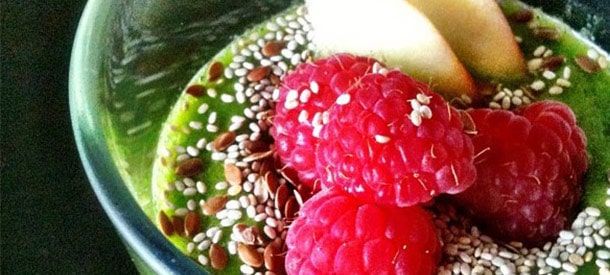 What you'll need: 
 2 cups spinach/kale/silverbeet (any dark leafy green you have)
1 avocado (peeled)
1 cup brocolli florets
1 stalk of celery roughly chopped celery (leaves included)
2 tbs chia seeds
1 cup coconut water
1 tbs coconut oil
ice cubes
What to do: 
Throw all ingredients into Vitamix (or blender)
Blitz until smooth (again if desired consistency not reached, add water).
Serve over ice and enjoy!
Berry Delight
This one tastes as delightful as it sounds plus the berries will provide an antioxidant hit leaving you with glowing skin.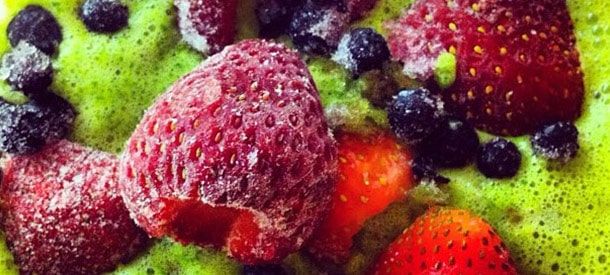 What you'll need: 
1 cup mixed berries (frozen or fresh)
1 cup almond milk (unsweetened)
2 cups spinach
1/2 avocado (peeled)
1 stalk celery roughly chopped (leaves included)
1/3 cup oats
1 teaspoon nutmeg
What to do: 
Place all ingredients in Vitamix (or blender)
Blitz until smooth (as always add some water if desired consistency is not reached)
•swiish tip – use at least one frozen ingredient to make the smoothie cold or always add in a few ice cubes to chill it. 
But wait that's not all! We have a Vitamix to give away to one lucky swiish subscriber!
To win this magic-maker simply download the FREE Vitamix 7@7 Smoothie eBook when you sign up for the 7@7 Go-For-Green Breakfast Challenge and tell us which smoothie in the picture below is made using the swiish recipe then leave your answer in the comments section.
Good luck!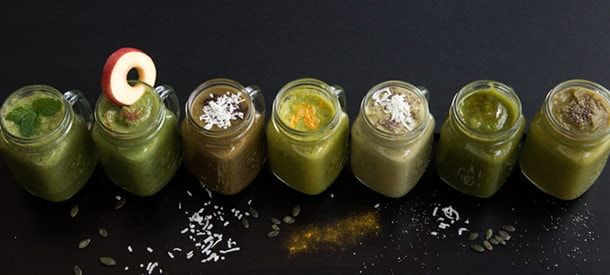 *winners will be announced 10am AEST Wednesday 19th June. *by entering to win, you agree to be subscribed to & receive communications from swiish.com.au