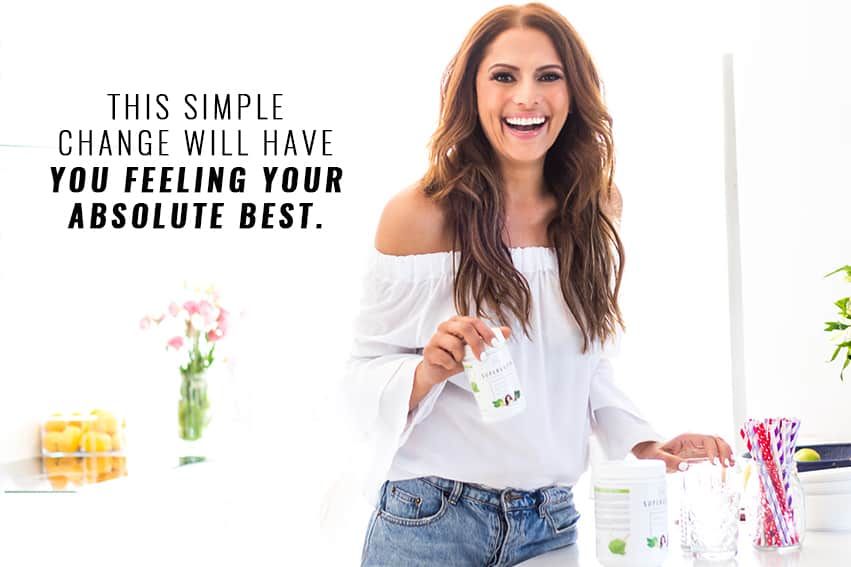 Whilst December might be one of the best months of the year for obvious reasons (Christmas, summer, buying presents for yourself guilt-free, etc.), it's also a month where overeating and drinking is at an all time high, which is why we're always excited when the New Year rolls around.
The New Year is a time to hit the reset button and to officially start that healthy eating plan again, to get back on the treadmill or to start that activity you've always wanted to try.
If one of your New Year's resolutions is to get your health back on track, why not start now? You don't have to wait until the 1st of January to change your habits. We have a simple and easy way that means you don't have to miss out on the mince pies or the glasses of champagne this Christmas but it will mean you'll be adding extra superfoods, vitamins, minerals and nutrients to your diet. Now who could complain with that?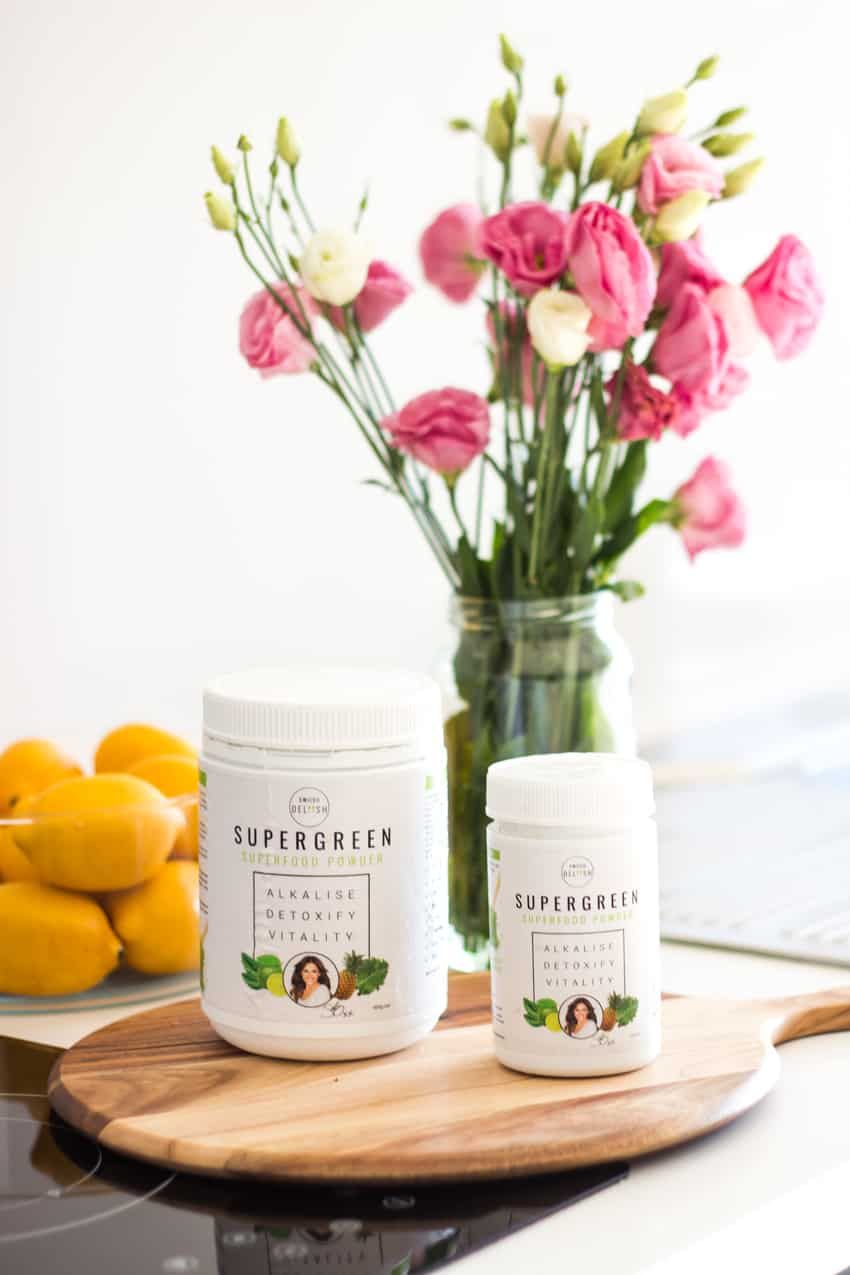 The solution is our SWIISH DELIISH Super Green Superfood Powder and if you are someone who wants to focus on their health now and into the New Year, this is the product for you! Just one teaspoon a day in a glass of cold water or your morning smoothie is all you need to debloat, detox and energise! Loaded with over 40 super ingredients, including those all important prebiotics and probiotics, we rely on our Super Green Superfood Powder to ensure we function at our peak all day, everyday. We absolutely swear by it and so do hundreds of other people. If you don't believe us, we've rounded up a few reviews below!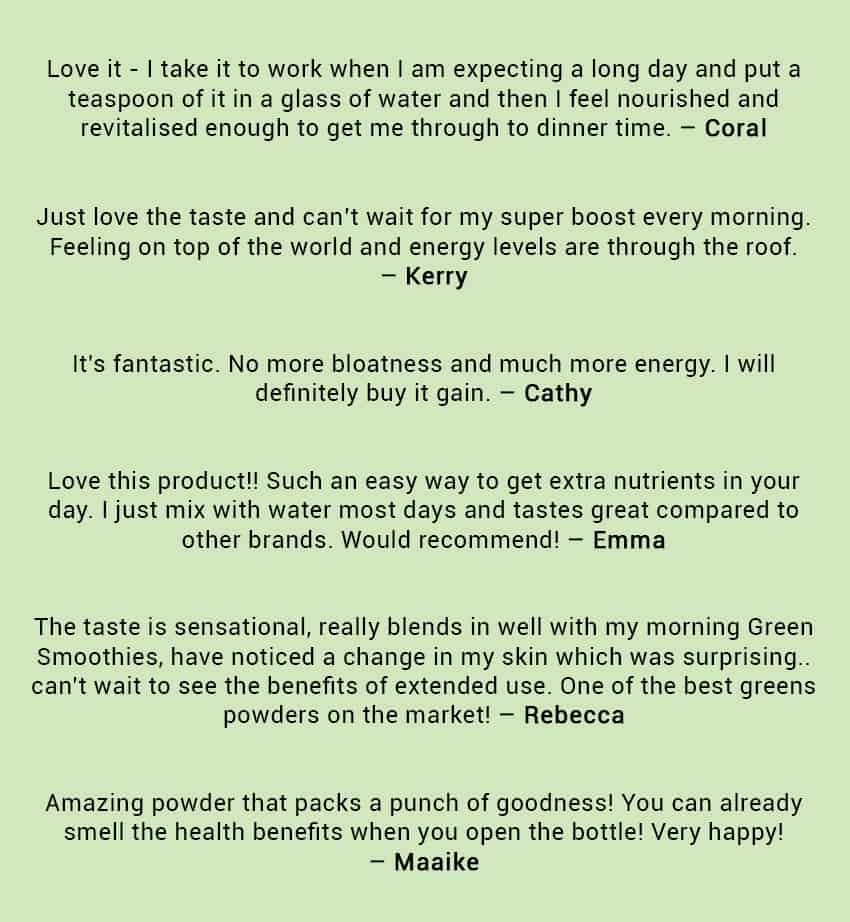 (function(){var scriptURL='https://sdks.shopifycdn.com/buy-button/latest/buy-button-storefront.min.js';if(window.ShopifyBuy){if(window.ShopifyBuy.UI){ShopifyBuyInit();}else{loadScript();}}else{loadScript();}
function loadScript(){var script=document.createElement('script');script.async=true;script.src=scriptURL;(document.getElementsByTagName('head')[0]||document.getElementsByTagName('body')[0]).appendChild(script);script.onload=ShopifyBuyInit;}
function ShopifyBuyInit(){var client=ShopifyBuy.buildClient({domain:'swiish-by-sally-obermeder.myshopify.com',apiKey:'b9bcd77eea223a9ac3df9c0117588ac0',appId:'6',});
ShopifyBuy.UI.onReady(client).then(function(ui){ui.createComponent('collection',{id:436739405,node:document.getElementById('collection-component-e040206d590'),moneyFormat:'%24%7B%7Bamount%7D%7D',options:{"product":{"variantId":"all","contents":{"imgWithCarousel":false,"variantTitle":false,"description":false,"buttonWithQuantity":false,"quantity":false},"styles":{"product":{"@media (min-width: 601px)":{"max-width":"calc(25% - 20px)","margin-left":"20px","margin-bottom":"50px"}},"button":{"background-color":"#fdcfcf","color":"#000000",":hover":{"background-color":"#e4baba","color":"#000000"},":focus":{"background-color":"#e4baba"}}}},"cart":{"contents":{"button":true},"styles":{"button":{"background-color":"#fdcfcf","color":"#000000",":hover":{"background-color":"#e4baba","color":"#000000"},":focus":{"background-color":"#e4baba"}},"footer":{"background-color":"#ffffff"}}},"modalProduct":{"contents":{"img":false,"imgWithCarousel":true,"variantTitle":false,"buttonWithQuantity":true,"button":false,"quantity":false},"styles":{"product":{"@media (min-width: 601px)":{"max-width":"100%","margin-left":"0px","margin-bottom":"0px"}},"button":{"background-color":"#fdcfcf","color":"#000000",":hover":{"background-color":"#e4baba","color":"#000000"},":focus":{"background-color":"#e4baba"}}}},"toggle":{"styles":{"toggle":{"background-color":"#fdcfcf",":hover":{"background-color":"#e4baba"},":focus":{"background-color":"#e4baba"}},"count":{"color":"#000000",":hover":{"color":"#000000"}},"iconPath":{"fill":"#000000"}}},"productSet":{"styles":{"products":{"@media (min-width: 601px)":{"margin-left":"-20px"}}}}}});});}})();