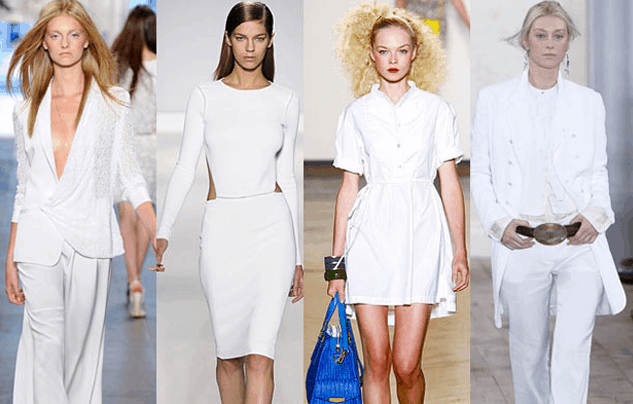 Black dresses, black opaque tights, black shoes, black handbag…. aka the winter wardrobe. Yawn! Now that Spring has finally arrived, it's time to bust out of boring black, and your comfort zone for that matter. Turn that look completely on its head and embrace oh-so-chic white on white.
The best part of this look is that you can style it to suit your mood – luxe, sporty, tailored – you choose. The options are endless. Keep accessories simple, add a pop of colour with bright red lipstick or neon strappy sandals. White hot!
Here a few tips on how to pull off an all white look:
Don't be afraid of wearing all white. No, it will not make you look fat.
Mix different fabric textures and tones of white. You need to create depth with texture. The best way to do this is by mixing fabrics with interesting and contrasting textures. A heavy lace with sheer cotton or denim with beaded silk.
Pair your all white clothing with a neutral or metallic shoes, handbags and hats. This also creates interest so that you don't look like you work in a lab.
Add any of the new neon or pop color accessories that are on trend this season. They make the look fun and sporty.
Do not wear white items that are too tight. This will reveal every body flaw possible.
A crisp white fitted suit or dress with bright red lips and hair pulled back states a clean modern look.
Not ready for all white? Try just wearing white accessories with a full on color, all black or neutral outfit. It will look fresh and updated.
get inspired .. I did!