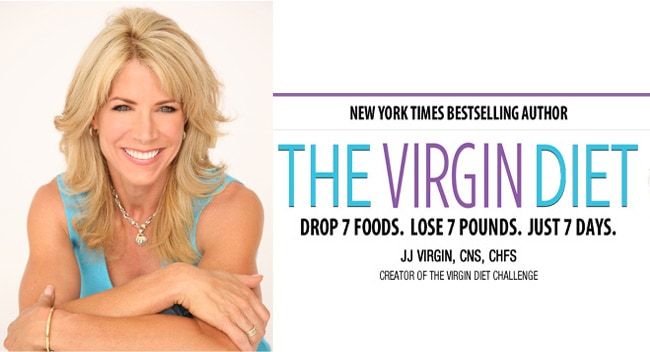 Over the years I have had my own struggles to lose weight. You name the diet and I've done it. Cabbage soup diet? Yep. Atkins – AKA all-you-can-eat cheese? Yep. Well this new book from JJ Virgin totally changes the way we think of food.
In The Virgin Diet, trainer and nutrition expert to the celebs, Virgin shows us how food intolerances can be the reason why we struggle to lose weight, even if we are eating what we consider to be healthy foods. In the book, dieters learn how "healthy" foods can sabotage health and cause gas, bloating, skin issues, fatigue, headaches, achy joints and stubborn weight gain.
The Virgin Diet is a how-to, showing that with just three cycles, you can transform your body, customise your ongoing diet to your body's chemistry and sustain your weight-loss permanently. How? By eliminating the seven most reactive foods – gluten, soy, corn, peanuts, eggs, dairy and sugar. And the best bit – Virgin reckons that we can lose up to 3kgs in 7 days through this elimination process. Plus it means clearer skin, better quality sleep, and ultimately more energy, something most of us definitely need in our lives!
The Virgin Diet also includes a practical top 100 foods list, more than 70 recipes and restaurant food guides too.
It's available from Amazon, Booktopia and other good bookstores.