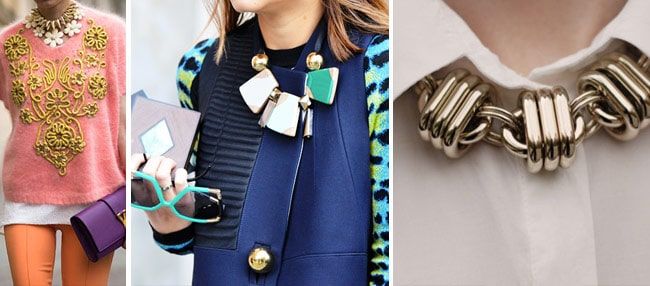 At swiish, we love a statement necklace. They're big, they're bold, they can totally make an outfit – and they are so on trend it hurts. Think chains, big beads, rhinestones and collars – and the best part? They come in all colours – neons, metallics, pastels – it's up to you and your mood! Statement necklaces are worn best when you let them shine and be the centrepiece of your outfit – go for simple, classic shapes and block colours in your clothing, and let your neckwear do the talking. Hair should be relaxed, gently curled or pinned loosely back – nothing too fancy or overly styled, as it will pull focus from your jewellery.
Celebs love working the trend; it's a favoured look for swiish favourites Blake Lively, Olivia Palermo and Jessica Alba.
Best of all, this is a look that's easy to emulate without breaking the bank. You can shop the look just about anywhere – try Sportsgirl, Collette by Collette Hayman, Diva and Lovisa.
swiish loves:
This Bars Tassle Necklace from Colette by Colette Hayman is so stylish and is only $14.95.
Add a little bit of gothic glam with this Stones On Chain Necklace from Colette by Colette Hayman. And it's only $19.95!
This Stones Necklace from Colette by Colette Hayman goes with everything – dresses, collared shirts and tees, all at the wallet friendly price of $16.95.
We love the pop of neon in this Thick Chains Necklace from Colette by Colette Hayman – bang on trend and at only $8.47 (yes, you read that right), you should run, don't walk, to pick one up.
Currently on sale for $59.00 at PeepToe Shoes, this gorgeous Metallic Cleopatra Necklace makes a bold statement and is an investment that will work with your wardrobe through both the summer and winter months.
We love the bold turquoise colour in this Beaded Statement Necklace from PeepToe Shoes, it's modern, edgy and on sale (yay!) for $49.00.