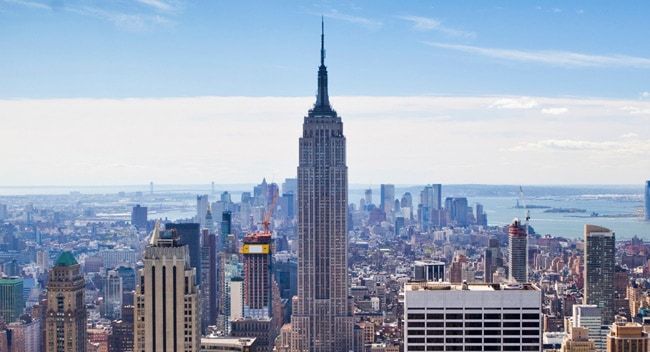 There are no two ways about it. We love New York. It's everything we dream of, and so much more. Call it an Empire State of Mind, but when it looks exactly as it does on TV and in movies, and you can find fun, fashion and frivolity, we find ourselves wishing we were Carrie Bradshaw, even if only for a New York Minute. And although sometimes we need to be reminded we aren't a character in Sex & the City, if you follow our fabulous finds list to suit all budgets in NY, you may just feel like you are…
Eat
New York has been described as the 24 hour food capital of the world and luckily for us, there is something for everyone!
If it is a splash of celebrity and the high life you're after, book months in advance into Robert de Niro's Japanese, Nobu. Or for a more casual affair of the same feel, get to Nobu Next Door by 7pm and hope they can get you a table. Yummy food, and it's very likely you'll see some A-listers rolling in and out.
To eat like a local, try the Deli on Madison. True New Yorkers know how to eat well without their wallet taking a hit. You can pick up an assortment of fresh meats, salads and snacks for $10. You'll get a tasty meal and decent coffee, ready to tear through the shops again.
Another local hot spot is Veselka on Second Avenue. Ukraian soul food at it's best, this place pumps out over 5000 gallons of borscht a week and are famous for making gourmet soups that you'd never say no to.
Make sure you spoil your inner Carrie Bradshaw and treat yourself to a cupcake at Magnolia Bakery. You'll find the original at 401 Bleecker Street.
swiish loves: Buddakan on 9th Avenue for Asian – go for dinner and have a drink at the bar, the cocktails are a splurge but are delicious! We also love Café Habana on Prince Street in Soho for their famous Mexican corn (yes, waiting for an hour in the queue is totally worth it).
Sleep
To the penny pinchers among us, the most affordable way to stay in New York, has to be via craigslist.com. This is the city where the phenomenon of craigslist took off, and you can truly find a home-away-from-home here for a really reasonable price. For the creative types, get onto creativecaravan.net, the craigslist for the imaginative mind.
If it is a Rock n Roll All-Star New York experience you're craving, then splash out and check yourself into The Plaza. There is an assortment of historical celebrity stories and the rich and famous still prefer to stay and play here; keep your camera at the ready. No expense will be spared if this is the avenue you choose for your NYC getaway.
For mid-priced accommodation, you may need to look at staying outside of touristy midtown, so try the Tribeca and Wall Street locales. Although you won't be in the middle of Times Square, it can be a refreshing look at a different part of the city, and it's so easy, quick and cheap to get around on the subway.
swiish loves: Gild Hall, A Thompson Hotel located at 15 Gold Street.
Shop
For the bargainista's amongst us, first things first, you need to know everything you can about Century 21. Century 21 is the most famous designer discount outlet in New York. Sign up to their VIP online newsletter before you go so you are in the know for sales, offers and discounts. Located at 22 Cortland Street, in downtown Manhattan you'd be crazy not to get there early. Every day is a busy day at Century 21, and the prices are genuinely affordable.
Anthropologie is another great spot where you can pick up kitschy homewares and gorgeous clothes at an affordable price. Being inside the store makes you feel good too, one of those places where the objects inside just make you smile.
We are definitely fans of chain stores Zara, Topshop and H&M, which are always great places to shop the latest trends for the lowest price.
If you feel like burning a big black hole through your bank account and swiping the plastic all day long, then make your way to Fifth Avenue for the likes of Bergdorf Goodman, Saks Fifth Avenue and Henri Bendel. Barneys on Madison Avenue is another luxurious fashion haven few of us can afford to step inside, but you may be lucky enough to travel during the sales, and with a strong Aussie dollar, we understand if you can't resist!…
swiish tip: Make sure when you get to New York you pick up a copy of The Village Voice, a free magazine that tells you where to eat, shop, drink and up to the minute info on what's hot in NYC, you can also visit villagevoice.com.
Essentials
Of course there are some must-do's: the Statue of Liberty, a horse and carriage ride in Central Park, a trip to the top of the Empire State Building, a walk along the New York Highline, a Broadway show, a Yankees or a Knicks game, a trip to the Museum of Modern Art (MOMA) and the Guggenheim. The list is endless, so do your research and prioritise. Having said that, one of the things we love most about New York is stopping for a coffee and absorbing everything that's going on around us. Soaking up the melting pot of cultures, getting style inspiration from the fashionistas on the street and wandering around admiring the gorgeous architecture. We love New York!