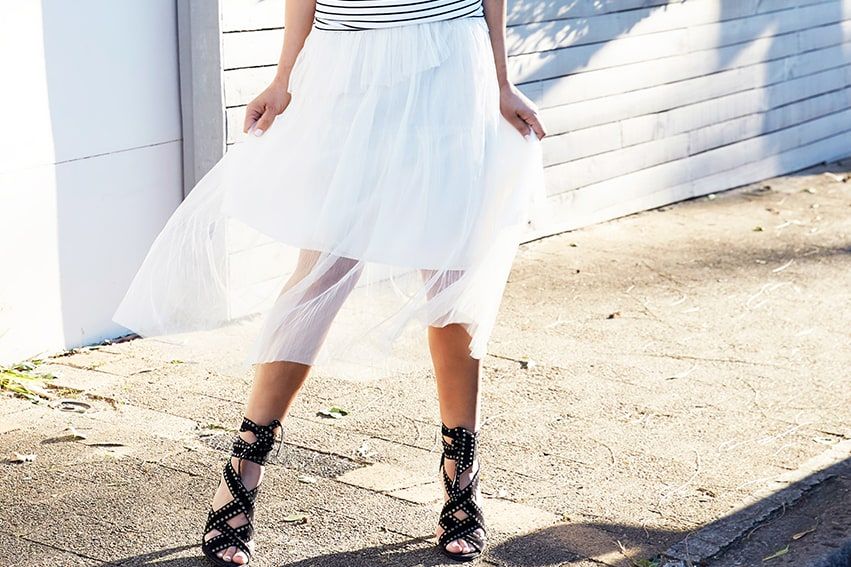 If you were to step into Carrie Bradshaw's incredible wardrobe, we're pretty certain you would find a good handful of tulle skirts.
You would obviously find her famous tulle ballerina skirt she wears in the opening credits of Sex and the City, and of course, the stunning midi-length sage number she wore in Paris with The Russian. Ahhhh, how we love Carrie and SATC! The one other tulle skirt she would most certainly have in her arsenal would be our aptly named Nights In New York Tulle Skirt.
We know what you're thinking though – that only the Carrie Bradshaws of the world can pull it off. We're here to tell you though that anyone can pull off a tulle skirt; it's what you pair it with that matters.
For the ultimate cool girl look that screams street style, pair your tulle skirt with sneakers, a simple tee and a denim jacket or for a feminine chic look, wear a pair of your favourite strappy heels and a leather jacket. Honestly though, every time we wear our tulle skirt, we feel like a million bucks and everyone we see compliments us on it.
We've rounded up our favourite ways to wear tulle skirts below and you can head to our online store right here if you wanted to get your hands on one for yourself!
Make sure you tag us on Instagram (join us at @swiishbysallyo) so we can see how you styled it!
(function(){var scriptURL='https://sdks.shopifycdn.com/buy-button/latest/buy-button-storefront.min.js';if(window.ShopifyBuy){if(window.ShopifyBuy.UI){ShopifyBuyInit();}else{loadScript();}}else{loadScript();}
function loadScript(){var script=document.createElement('script');script.async=true;script.src=scriptURL;(document.getElementsByTagName('head')[0]||document.getElementsByTagName('body')[0]).appendChild(script);script.onload=ShopifyBuyInit;}
function ShopifyBuyInit(){var client=ShopifyBuy.buildClient({domain:'swiish-by-sally-obermeder.myshopify.com',apiKey:'b9bcd77eea223a9ac3df9c0117588ac0',appId:'6',});
ShopifyBuy.UI.onReady(client).then(function(ui){ui.createComponent('product',{id:[10572061965],node:document.getElementById('product-component-25815dd69a4'),moneyFormat:'%24%7B%7Bamount%7D%7D',options:{"product":{"variantId":"all","contents":{"imgWithCarousel":false,"variantTitle":false,"description":false,"buttonWithQuantity":false,"quantity":false},"styles":{"product":{"@media (min-width: 601px)":{"max-width":"calc(25% - 20px)","margin-left":"20px","margin-bottom":"50px"}},"button":{"background-color":"#ffa1a3","color":"#000000",":hover":{"background-color":"#e69193","color":"#000000"},":focus":{"background-color":"#e69193"}}}},"cart":{"contents":{"button":true},"styles":{"button":{"background-color":"#ffa1a3","color":"#000000",":hover":{"background-color":"#e69193","color":"#000000"},":focus":{"background-color":"#e69193"}},"footer":{"background-color":"#ffffff"}}},"modalProduct":{"contents":{"img":false,"imgWithCarousel":true,"variantTitle":false,"buttonWithQuantity":true,"button":false,"quantity":false},"styles":{"product":{"@media (min-width: 601px)":{"max-width":"100%","margin-left":"0px","margin-bottom":"0px"}},"button":{"background-color":"#ffa1a3","color":"#000000",":hover":{"background-color":"#e69193","color":"#000000"},":focus":{"background-color":"#e69193"}}}},"toggle":{"styles":{"toggle":{"background-color":"#ffa1a3",":hover":{"background-color":"#e69193"},":focus":{"background-color":"#e69193"}},"count":{"color":"#000000",":hover":{"color":"#000000"}},"iconPath":{"fill":"#000000"}}},"productSet":{"styles":{"products":{"@media (min-width: 601px)":{"margin-left":"-20px"}}}}}});});}})();