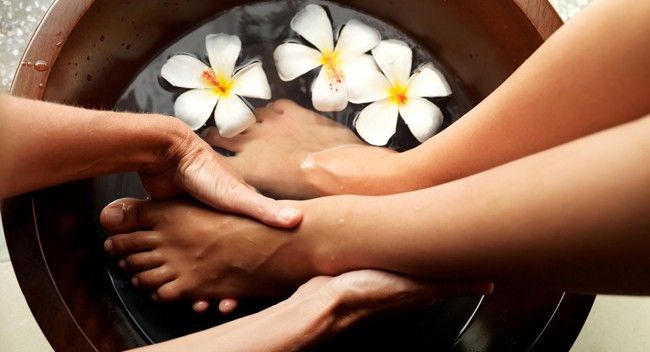 We understand that over winter, feet can get neglected. It's cold, you're wearing boots… a pedi is the last thing on your mind. But the warmer weather has definitely arrived so it's time to give your feet some much-deserved attention.
Keeping your toes pretty is not hard to DIY, and better yet, it doesn't break the bank. Follow our step-by-step guide to have your feet looking like they just walked out of a beauty salon.
 
 

Step 1
Out with the old! Wipe off any old nail polish or residue with a cotton pad and non-acetone nail polish remover. We love Australis' See Ya Later Nail Polish Remover, $4.95.

 

Step 2
Give them a good soak. Cleanse and soften skin and toenails by filling up a basin with warm water. Add a little Epsom salt or try a ready-made version like Sally Hansen's Revitalising Foot Soak, $9.95. Relax your tired toes and let them soak for ten minutes. 

 

Step 3
Once your feet have softened up from a nice soak, massage some cuticle oil into each nail bed. We love OPI's Avoplex Replenishing Oil, $21.40. 
For a safer DIY approach, rather than cutting the cuticles, we recommend using a cuticle pusher like this one from Tweezerman, $20.95. 

 

Step 4
Exfoliate the soles of the feet, concentrating on the heels and toes. You can easily make a scrub at home by combining salt or sugar and olive oil. Alternatively, we love to use The Body Shop's Peppermint Smoothing Pumice Foot Scrub, $16.95. 

 

Step 5
Buff away any stubborn calluses by using a pumice stone. We use Manicare's Pumice Stone, $7.99.

 

Step 6
Now that your feet are feeling smooth it's time to add the finishing touches. Moisturize and massage your feet by applying lotion to your heels and legs. We love Neutrogena's Norwegian Formula Foot Cream, $7.99. 

 

Step 7
Shape your nails! It is vitally important to remember to clip and file straight across the nail. Rounded nails can lead to painful ingrowns. Use Manicare's Toe Nail Clippers, $6.55 and Eco Tools Bamboo Nail Files, $3.49.

 

Step 8
Finish off your pedicure by applying polish. Start with a base coat like Butter London's Flawless Base Coat, $24.95.
Follow by applying two coats of your colour of choice. Finish it off with a top coat for beautiful, shiny, long-lasting nails. We use OPI Top Coat, $16.80. 
Now that you're pedi perfect, we think it's perfectly ok to shop for a new pair of strappy stiletto sandals! Right? We thought so!