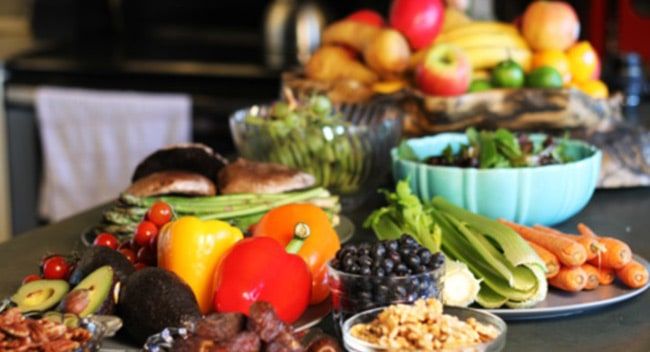 There's a whole lot of hype about the Paleo diet. But what is it? Well – essentially, the Paleo diet tries to get us eating like our ancestors back in the day. Like in the hunter-gatherer caveman ancestor kind of day.
It is said that our bodies are genetically programmed to eat similarly to our ancestors, going back tens of thousands of years during the Paleolithic era. Intrigued? Having tried pretty much every diet under the sun myself, I was too. This one isn't about counting every calorie (we love that!), and it's not about eating only one food group – it's pretty balanced all up, actually.
The diet is about clean eating – if it can be hunted, fished, gathered or picked, you can eat it. Everything you eat should be organic, with no preservatives or artificial ingredients.
Foods to Eat:
Any meat that comes from animals that are grass fed (not grain fed).
Fowl – this includes anything with wings, so chicken, duck, and turkey all get the tick of approval. Go free range organic.
Wild fish (i.e. not farmed), shellfish, eggs, vegetables, natural oils, olive oil, coconut oil and avocado oil.
Fruits are ok however as they contain natural sugars (which can mean more calories), limit yourself if you're watching your waist line.
Nuts are great for in between meal snacks however peanuts are a no-no. Why? They're considered legumes which are on the list of foods not to eat (we'll get to that).
Eat as many vegetables as you like, but if you're trying to lose weight, avoid potatoes.
Drink plenty of water (goes without saying!), herbal tea, coconut water and fresh juices.
Coffee, chocolate, alcohol, caffeinated teas, sweeteners like stevia or honey, and dried fruit should be consumed in moderation.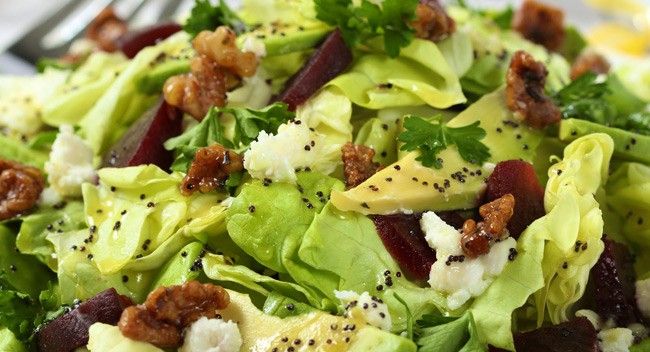 Foods to Avoid:
Dairy – agriculture and dairy farming weren't really around in the Paleolithic era. In fact, humans are the only species who keep on drinking milk after infancy. The advice is to avoid all dairy if you can, however some Paleo followers say it's ok in small amounts
Grains and starches – no wheat, rice, oats, spelt, quinoa, rye, barley or corn. No flour, noodles or anything made from any of these items. I know it's hard. For me especially the wheat part is tough. No bread? Well, wheat has gluten and grains tend to be high GI, so sugar is carried into the bloodstream and Paleo tries to avoid that.
Legumes – no beans. Why? Again, before farming came along, legumes were not a diet staple. You can eat snowpeas, green beans and sugar snap peas.
And with celebs including Jessica Biel, Megan Fox, Uma Thurman even Matthew McConaughey all reportedly Paleo fans, this diet is getting plenty of attention.
The benefits of the diet in conjunction with exercise are many – weight loss, stabilising blood sugar, burning off stored fat, reducing allergies, anti-inflammatory benefits, clearer skin and better teeth, a balanced energy throughout your day and a better nights sleep are just a few. And the food is delicious! Here's a recipe, which we at swiish love:
Mexican Tuna Steak, Sweet Red Peppers & Avocado Salsa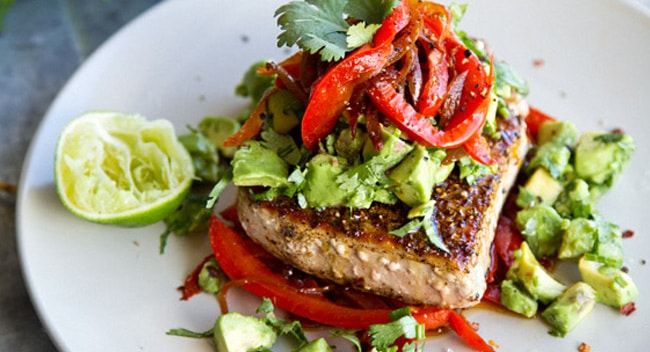 Preparation time: 15 minutes
Cooking time: 15 minutes
Number of servings: 2
Ingredients
For tuna steaks:
2 tuna steaks (about 150g each, 1cm thick), sourced with sustainability in mind
1 tsp coriander seeds (coriander seeds powder can also be used)
1 fresh lime
2 tbsp olive oil
1 tsp butter (use ghee if avoiding dairy)
A pinch of sea salt & black pepper For red peppers
1 medium red onion
1 medium red pepper (capsicum/bell pepper)
2/3 tsp sweet paprika
2/3 tsp cumin powder
A good pinch of red chill flakes
1 large garlic clove
1 tbsp apple cider vinegar
3 tbsp olive oil
For avocado:
1 large, ripe avocado
2 tbsp chopped fresh coriander
Some lime juice, about half a lime
A little pinch of sea salt
Instructions
Remove tuna steaks from the fridge, give them a wash, pat dry, sprinkle with a little sea salt, black pepper and a drizzle of olive oil on both sides. Set aside to come to room temperature.
Slice red onion. Remove the seeds from the red pepper and slice it into long thin strips. You can dice it whichever way you like really.
Heat 4 tablespoons of olive oil in a frying pan. Let it get medium hot but not sizzling. Add sliced onion and red peppers, cover with a lead and cook for 5 minutes, stirring a couple of times. Then add paprika, cumin, garlic, apple cider vinegar, a good pinch of salt and chili flakes, and about 2 tablespoons of water. Mix through and cook for a further 4-5 minutes until the peppers have softened and the onion has browned.
Remove cooked peppers to a plate or use a different frying pan for tuna steaks. Heat up two tablespoons of olive oil and one teaspoon of butter. Grind coriander seeds in a mortar and pestle, you can use coriander seeds powder too. Add coriander seeds and the zest from 1 lime to the frying pan. Stir with the butter and oil, allowing them to infuse with flavours. While the heat is high, add tuna steaks and then turn the heat down to medium -low. Drizzle with juice from half a lime and cook for 2 minutes on each side (more if you like it well done and less if you it's super fresh and you'd like it quite rare).Use a spoon to bathe the steak in the buttery lime sauce while it's cooking.
In the meantime, chop avocado and fresh coriander and season it with a little sea salt and the remaining lime juice, about half a lime.
Assemble some of the red peppers on the bottom of serving plates. Place tuna steaks on top. Top up with avocado salsa and more red peppers. Squeeze some lime and drizzle with a little extra virgin olive oil just before serving.
For more recipes go to eatdrinkpaleo.com.au.
swiish tip:
Following this diet can be difficult at times (for us, it's the bread and dairy bits). Experts advise to use the 80/20 rule. This means you will get 99% of the benefits if you follow it 80% of the time. So yes, you can have your cake and eat it too – just remember all in moderation. Before trying any diet, always speak to your general practitioner first – make sure it's right for you!