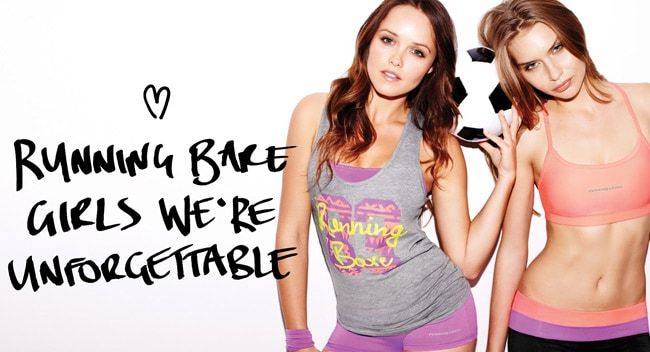 I'm on a big fitness mission at the moment, but some days I struggle to get to the gym. I hit the snooze button 3 times on average before I finally drag myself out of bed. I do find find that it's that little bit easier to get motivated to get to the gym when I've got something cute and comfy to work out in, and i know the other girls at swiish agree.
That's why we love Running Bare. Their activewear is fashionable and functional, so you actually want to be seen working up a sweat. They stock a seemingly endless range of leggings, tights, crop tops and boyfriend tanks in bright colours, so it's the perfect way to brighten up your workout. In Byron, on my recent holiday i was running every day so I wore the bra tops with the hooded tank tops over them and the bright coloured shorts were on high rotation.
Since i've been back i'm trying to do more yoga, and so the three qurater yoga pants (obviously!) and the bright singlets have been my gear of choice.
It's really important to have good quality workout gear, that doesn't leave you feeling scratchy or sticky, and of course supports all the bits that need supporting. So regardless of what it is that you're into – yoga, pilates, running, gym, kickboxing or even if it's walking – a great workout outfit makes working out that much better. (and you're less likely to cancel!)
Plus Running Bare has one of the best mottos we've heard – LIVE IT, LOVE IT & ROCK IT .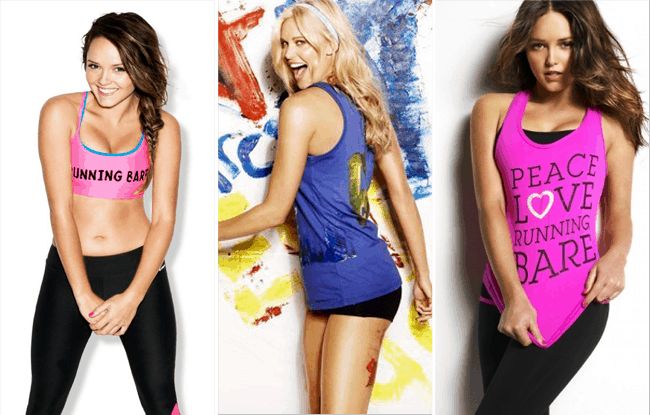 swiish top picks:
| | |
| --- | --- |
| | The bright purple of this Ibiza Bandeau One Piece is gorgeous and the style flatters the waist. Plus it's on sale for $66.00. |
| | The bright purple of this Ibiza Bandeau One Piece is gorgeous and the style flatters the waist. Plus it's on sale for $66.00. |
| | You'll be wanting to work up a sweat in this Knot Back Boyfriend Tank, $39.99, – it's super comfy and super sexy too! |