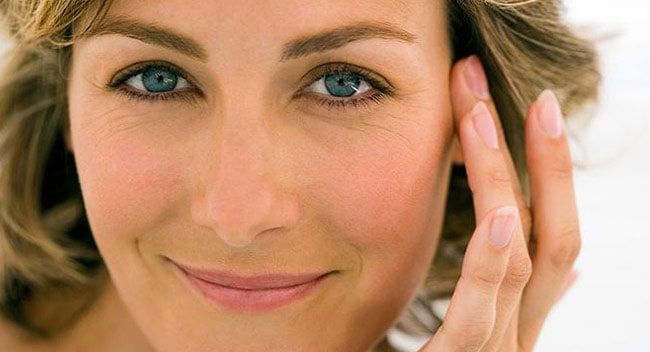 I have fine lines around my eyes – on the one hand, I love that they represent the life I've lived – the laughter, the tears, all of it. But some mornings when I look in the mirror, I wish I could slow the wrinkles down just a little!
Fine lines, wrinkles, dullness and dryness all creep up, leaving us wishing we looked younger. So although we can't turn back the hands of time, there are some excellent anti-ageing products to help us do everything possible to preserve our skin and keep us looking fresh and youthful.
From eye creams to cleansers, we've done the legwork to bring you a complete anti-ageing routine with the best and most affordable products out there.
Loreal Revitalift Rich Make-up Removing Milk Cleanser

Everything starts with a good canvas and this milky cleanser is enriched with Glycoliss (a powerful exfoliating ingredient) and Vitamin C to help illuminate the skin. With a creamy formula that perfectly removes make-up, your skin will feel revitalised and instantly hydrated; Used daily, you will really notice the difference as day by day your skin regains its youth! 200ml, $13.99. Available at www.priceline.com.au

Natio Ageless Brightening Eye Cream

The loyal devotees of this eye cream are many, including us at swiish. Eye creams are crucial in the fight against ageing, as they deliver essential nutrients to the delicate area. This light, nurturing cream will not only help dark circles to fade, it's also enriched with Organic Rosehip and Hazelnut Oils to nourish, firm and tighten. 20g, $15.39. Available at chemistwarehouse.com.au

Olay Total Effects SPF15 Moisturiser

This is a bit of an all round miracle moisturiser! Designed to fight the '7 signs of ageing', this daily moisturiser hydrates and gets vitamins and antioxidants working together for younger-looking skin as it fights fine lines and wrinkles, rough texture, uneven skin tone, dullness, prominent pores, age spots and dryness. 50g, $31.99. Available at www.priceline.com.au

Invisible Zinc Tinted Daywear SPF30

We aren't the only ones who love this foundation. It's a favourite of makeup artists and beauty editors too. More than just mineral makeup, it's a moisturiser, sunscreen and sheer foundation in one for everyday wear. It nourishes skin, and protects and helps prevent the appearance of premature ageing caused by nasty UV rays. 20g, $15.99. Available at www.priceline.com.au

Garnier UltraLift Anti-Wrinkle Night Cream

Skin regenerates slightly faster at night-time and is also more receptive to active ingredients in skincare products, so it's important to have a regular before-bed regime. Plus, we love that feeling of waking up to softer, plumper skin. This anti-wrinkle night cream contains a special combo of natural active ingredients with cherry and blueberry extracts giving it a toning power that revitalises, while ginger which is known for its natural nutrients stimulates and helps rebuild the skin's energy supplies while you get your beauty sleep! What's not to love?! 50ml, $16.99. Available at chemistwarehouse.com.au