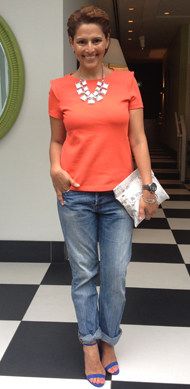 My wardrobe contains more than the average number of orange items of clothing. Orange, tangerine,peach,mandarin … whatever the fruit and whatever the shade I'm drawn to it.
Truthfully, I think it's because it doesn't take much to make an outfit once you've got something bright on. It's quick and it's easy and in my book that's critical.
This tangerine top was purchased a few months ago from Zara for approx $60.  I've teamed it with old boyfriend jeans from Levi's www.levis.com.au and new season shoes from ASOS www.asos.com approx $60.
The necklace is a favourite of mine, $29.95 from Lovisa www.lovisa.com.au.
You'll see me wear this necklace often. The clear crystal look is neutral and so it goes with just about anything, and for brights it's perfect because sometimes heavy costume jewellery can be a bit much.
My favourite though is wearing this necklace against a white silk top. It makes me feel like Gwyneth. Just without the rock God husband and fat bank balance.