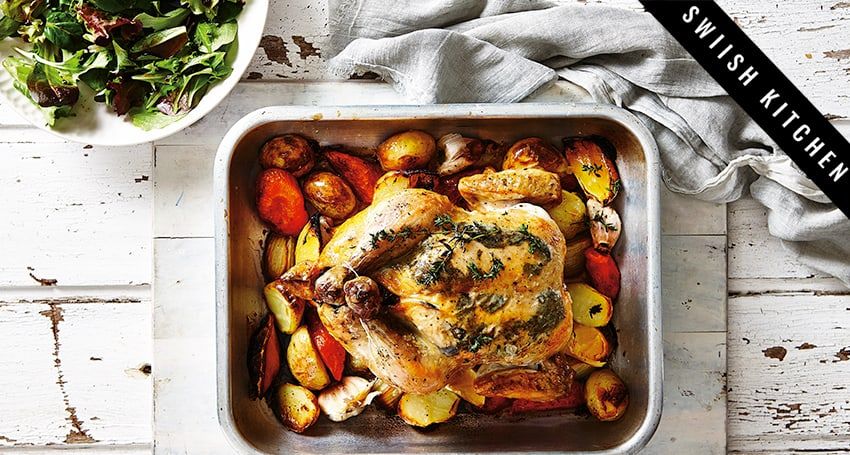 No matter what time of year it is, there is nothing quite as satisfying as a delicious roast dinner.  There's something about that tender meat, cripsy potatoes and delicious mix of herbs and spices that just hits the spot every single time.  With a salad on the side, a roast dinner is also the ultimate crowd pleaser!
One of our regular roast dinners to make is our 'Lemon & Herb Roast Chicken' from the good life.  We love it because it's got all the elements of a classic roast dinner that we love and is so deliciously fragrant – lemons, fresh oregano and thyme, sweet onions and a hint of garlic. While it's cooking, it delivers the type of smell that's guaranteed to make your mouth water and your tummy grumble. Better yet – the taste is soooo delicious and satisfying.
You want to know the best part though?  It's LEAN.  Yep – this delicious chicken dish is way lower in calories than most typical roast dinners.  Plus, it's dairy-free, gluten-free, nut-free AND sugar-free.  So basically, it's guilt-free too.  Hooray!
Next time you've got family or friends over, we definitely recommend giving this one a go.  They won't be disappointed.
Oh and if you like this one, you'll find heeeeeaps more lean, healthy, delicious, quick and easy recipes in our cookbook, THE GOOD LIFE, which you can pick up now from our online store right here.