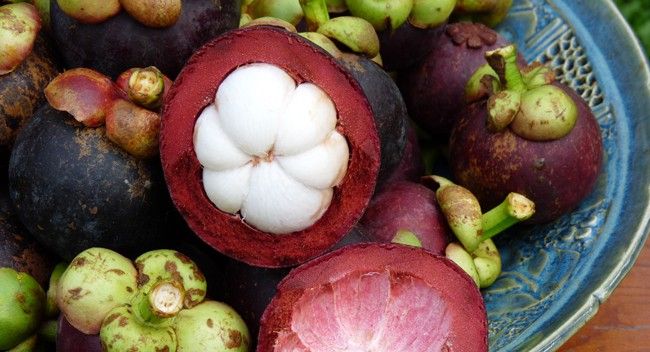 The superfood market is getting pretty busy these days, and just when you thought you were on top of them all, a new wave has arrived. I give you… the new generation of superfoods! Who would have thought that we would still be discovering the health benefits of food in 2013? Here are a few that the swiish team are getting into.
Açaí

Never heard of açaí berries? Well this little berry is being touted as one of the world's most powerful and nutritious foods. Collected from the Brazilian rainforest, açaí is usually found in the form of a pulp and is packed full of essential fatty acids, amino acids and antioxidants. And the best thing…. it tastes like a hybrid between berries and chocolate!
Mangosteen

Modern scientists have been fascinated with the mangosteen, trying to unlock the secrets of this Southeast Asian fruit. Mangosteens contain what's known as xanthones, which are said to have anti-inflammatory, antimicrobial, anti-fungal, antiseptic and even anti-cancer effects. Although they may look a little unusual, they actually taste a lot like a plum.
Rambutan

The rambutan is a tropical fruit that is commonly found across Southeast Asia, Malaysia and Indonesia. Like most fruit it is rich in fructose, as well as containing vitamin C, potassium, iron and vitamin A. The uniqueness of the rambutan is in its comparatively low amount of calories per serve (only about 60 per fruit) and high levels of antioxidants.
Quinoa

This grain-like seed has literally rocked the health food world. This seed has created such a stir that the United Nation's food organisation has even dubbed 2013 'The International Year of Quinoa'. Not only does it contain all the good stuff like antioxidants, essential fatty acids and heart-healthy fats, but its starchy consistency makes it a super healthy alternative for dinner-time staples like pasta and rice. I am totally on the quinoa bandwagon!
Goji

These nutritionally dense berries are native to the Himalayan Mountains of Tibet and Mongolia. Although only relatively new to the western world, they have been used for thousands of years in Tibet and China due to their high levels of vitamin C, fiber and amino acids. Goji berries also have the highest concentration on protein of any fruit – wow! We love snacking on these in the swiish office.
Chia

The chia seed often confounds people based on its nondescript appearance – is it a food… herb… dietary supplement? Actually, it is kind of like the new supercharged linseed, just with a more subtle flavour. The chia seed was a staple crop for both the ancient Aztec and Mayan civilisations, who regarded it as more valuable than gold. It is high in fibre, omega-3 and protein, but as it is so new to the western world, its full potential is yet to be revealed. You'll often find me adding chia seeds to my green smoothies.
Stevia

Health and sugar are not usually two words that go hand in hand – until now. Stevia is a native herb from Paraguay that is fast becoming the 'healthy' alternative to sugar. Unlike artificial sweeteners, stevia is completely natural. But wait… there's more! Not only is it super sweet (so you use less!), it is actually extremely low in calories and carbohydrates.
Agave

Agave nectar is made from the juice of the agave; a cactus like plant native to Mexico and South Africa. Agave nectar is another natural sugar alternative that comes as a liquid and is sweeter than honey. Its key health-promoting property is its beneficial glycemic profile. It has a naturally low glycemic index which gives you sweetness without the unhealthy blood sugar spike.