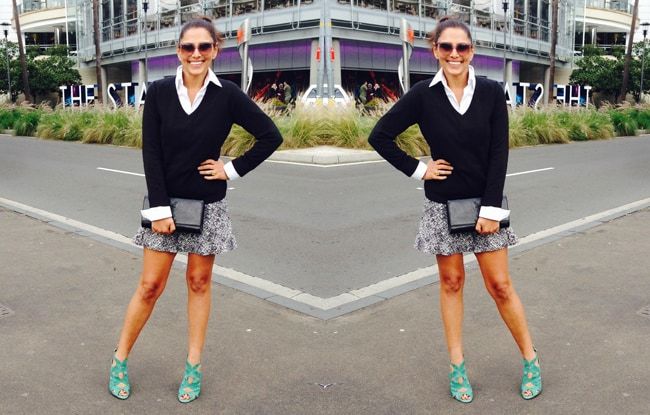 A couple of weeks ago Marcus and I celebrated our 13 year anniversary – it's so strange to say it out loud, even stranger to see it in print. It sounds like such a long time, but even with all we've been through it's kind of gone quickly.
Making the most of our special day, we decided to have lunch at one of my favourite Sydney spots – Black at The Star. I've been there heaps of times and I Iove the food and service is spot on. I always leave with a full belly and a smile.
With the weather cooling down, I wanted to depart from my usual style so I opted for a layered V neck and shirt combo. This is one of my favourite casual chic looks, but usually only on other poeple. You know how you see something and you think "that looks GREAT … on them" .  That's how I feel about this preppy / minimal look … it reminds me of Alexa Chung who isn't generally on my style radar. But I think somtimes you have to force yourself to break out of the usual. To be fair, my stylist who I work with at Channel 7, the fab fab Shannon Killeen is great at making me step outside my norm.
So yes it's a bit minimal Alexa, but then I just couldn't help myself and had to do the green suede strappys. True change is obviously a slow process!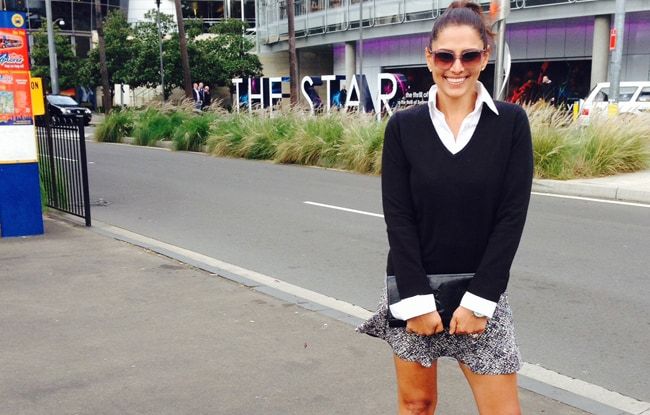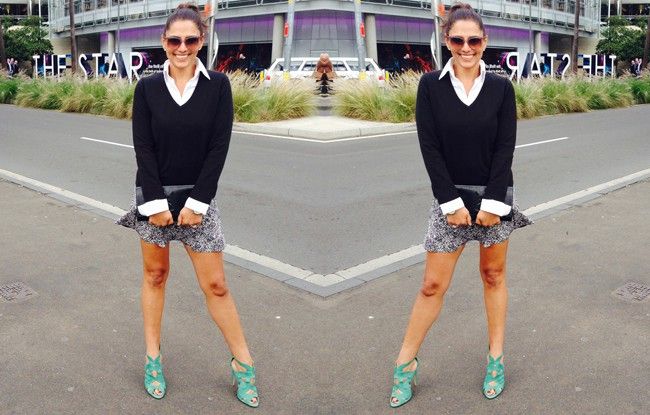 Skirt & Shoes: ZARA
Shirt: GAP
Sweater: Target
Clutch: Yves Saint Laurent
---
Shop My Style…
Merino Silk V-Neck – Country Road, $99.95
Fitted Shirt – ASOS, $49.02
Tweed Print Flippy Skirt – Oasis, $63.00
Emerald Heels – Tony Bianco, $179.95

Multi Function Clutch

– Colette Hayman, $29.95
Jumper with V- Neck – ASOS, $39.22
Floaty Back Shirt – Portmans, $69.95
Smocked Floral Skater Skirt – Forever 21, $26.96

Strappy Sandals

 – Heels.com, $54.95
Merino Cutwork Clutch – Topshop, $45.69