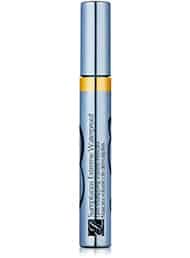 Ooooh yes – everything you want in a mascara. Longer, fuller lashes – rain, hail or shine.
What I love about mascara is the way that it can transform your face, simply by framing and highlighting your eyes. Let's face it – nothing spells glamour like long, long, luscious lashes. I've been pretty hooked on Estee Lauder's Sumptuous Extreme mascara, it seriously makes my lashes look so long that I've had quite a few people mistake them for false lashes.
And there's a bit of brilliance behind the mascara too – not only is it long lasting, but it's also got a colourless shield that works wonders, protecting lashes from any water, humidity, sweat or tears (and if you know me, I cry at almost anything)!
To find out more and to get your hands on Estee Lauder's Sumptuous Extreme Mascara, $52.00, click here