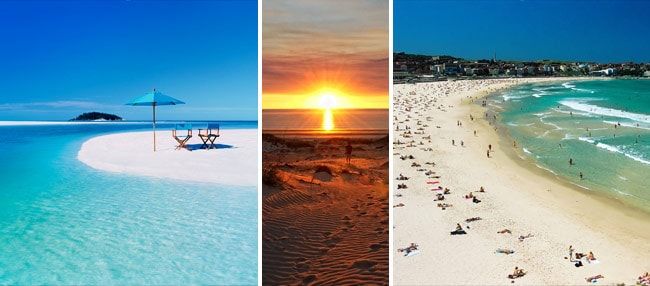 Get ready to dig your toes in the sand! From the whitest sands to secret coves, we've found the ultimate spots by the shore with some of Australia's top beaches.'
Vivonne Bay, South Australia
According to research by the University of Sydney (hey, that's pretty official in our books!), Vivonne Beach on Kangaroo Island is the best beach in Australia. Situated on an island known for its wildlife, with views of the surrounding bushland that's almost as beautiful as the beach itself. Whether it be surfing, fishing, relaxing or snorkelling in the gorgeously clear turquoise water, Vivonne Beach is the jewel in the crown of Australia's beaches.
Hyams Beach, New South Wales
Hyams beach holds the honour in the Guinness Book of Records for having the whitest sand in the world. This beach is a simply beautiful stretch of sand along Jervis Bay on the NSW South Coast. What we love is that there are incredibly affordable camping options throughout the Jervis Bay area, making this a wonderful destination for families.
Cable Beach, Western Australia
Great for swimming and exploring rock pools, Cable Beach in Broome, Western Australia is famous for its stunning sunsets over the ocean. It makes for an incredible photo op too, as camel-rides are offered at sunset across the sands. If that's not enough, you can also witness the monthly Staircase to the Moon, a natural phenomenon when the full moon reflects on the rippled mudflats at low tide giving the illusion of a staircase of tiny steps to the moon on the horizon. Amazing!
Bells Beach, Victoria
If Australia is home to surfers, then this is its living room. It's found right off the Great Ocean Road, and is one of the most iconic surfing spots on the globe (and not just because Keanu Reeves paid it a visit in the movie Point Break!). Every March it plays host to the Rip Curl Surf and Music festival which is one of a kind. If you head down there, you may catch a glimpse of world surfing greats Kelly Slater and Mick Fanning.
Whitehaven Beach, Queensland
Located on the idyllic Whitsunday Island, this seven-kilometre slice of heaven is almost too good to be true. White sands lined with leaning palm trees are lapped by aquamarine waters. It feels like you've stepped into a postcard. We reckon that the best views are from Tongue Point on Whitsunday Island – as the tides shift, you can see a stunning fusion of colours between the sand and the water. Breathtaking.
Wineglass Bay, Tasmania
Unlike many popular beaches in Australia, Wineglass Bay still remains a secluded paradise. Located on Tasmania's East Coast, this beach is a wonderful end to a one-hour walk. Nicknamed by locals 'the most beautiful spot on a beautiful island', this picture-perfect beach has pristine sands with a backdrop of green hills and dolphins frolicking in the bay. I'm packing my bags, pronto!
Casuarina Beach, Northern Territory
Casuarina Beach is Darwin's favourite coastal playground. The longest of the 12 beaches on Darwin's irregular northern shoreline, the beach is usually calm and as well as swimming and fishing, offers walking and cycling tracks. If you're a nature enthusiast, there is a tonne of wildlife too!
Coral Bay, Western Australia
Coral Bay is a nature-lover's paradise where you can share the waters with whale sharks, manta rays, turtles and schools of gorgeous coloured fish and corals. Best of all, the reef comes almost to the water's edge making it very easy to wade in and snorkel with some amazing marine life. Keep your eyes peeled for Solo, a kangaroo from the local area who loves swimming in the water as much as people do! (true story!)
Gunyah Beach, South Australia
It's fair to say that South Australia has the best kept beach secrets in the country. On the Western Coast of the Eyre Peninsula (the triangle of land between Adelaide and the Great Australian Bight), you'll find Gunyah Beach. The surf is massive and it's dangerous too, being home to Australia's biggest rips. The massive sand dunes are absolutely spectacular too.
Bondi Beach, New South Wales
It wouldn't be a list of best beaches without Bondi, Australia's most iconic beach. It's a mecca for tourists, lifesavers, surfers and sun worshippers. Bondi is a definitive example of Sydney's city beach culture being only a short drive from the CBD. We like to swim at the North end of the beach, then grab a coffee from nearby Speedos cafe and sit in the sunshine up on the grassy knoll. Summer bliss!