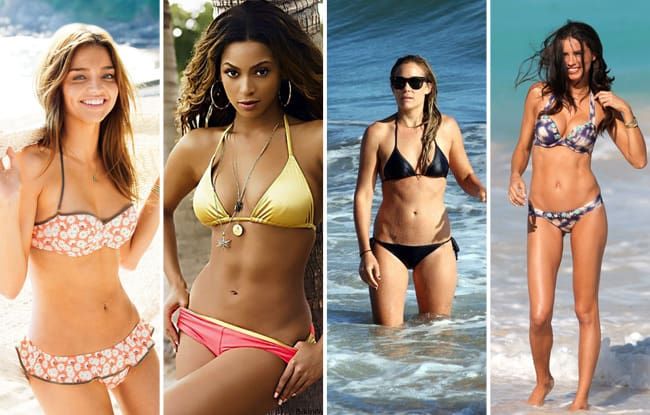 We can't believe it's Summer already! Where did the year go? Beach season has crept up on us again as it always does; and those "best ever summer body" plans somehow fell by the way-side. There was always a birthday dinner at a fabulous restaurant, or catch-up drinks with the girls to steer us away from those foolproof buff bod tactics.
We're questioning yesterday's brekkie of pastries with our morning coffee and wondering how exactly we're meant to brave the sunshine with our sort-of-more-wobbly-than-we'd-hoped-for summer bodies. Well, never fear! Follow the swiish summer seven checklist and you'll be feeling fit, firm and ready to hit the sand in no time!
Drink water. We know you have heard this a thousand times before. But there's no two ways about it. Drinking water is crucial, summer or no summer. Our bodies are made up of over 60 percent water. Drinking water helps flush toxins from our body and improves circulation, decreasing the appearance of cellulite.
Eat your fruit and veggies. This is just plain common sense, ladies! Eat clean and fresh to feel clean and fresh. You'll feel trim and less bloated with unprocessed foods floating around nourishing the organs, not to mention your energy levels will rise dramatically.
Exfoliate and moisturise. Grab a mitt and rid yourself of flaky dry skin and look lush, supple and much firmer. Exfoliating not only removes dead skin cells, it promotes circulation under the surface of our skin. Combined with a good heavy-duty moisturiser, your skin will shine. Check out our swiish tips on the best exfoliators around.
Fake Tan: We swear by fake tan. Not just because it's better than baking for hours in the sun but because it can make you look one size smaller almost instantly. You can find our favourites here.
Sun Protection: Always, always, always wear sunscreen. The Australian sun is far too powerful to go without. So as they say, slip, slop, slap.
Exercise. As hard as it is to pull the joggers on some mornings, you just feel so good once it is done. Release the endorphins, decrease the waistline, and ultimately increase the confidence. Flattering figure: Treat yourself after all this hard work and buy a new cossie. Invest in one that really flatters your shape and enhances your best bits.
If all else fails, put a smile on your dial. Everybody looks good when they're smiling. It's the truth. As humans we're drawn to people who exude happiness. So when you're putting that new cossie on, make sure you accessorise with your brightest smile whilst soaking up the vitamin D.