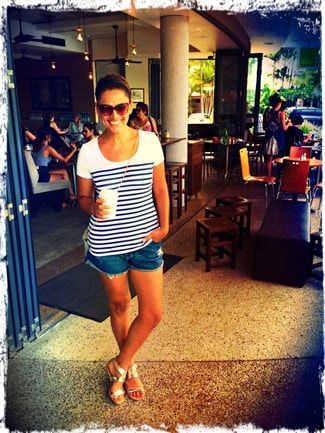 I love this t-shirt. It's simple, cute and I will get tonnes of wear out of it. But even better, it cost me less than my double-shot soy cappuccino. Yep. It cost me a grand total of $8! Yep – 8 bucks. Crazy! It's from one of my favourite labels for wardrobe basics – Mix Apparel from Coles.
In what I'm wearing here, the t-shirt is definitely the hero of the outfit. It works with just about any combo – not just with shorts in summer. In winter I will wear it with skinny jeans, flat biker boots, a khaki anorak and a scarf. Or another option is to team it with a denim skirt, navy blazer and tan ankle booties.  So many options from a t-shirt where you get change from $10!
My shoes here are from Dotti and cost only $50. My bag is also from Dotti – it's sold out now, but they have similar ones available here.