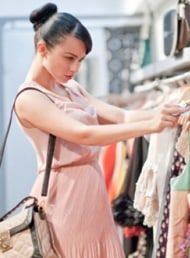 There is nothing that can brighten a woman's mood more than a '50% off' sale at her favourite store. Seeing those annual stocktake sale signs in the windows of our favourite stores gives us a warm fuzzy feeling all over. Here are some quick tips to help you conquer the crowds and get the best bargains…
1.    Research – Go in before the sales and suss out what you need, want, love so that when the sale hits you aren't wandering around aimlessly trying to find things or impulse shopping.
2.    Get in early – While no one likes the crowds that are ever-present at the start of a sale, getting in early is vital if you want to get the things you want.
3.    Dress comfortably – Wear clothes that are easy to slip off so you can try things on, and take a small handbag. You don't want to be lugging a huge bag around all day trying to manoeuvre between people.
Here are some of the sales I will most definitely be hitting up this season –
Seed Heritage, French Connection, David Jones, Saba and Portmans just to name a few! Might see you there – Happy shopping!!