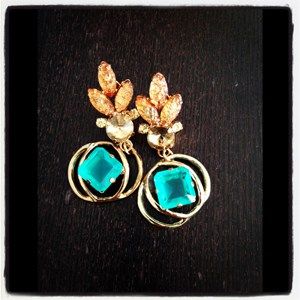 These incredible earrings were a gift from one of my closest friends. I absolutely LOOOOOOOOOVE them.
With my hair much shorter than it was, pre-cancer, I have noticed that my style has changed, and one of the things I love to wear more than ever are statement earrings. 
The reason I love them so much is that you can be wearing the simplest outfit and then BAM!, you get a hugely dramatic effect thanks to the earrings. 
Ok… so maybe the whole BAM! thing is a bit much, but you know what I'm getting at!
As soon as my darling friend gave them to me I put them on straight away and they haven't come off since!
Yesterday I wore them with a simple white silk tank and black shorts for lunch with friends and then for a Xmas dinner I kept the same outfit and just added my OTT sequin jacket. 
I've never loved a pair of earrings so much! Thanks Lucie! XX