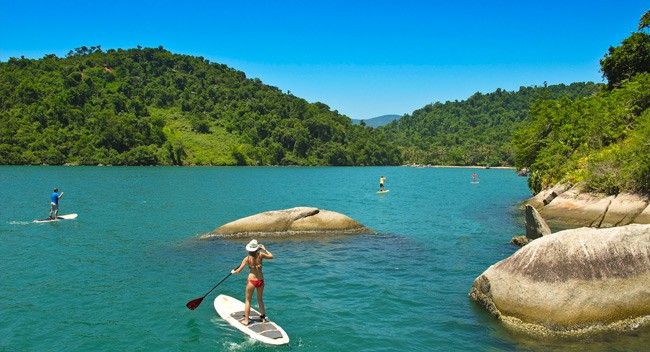 It may have its roots in the 1960s Hawaiian surf instructors' ('beach boys') habit of standing on their boards to keep an eye on tourists learning to surf, but Stand Up Paddle Boarding (SUP) has developed into something much more. It's seen a massive increase in popularity, and the sight of Stand Up paddlers on the coast isn't the rarity it once was. And it's not hard to see why – it's a great workout that's fast becoming the must-try sport for the fitness conscious.
Stand Up Paddling uses a large longboard and a canoe-style paddle, and isn't quite as easy as it looks. The combo of balancing on the board and paddling is the reason why it's such a great workout for your core as well as improving strength in your arms and legs! It's a fab cross training workout and devotees of the sport say that a mere 30 minutes will work your body harder than surfing for a few hours. Incredible!
Some find it a new way to explore the coast; others find that they get to rediscover the joys of first learning to surf. The sport is massive in the US, due in part at least to the many celebs who've been snapped Paddle-handed! Jennifer Aniston, Rihanna, Jennifer Garner, Cindy Crawford and Kate Hudson – to name just a few – have all been seen trying out some Stand Up action.
If you're sick of working on the gym's old cross-trainer, then you might want to find out what's SUP…
swiish loves: Stand Up Paddle Surfing, classes from $50. 
Most surfing schools offer SUP lessons. You can also find other Paddle schools here.