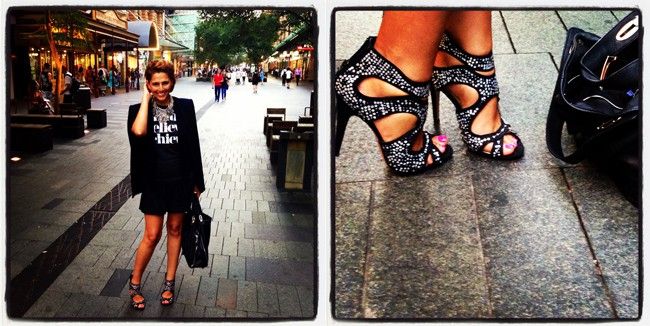 I have a confession to make. I love inspirational quotes. They find their way onto my walls as framed prints; I write them down in all my notebooks; and they get pinned to my mood boards. I find them motivating, encouraging and just that – inspiring. So when I saw this t-shirt, I fell in love. I bought it online from Sincerely Jules and it cost around $28.00. Amazing!
The jacket I'm wearing here was a total splurge; it's from Sass & Bide and cost me around $450. Though it's on the more expensive side, it is so incredibly well made and makes everything I wear it with look insanely chic. I love it. It's part jacket, part cape, part vest. So creative and clever – I wish I had thought of it myself!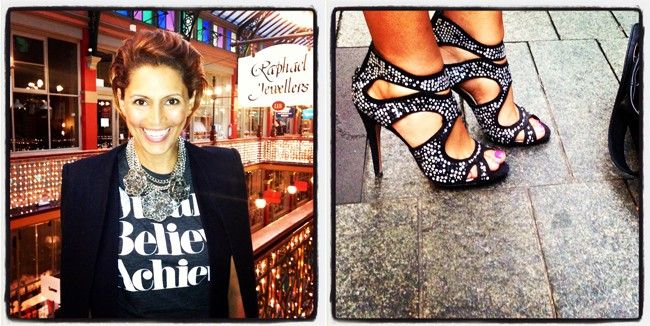 My skirt is a silk skirt from Sportsgirl. I bought it around 3 months ago. It cost me around $60 at the time. The silk looks just as good with a t-shirt and metal gladiator sandals as it does when you're all dressed up.
I'm a big fan of a statement necklace. The one I'm wearing here was $20 from a no name store in New York about 4 years ago. I wear it all the time to toughen up girly pieces.
My shoes are a new purchase from Zu. I am CRAZY about them! They were 20% off in the summer sales, so cost me $130. They look incredible with boyfriend jeans and a white tee or ankle grazing black pants and a sleeveless white shirt. They make me so happy! Maybe that's what they mean when they say 'happy feet'!