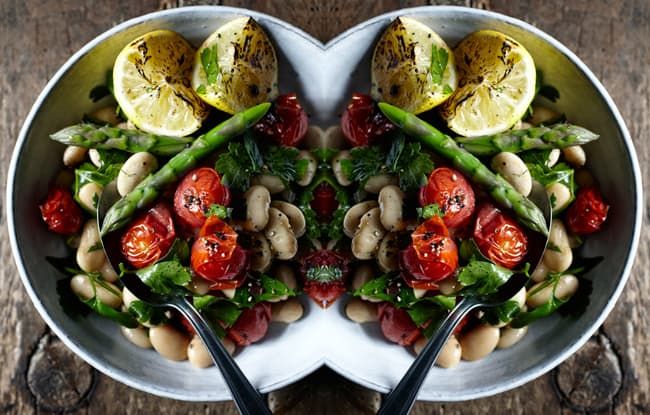 Beans – what's not to love about them!?! They're so good for your health, they taste great, they're cheap and there are so many types to choose from that there are endless ways to incorporate them into your everyday meals. Filled with iron, magnesium, protein and fibre, they pack a super healthy punch.
We've picked three of our favourite beans and selected some awesome recipes to share with you. Cannellini beans, black beans and red kidney beans all made the cut (trust us, it was a close call!).
Here are our favourite recipes that will help you include more beans into your diet.
Fagioli with Spinach
(Serves 6)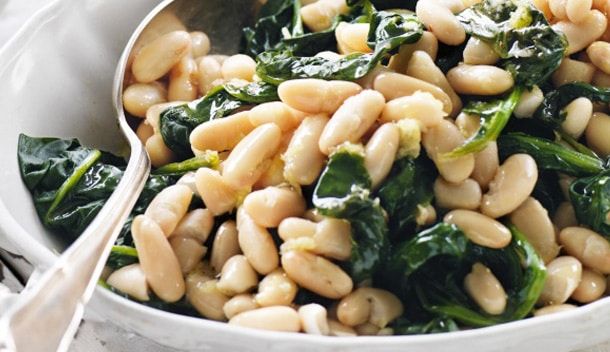 What You'll Need:

What to do:

1 fresh rosemary sprig, leaves picked

1 lemon, rind finely grated & juiced

1 bunch English spinach, trimmed, coarsely chopped

2 x 400g cans cannellini beans, rinsed, drained

Place the rosemary leaves and oil in a mortar, and pound with a pestle for 2 minutes. Strain through a fine sieve into a bowl. Stir in the lemon rind and lemon juice.
Cook the spinach in a large saucepan of salted boiling water for 1 minute. Drain, and then pat dry with paper towel.
Return spinach to pan and place over medium heat. Add the beans, garlic and oil mixture. Toss to combine and season with salt and pepper.
Chorizo, Corn and Black Bean Salad
(serves 4)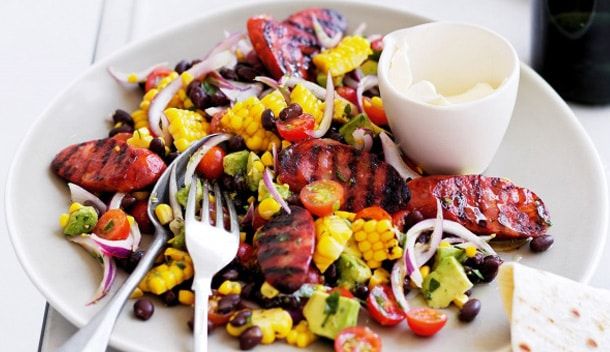 What You'll Need:

What to do

1 avocado, peeled, chopped

200g cherry tomatoes, halved

1 small red onion, sliced

Grated zest and juice of 2 limes

1 tablespoon red wine vinegar

2 tablespoons chopped coriander

4 chorizo sausages, sliced on an angle

Cook corn for 10 minutes in salted boiling water until just tender. Drain and cool slightly. When cool enough to handle, cut off kernels and place in a bowl with beans, avocado, tomato and onion. Set aside.
In a small bowl, combine cumin, lime zest and juice, vinegar and oil. Season, then toss the salad with the dressing.
Heat a lightly oiled chargrill pan or non-stick fry pan over high heat. Grill the chorizo slices for 1-2 minutes each side until crisp and cooked through. Drain on paper towel.
Meanwhile, warm the tortillas according to the packet instructions.
Toss the chorizo and coriander with the salad, then serve with sour cream and warmed tortillas.
Lebanese Lemon-Parsley Bean Salad
(Serves 4)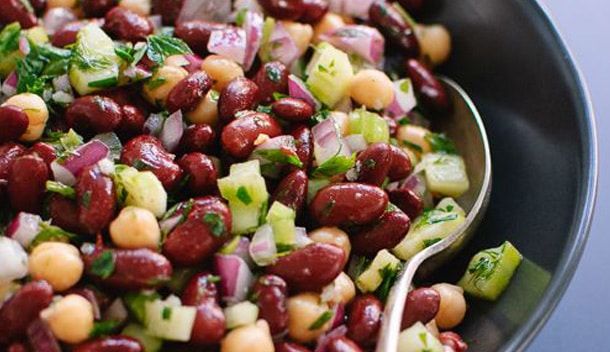 What You'll Need:

What to do:

2 cans red kidney beans, rinsed and drained

1 can chickpeas, rinsed and drained

2 stalks celery, sliced in half or thirds lengthwise and chopped

1 ripe red tomato, chopped

1 medium cucumber, peeled, seeded and diced

¾ cup chopped fresh parsley

2 tablespoons chopped fresh dill or mint

3 cloves garlic, pressed or minced

small pinch red pepper flakes

In a serving bowl, combine the prepared kidney beans, chickpeas, onion, celery, tomato, cucumber, parsley and dill (or mint).
For the lemon dressing: in a small bowl, whisk together the olive oil, lemon juice, garlic, salt and pepper flakes until emulsified. Pour dressing over the bean and vegetable mixture and toss thoroughly. Serve immediately for the most flavour, or let it marinate in the refrigerator, covered, for a couple of hours or longer.