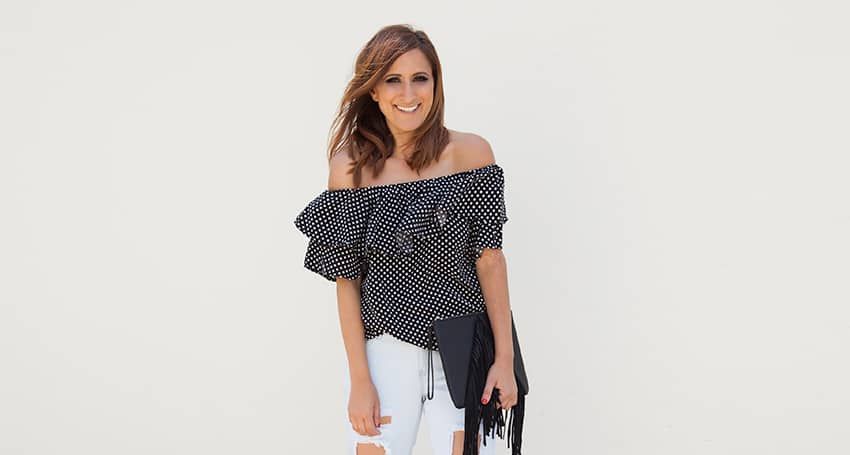 Each year, there's at least one major fashion trend that gets revived.  This year, there's been two!  And they just happened to be two of our all time faves.  Yep!  We're talking about off-the-shoulder cuts and fun, flirty polka dots.
This is exactly why we love our new Smooth Sailing top from the SWIISH online store.  With elastic shoulders, a fun polka dot print and an off-the-shoulder design, this top has the best of both trends.  Plus, it works in so many different ways! The best bit though, is that it's a one-size-fits-most… super comfy and stylish at the same time.

Below, we've pulled together some of our favourite styling suggestions for the Smooth Sailing Top for you to try…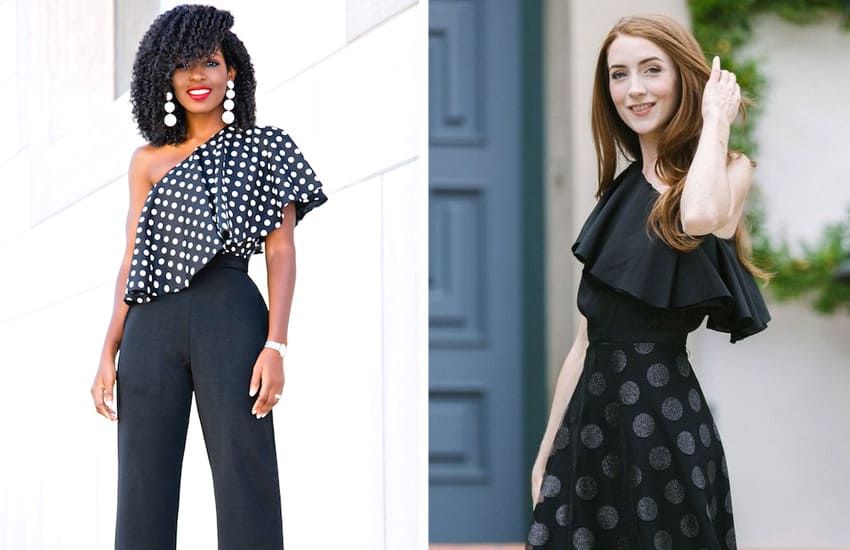 The one shoulder trend is about to blow up big time this season.  Simply pull one sleeve down over your shoulder to get the look.  We love this styled with high-waisted pants and bold accessories.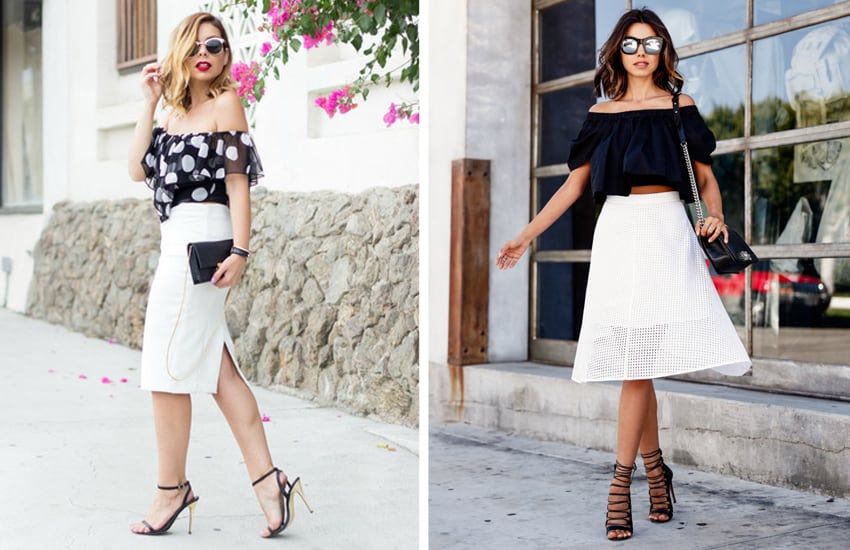 Get a chic, feminine look by pairing your Smooth Sailing Top with a high waisted white skirt.  Throw in a pair of statement sunglasses and strappy heels to complete the look.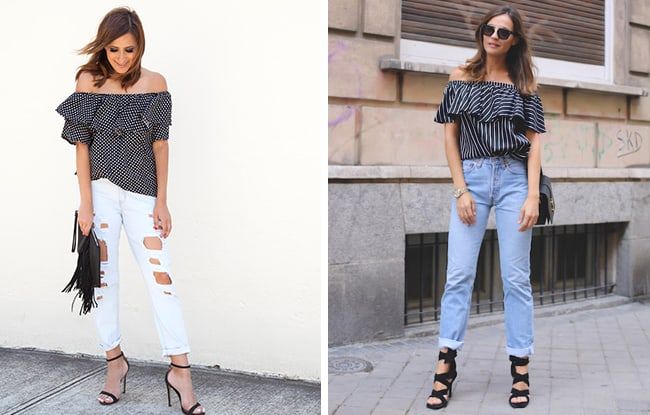 For a simple but fashion-forward look, pair your Smooth Sailing spotty top with jeans and heels.   We're wearing ours with the Get Ripped Boyfriend Jeans and New York Weekend Fringe Clutch from the SWIISH online store.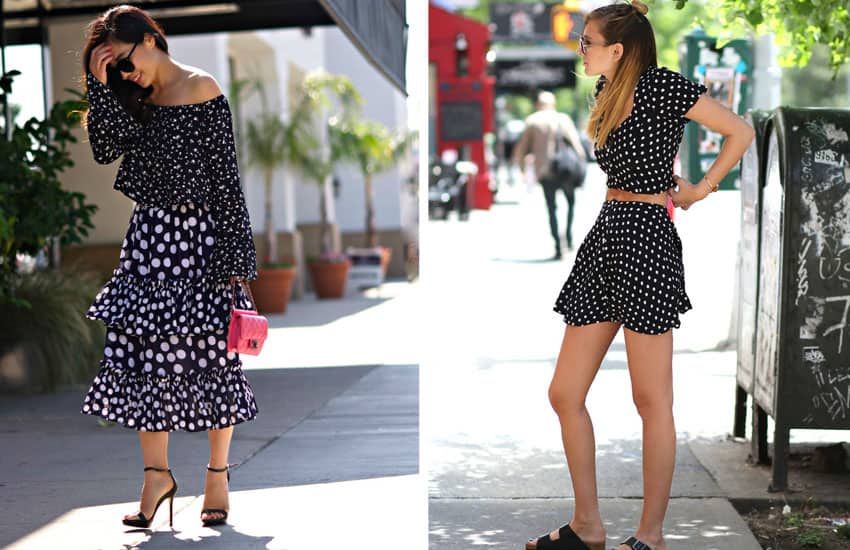 Gone are the days when clashing patterns were seen as a fashion faux pas.  Now days, matching or clashing patterns are a great way to make a statement.  Try pairing your Smooth Sailing top with a matching polka dot skirt or clashing it with a similar (but different) pattern.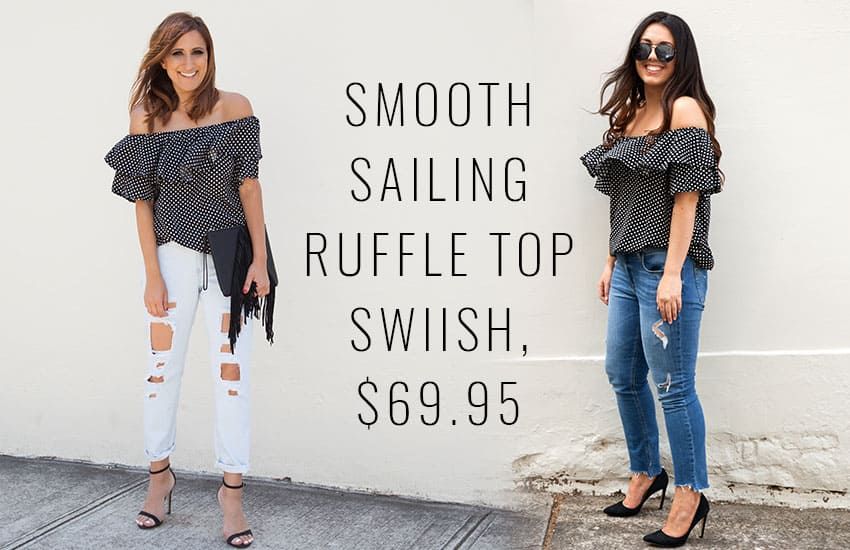 (function(){var scriptURL='https://sdks.shopifycdn.com/buy-button/latest/buy-button-storefront.min.js';if(window.ShopifyBuy){if(window.ShopifyBuy.UI){ShopifyBuyInit();}else{loadScript();}}else{loadScript();}
function loadScript(){var script=document.createElement('script');script.async=true;script.src=scriptURL;(document.getElementsByTagName('head')[0]||document.getElementsByTagName('body')[0]).appendChild(script);script.onload=ShopifyBuyInit;}
function ShopifyBuyInit(){var client=ShopifyBuy.buildClient({domain:'swiish-by-sally-obermeder.myshopify.com',apiKey:'580ddd1917dd403f61499f4c65e777ae',appId:'6',});
ShopifyBuy.UI.onReady(client).then(function(ui){ui.createComponent('collection',{id:399728269,node:document.getElementById('collection-component-2326aa524a9'),moneyFormat:'%24%7B%7Bamount%7D%7D',options:{"product":{"variantId":"all","contents":{"variantTitle":false,"description":false,"buttonWithQuantity":false,"quantity":false},"styles":{"product":{"@media (min-width: 601px)":{"max-width":"calc(25% - 20px)","margin-left":"20px","margin-bottom":"50px"}},"button":{"font-family":"Avant Garde, sans-serif","padding-left":"20px","padding-right":"20px","font-weight":"normal"},"title":{"font-size":"14px"},"price":{"font-size":"16px"},"compareAt":{"font-size":"13.6px"}}},"cart":{"contents":{"button":true},"styles":{"button":{"font-family":"Avant Garde, sans-serif","font-weight":"normal"},"footer":{"background-color":"#ffffff"}}},"modalProduct":{"contents":{"variantTitle":false,"buttonWithQuantity":false,"quantity":false},"styles":{"product":{"@media (min-width: 601px)":{"max-width":"100%","margin-left":"0px","margin-bottom":"0px"}},"button":{"font-family":"Avant Garde, sans-serif","padding-left":"20px","padding-right":"20px","font-weight":"normal"}}},"toggle":{"styles":{"toggle":{"font-family":"Avant Garde, sans-serif","font-weight":"normal"}}},"productSet":{"styles":{"products":{"@media (min-width: 601px)":{"margin-left":"-20px"}}}}}});});}})();