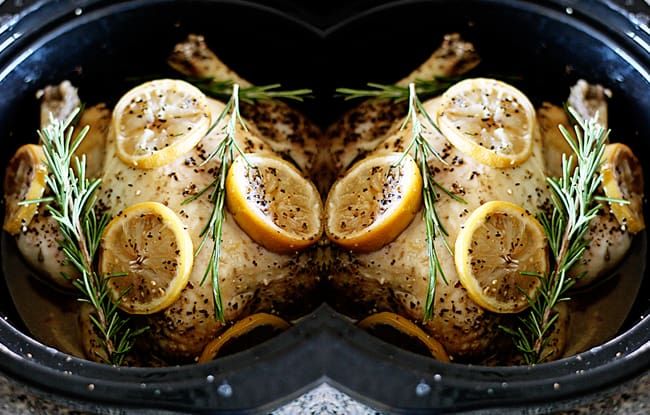 I haaaate winter. There… I said it. But as the saying goes, every cloud has a silver lining. The silver lining?? A crazy-delicious slow cooked winter meal. Easy to do, minimum prep and the smell that fills the house is unbeatable.
Slow cookers are a perfect addition to any kitchen, especially during these cooler months. Create all your favourite winter dishes, from fall-off-the-bone roasts and casseroles and even soups.
For me, the benefit is in the easy, no stress prep. I'll often throw everything in before I leave in the morning and by the time i'm back in the late afternoon the house smells like herbs and spices and garlic and onion and roasted meats …. which sounds a little stinky when you say it like that (!!), but it smells FAB.
Here are some of my favourite winter warmers…
Slow Cooked Lamb Shoulder with Roast Vegetables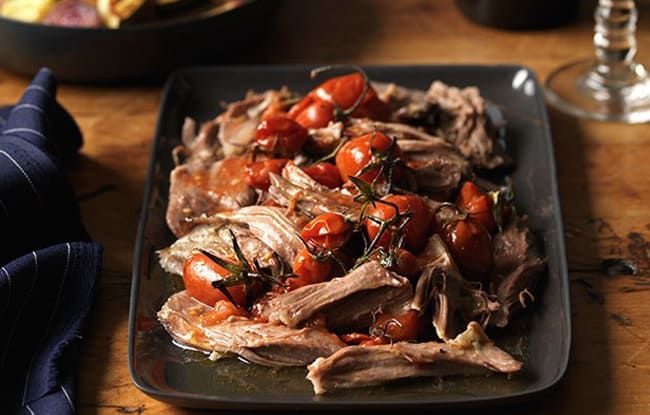 What you need

What to do

1.5 kg lamb shoulder
1 glass red wine
500 ml chicken stock
1 punnet mini-truss tomatoes

Roast vegetables

1 head garlic, halved
2 red onions, quartered
4 potatoes, peeled and quartered
4 zucchini, chopped
1 eggplant, roughly chopped Some fresh thyme sprigs
2 lemons, juice only

Put the slow cooker on the low setting (Preheat oven to 220°C).
Season lamb shoulder with sea salt and freshly ground black pepper and fry until lightly browned.
Place lamb in the slow cooker and pour the red wine and stock mixture and cook on high setting for 4 hours or low setting for 8 hours, adding the truss tomatoes during the last 30 minutes of cooking.
For roast vegetables, combine ingredients in a bowl with remaining olive oil and season with sea salt and freshly ground black pepper.
Place in a roasting tin and pour 1 cup water over.
Roast in the oven for the last 2 hours while lamb shoulder is cooking.

Source: Gourmet Traveller
Rogan Josh Braised Chicken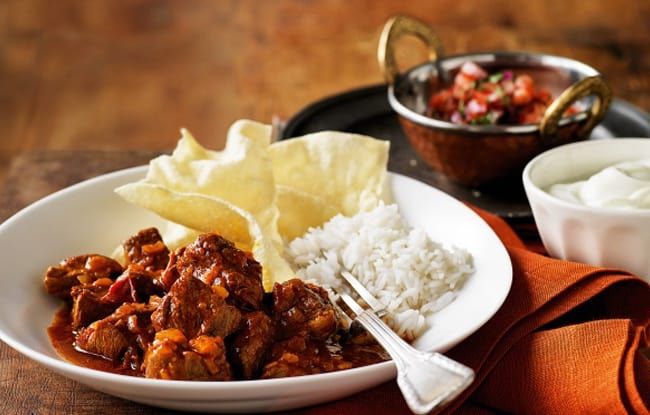 What you need

What to do

5 tbsp olive oil
2 large onions, finely sliced 2 celery sticks, finely chopped
4 garlic cloves, sliced
2.5cm piece fresh ginger, grated
½ tsp ground turmeric
½ tsp chilli powder
1 tsp ground cumin
1 tsp smoked paprika
1 tsp ground coriander
2 tsp garam masala
2 x 400g cans chopped tomatoes
300ml chicken stock
1.8kg whole free-range chicken

Put the slow cooker on low setting.
Heat 4 tbsp of the olive oil in a pan,
Fry the onion, celery, garlic, ginger and spices for 5 minutes.
Season the pan mixture well and place the chicken into the slow cooker with the tomatoes and stock. Cook on low for 5-6 hours.
Carefully remove the chicken from the slow cooker, making sure to tip out any juices from inside the cavity, and place on a warmed serving plate to rest, loosely covered in foil.
Bring the sauce to a simmer and cook for 10-15 minutes until it's thick and luscious then serve with the chicken and some steamed rice.

Source: Delicious Magazine
Slow Cooker Pork Loin and Apples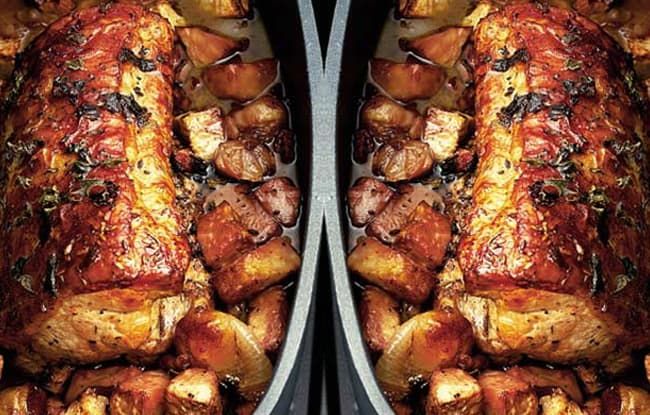 What you need

What to do

1.5-2 kilo pork loin roast
3 tablespoon dijon mustard
1 tablespoon honey
1/2 teaspoon salt
1/4 teaspoon black pepper
4 gala apples, cored and thickly sliced
1/2 cup apple cider or apple juice

In a bowl, stir to combine mustard, honey, salt and pepper.
Evenly spread the mustard mixture over the entire roast and place it in the slow cooker on either high or low setting.
Place apple slices on top of the pork loin and pour cider over the apples.
Cover and cook for 4 hours on high setting or 8 hours on low setting then serve.

Source: Spoonful
♥ swiish tip:
Found an amazing slow cooker recipe but don't have a slow cooker? You can still cook great dishes in the oven, following this table for cooking time conversions:
| | | |
| --- | --- | --- |
| OVEN OR STOVETOP COOKING TIME | LOW COOKING TIME | HIGH COOKING TIME |
|  15 TO 30 MINUTES | 4 TO 6 HOURS | 1-1/2 TO 2-1/2 HOURS |
|  35 TO 45 MINUTES | 6 TO 8 HOURS | 3 TO 4 HOURS |
|  50 MINUTES TO 3 HOURS | 8 TO 16 HOURS | 4 TO 6 HOURS |
Want to cook up a storm? Check out these great slow cookers!