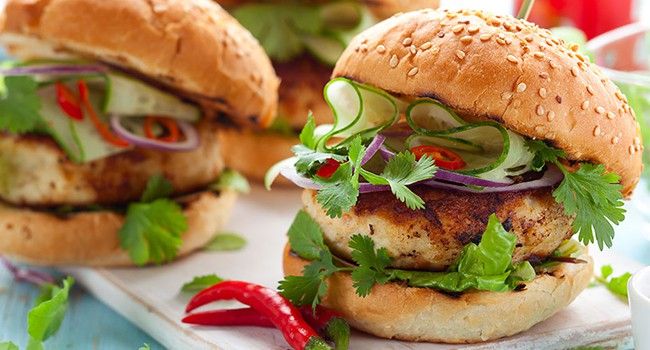 As naughty as it is, sometimes I love nothing more than to chow down on a big, old, greasy burger (ok, ok…. so I love a Big Mac) but sadly it doesn't love me back, so I try not to eat them more than a few times a year.
So I'm all for a big, juicy (and totally nutritional) and yes, yes  … still tasty… burger! If you can't do a big burger then downsize to sliders. All the taste without the volume, and they're all the rage. Just opt for mini buns and make smaller patties.
It's not often that I would say something is better than a Big Mac, but these are. And there are three of them. So that's three times better. Enjoy.

Tropical Chicken Burger
(Makes 4)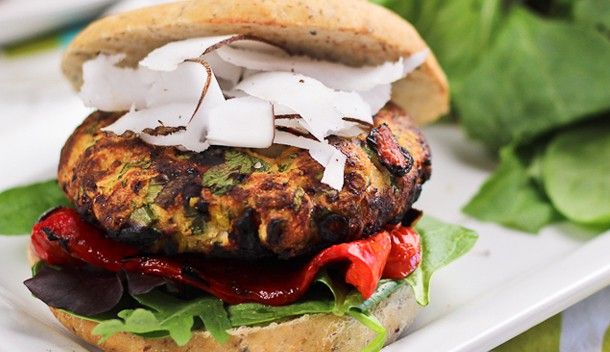 Ingredients
What to do

300g chicken breast, meat only

 1 red capsicum, finely chopped

 2 green onions, finely chopped

 ½ mango, peeled and cut into little cubes

1 jalapeno pepper, finely chopped

30g fresh coconut meat, grated (you could also use dry, unsweetened)

 ¼ cup parsley, finely chopped

Fixings:

Sourdough burger buns
 
Fresh coconut meat (optional)
 
Roasted red capsicum
Mixed leafy greens

 

Cut the chicken into small cubes and grind it in your food processor, on pulse, until it has the consistency of ground chicken.
Transfer to a large mixing bowl and add the rest of the ingredients. Mix with clean hands until all the bits and pieces are evenly distributed.
Divide the meat mixture into 4 servings and shape into patties. Set aside (you can also refrigerate the patties at this point and cook them at a later time)
Preheat your bbq to high. Or, if you are making these indoors, preheat a non-stick pan sprayed with olive oil over medium-high heat.
Lower the heat to medium and place the patties on the grill (or in the pan) and cook for about 4-5 minutes per side, or until the patties are cooked through.
Assemble on burger buns with red capsicum, coconut meat and mixed greens. Tropical delight! 

*Recipe adapted from The Healthy Foodie 
Gourmet Fish Burgers
(Makes 4)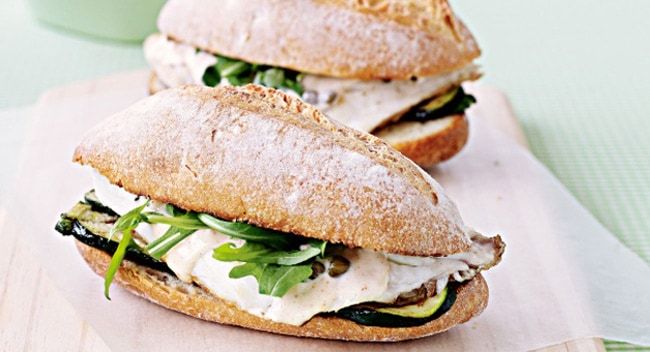 Ingredients
What to do

1/2 teaspoon chilli powder

4 x 150g firm, white fish fillets 

2 zucchini, thinly sliced lengthways

Fixings:

4 torpedo bread rolls, halved

1 tablespoon baby capers, drained 




Combine yoghurt, chilli powder and 1 tablespoon lime juice in a bowl . Cover and refrigerate. 
Preheat barbecue plate and grill on medium-high. Spray both sides fish and zucchini with oil and season with salt and pepper. Barbecue fish on plate and zucchini on grill for 2 to 3 minutes each side or until just cooked. Transfer to a plate.
Lightly brush cut side of bread rolls with oil. Grill bread rolls for 2 minutes or until toasted.
Place zucchini on roll bases. Top with fish, chilli yoghurt mixture, capers and rocket. Sandwich with roll tops. Enjoy!!

* Recipe adapted from fishandbrag.com.au 
Black Bean & Quinoa Burgers
(Makes 4)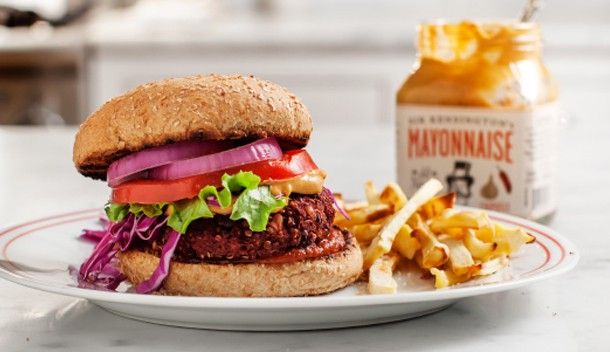 Ingredients
What to do

1 medium shallot, chopped

dried spices – 2 teaspoons each of cumin & coriander, pinch of cayenne

1 tablespoon worcestershire (or soy sauce or tamari)

1 tablespoon balsamic vinegar

1 tablespoon tomato paste

1 tablespoon grated beetroot (optional – for color)

1 cup black beans, cooked & drained (you will use 1/2 cup at a time)

1 "flax egg" (1 tablespoon ground flax 3 tablespoons water)

3/4 cup cooked red quinoa (you'll use 1/2 cup, then 1/4 cup separately)

Fixings:

toasted whole wheat burger buns

spiced yoghurt (we used Greek yoghurt crushed garlic and plenty of chilli flakes)

 

 

Preheat oven to moderate with a metal baking sheet inside.
In a small bowl, stir flax & water together and set aside.
Heat oil in a medium skillet. Add the shallot, garlic, a few good pinches of salt and pepper and cook for a few minutes until translucent. Add the dried spices, stir, and cook for 30 seconds more.
Add the worcestershire, balsamic, tomato paste, grated beet, walnuts and ½ cup black beans. Stir and cook for another few minutes and turn heat off.
Let cool slightly, then add the contents from the pan to the food processor. Add the flax egg and blend until everything is cohesive. It does not need to be perfectly smooth.
Transfer mix to a bowl and stir in the remaining 1/2 cup of black beans (smash them a little as you stir), and ½ cup of the quinoa. (You can taste & adjust seasonings at this point if you want to because there is no egg). Stir until this is all very cohesive then divide into 4 segments and roll into balls.
Place the 4 balls on a plate and sprinkle them with the remaining 1/4 cup quinoa. Gently roll them so the quinoa coats the outside of the balls, then press each in the palm of your hand to form patties. Place on baking paper (on a plate) and chill for 20 minutes.
Transfer the baking paper with your patties onto the pre-heated baking sheet. Drizzle a little olive oil on top and bake for about 15 minutes. Flip and bake for an additional 10-12 minutes until the outside is not mushy.
Let cool and serve with fixings of your choice and spicy yoghurt.

 

*Recipe adapated from Love & Lemons
♥ swiish tip: 
Want to really add to the nutritional content of these burgers? Add some belly flattening sauerkraut or pickled onions – Read why they're so good for you here. If you're after side of wedges you can't go past sweet potato & parsnip wedges. Simply cut your potato and parsnips into long wedges, brush with olive oil and a sprinkling of spices (of your choice), then bake in moderate oven for 25-30 mins or until well browned. Sooo yum!