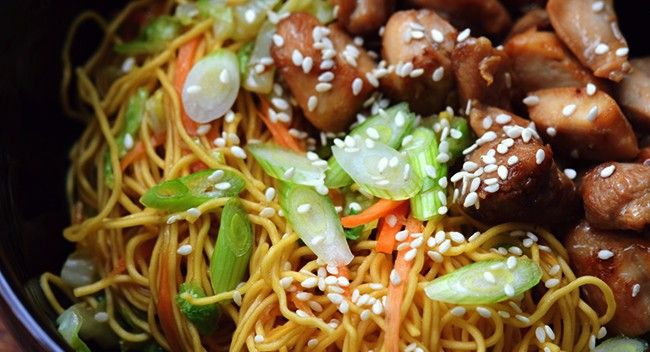 At swiish, we're firm believers that healthy and nourishing meals are often the most delicious. You don't need a high-fat feed to satiate hunger or give you your daily nutrients. Noodle dishes are actually a really great way to pack in plenty of vegies, plus they're versatile, so you won't get bored of eating healthily.
Here are our top three noodle dishes; your tastebuds and body will thank you for it!
Thai Beef Noodle Salad
This is our top noodle salad pick because it's so light and refreshing. We love the zesty limes and the zing of the chilli – so tasty!
You will need: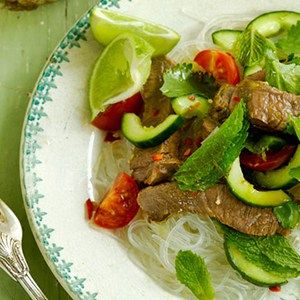 500g beef rump steak
1 lime, juced
1 tbsp fish sauce
1 tbsp brown sugar
100g vermicelli rice noodles
250g punnet cherry tomatoes, quartered
1 cucumber, halved and sliced
½ cup mint leaves
½ cup coriander leaves
Optional: extra lime wedges to serve
For the dressing:
1 lime, zest grated and juiced
2 tbsp brown sugar
2 tbsp fish sauce
1 tbsp soy sauce
1-2 finely chopped birdseye chillies
1 clove garlic, crushed
What to do:
Marinate steak in lime juice, sauce and sugar for at least two hours.
Cook steak on a high heat for 2-3 minutes each side. Rest, covered with foil, for 5 minutes. Then slice the meat thinly.
Cover the noodles with boiling water and soak for 5 minutes until tender. Then drain them and set aside.
Simply whisk all the dressing ingredients together to make your dressing.
Combine noodles, beef, tomato, cucumber and herbs with dressing in a salad bowl. Toss together and top with limes and your salad is ready!
*recipe courtesy of Woman's Day
Chicken, Sweet Corn & Noodle Soup
We love this wholesome, hearty soup. it's great for winter when it's tempting to comfort eat and load up on fatty foods. This is a healthy alternative that's just as satisfying!
You will need: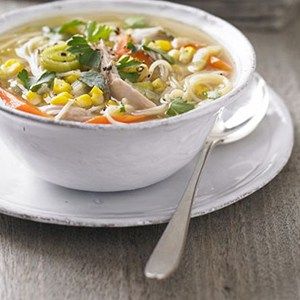 2 large carrots, chopped
2 large leeks, trimmed and finely sliced
2 corn on the cobs, corn kernels cut off
200g vermicelli noodles
100g vermicelli rice noodles
small bunch parsley, finely chopped
For the stock:
2 onions, quartered
1 leek, cut into chunks
2 carrots, thickly sliced
2 bay leaves
6 black peppercorns
parsley stalks
4 celery sticks, roughly chopped
2 tbsp vegetable bouillon or 1 vegetable stock cube
1.3kg chicken
What to do:
Put all the stock ingredients and the chicken in a very large saucepan, then cover everything with about 3 litres cold water. Bring to the boil, then lower to a simmer and cook for 1 hr-1½ hrs, until the chicken is cooked through. Skim off any froth every 20 minutes or so. Remove the chicken to a plate to cool. Strain the stock through a sieve, skimming off as much fat as you can.
Rinse out the pan and put the stock back in, then simmer on a high heat until reduced a little – you need about 2 litres in total. Add the carrots and leeks, then simmer for 10 minutes.
Meanwhile, shred the meat from the chicken, discarding the skin and bones. Add to the pan with the sweetcorn. Add the vermicelli noodles, unless you want to freeze the soup, and simmer for about 7 mins more, until the corn and pasta is cooked. Ladle into bowls, sprinkled with the parsley.
*recipe courtesy of BBC Good Food
Pork & Sugar Snap Noodle Stir-Fry
This is one of the quickest and most nutritious meals to cook. Being healthy can be super easy with stir-fries!
You will need: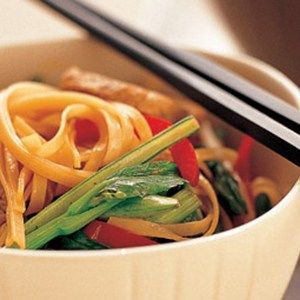 125g thick dried rice stick noodles
1 tbsp soybean oil
350g pork fillet, thinly sliced
4 spring onions, sliced
1 red capsicum, thinly sliced
200g sugar snap peas, trimmed
300g asparagus, cut into 4cm pieces
1 bunch choy sum, roughly chopped
3 tbsp soy sauce
3 tbsp mirin
1 tbsp sugar
What to do:
Put the noodles in a large bowl and cover with boiling water. Stand for 10 minutes or until the noodles are soft. Drain them and set aside.
Heat the oil in a wok until very hot and cook the pork fillet slice over a high heat until just browned and cooked through. Remove them from the wok and set aside.
Add the spring onions and capsicums to the wok with 2 tablespoons of water and cook until the capsicum is soft.
Add the remaining vegetables to the wok and stir fry until bright green and tender.
Add the pork and noodles to the wok along with the vegetables. Stir in the sauces and sugar and cook until the sauce thickens slightly. It's that simple!
*recipe courtesy of Healthy Kids NSW