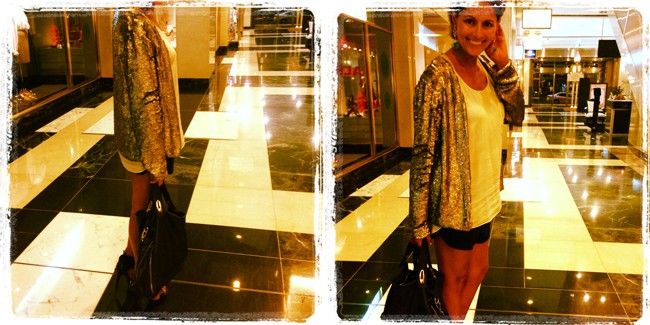 In a shockingly unprecedented move I bought a new sequin jacket. Ok, so this is neither shocking, nor unprecedented.
In fact, in case you are wondering the same thing my husband Marcus was thinking, "but you already have a jacket with sequins! Why do you need two?"…. I must clarify. This one is different.
It's completely covered in bronze sequins and it feels heavy (a good thing) and it leaves a small trail of sequins wherever I go (a bad thing).
Here I am wearing it with a white silk Sportsgirl tank (obsessed with these Sportsgirl silk tops!) and black Zara shorts. The sequin jacket is from the Fashion Gods at Zara and it was $239. It's in store now – if you love a mirror ball as much as I do, then this one's for you.