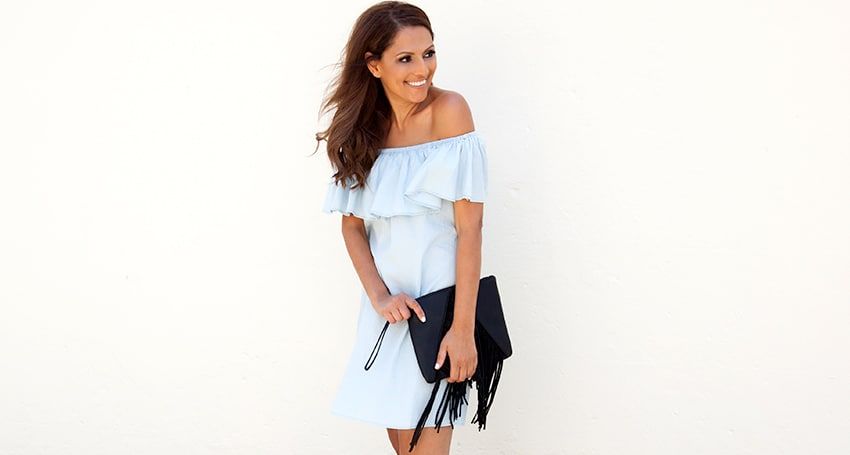 When the warm weather hits, picking a comfortable outfit can be trickier than it seems.  You want easy, stylish, throw on pieces that will keep you cool, but that at the same time don't show waaay to much skin.
With a breezy fit, a ruffle detail around the shoulder and a stunning light blue denim colour, our Sail Away With Me Denim Dress is ticking all the right boxes.  The top two reasons we love it is because it flatters every body shape AND you can wear it practically anywhere!
Below, we've put together some styling inpso to show you just how many different looks you can create with one dress…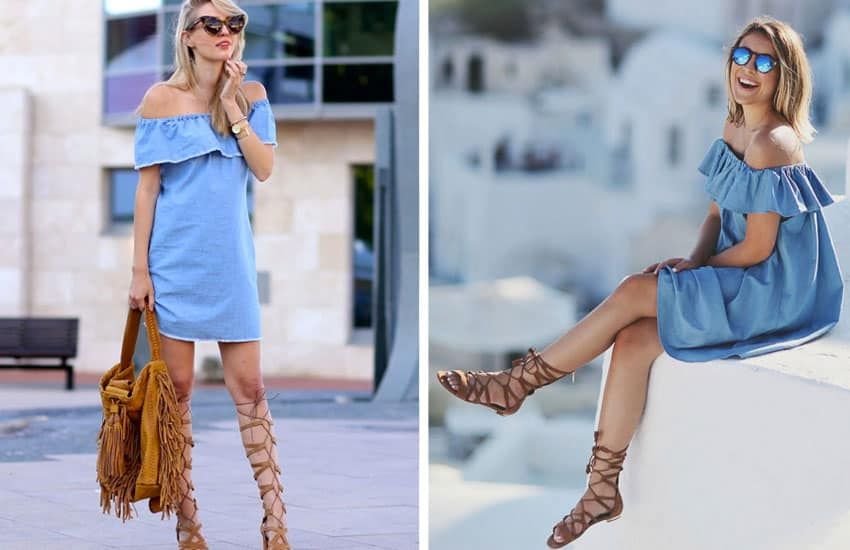 With a simple design and a light blue denim colour, the Sail Away With Me Dress can handle any accessories.  We particularly love the look of this dress paired with tan gladiator sandals and statement sunnies.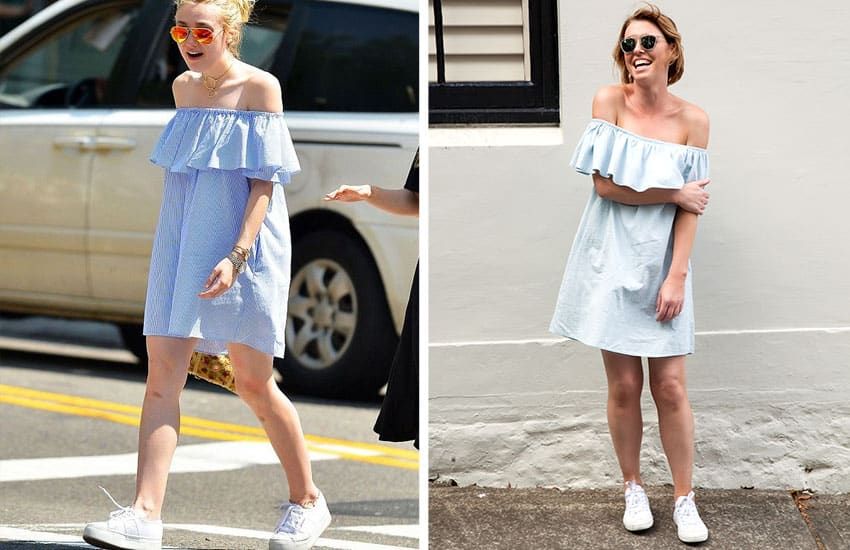 Sporty luxe has been a massive trend this year and it isn't going anywhere fast!  Pair your Sail Away With Me Dress with white sneakers and a stylish clutch for cool, laid-back look.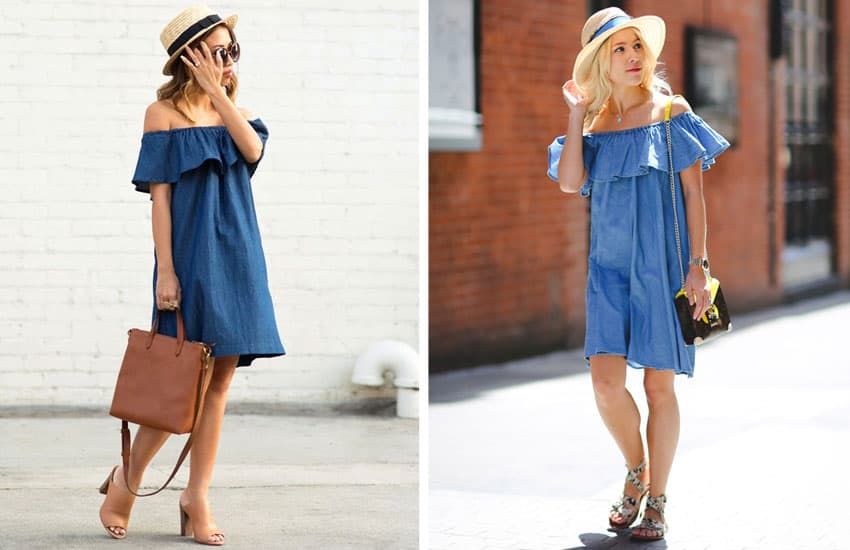 Hats are always a huge trend in summer.  We love the look of our Sail Away With Me dress paired with a straw hat, sunnies and an oversized beach bag.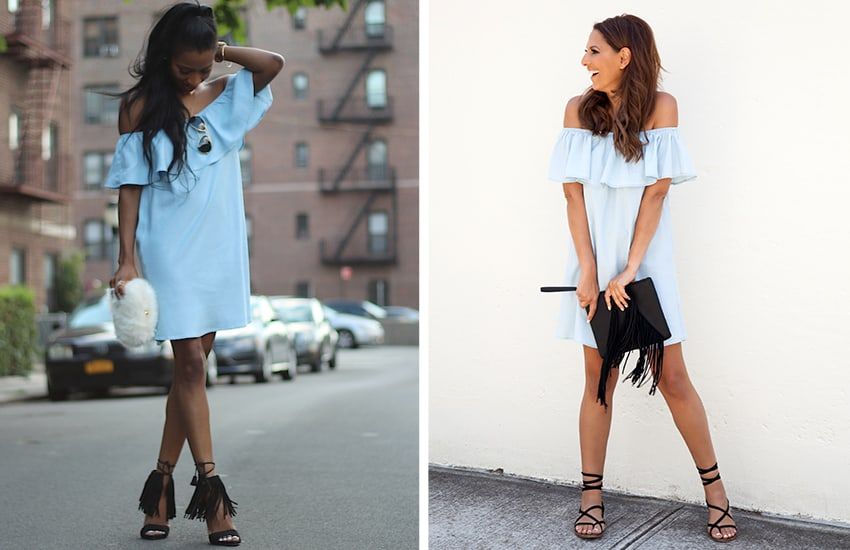 Add a fashion-forward edge to your Sail Away With Me Dress with fringe accessories.   Try teaming the dress with suede fringe heels or our New York Weekend fringe clutch.  
(function(){var scriptURL='https://sdks.shopifycdn.com/buy-button/latest/buy-button-storefront.min.js';if(window.ShopifyBuy){if(window.ShopifyBuy.UI){ShopifyBuyInit();}else{loadScript();}}else{loadScript();}
function loadScript(){var script=document.createElement('script');script.async=true;script.src=scriptURL;(document.getElementsByTagName('head')[0]||document.getElementsByTagName('body')[0]).appendChild(script);script.onload=ShopifyBuyInit;}
function ShopifyBuyInit(){var client=ShopifyBuy.buildClient({domain:'swiish-by-sally-obermeder.myshopify.com',apiKey:'b9bcd77eea223a9ac3df9c0117588ac0',appId:'6',});
ShopifyBuy.UI.onReady(client).then(function(ui){ui.createComponent('collection',{id:401187789,node:document.getElementById('collection-component-ac1ca03cda8'),moneyFormat:'%24%7B%7Bamount%7D%7D',options:{"product":{"variantId":"all","contents":{"variantTitle":false,"description":false,"buttonWithQuantity":false,"quantity":false},"styles":{"product":{"@media (min-width: 601px)":{"max-width":"calc(25% - 20px)","margin-left":"20px","margin-bottom":"50px"}},"button":{"font-family":"Avant Garde, sans-serif","padding-left":"20px","padding-right":"20px","font-weight":"normal"},"title":{"font-size":"14px"},"price":{"font-size":"16px"},"compareAt":{"font-size":"13.6px"}}},"cart":{"contents":{"button":true},"styles":{"button":{"font-family":"Avant Garde, sans-serif","font-weight":"normal"},"footer":{"background-color":"#ffffff"}}},"modalProduct":{"contents":{"variantTitle":false,"buttonWithQuantity":false,"quantity":false},"styles":{"product":{"@media (min-width: 601px)":{"max-width":"100%","margin-left":"0px","margin-bottom":"0px"}},"button":{"font-family":"Avant Garde, sans-serif","padding-left":"20px","padding-right":"20px","font-weight":"normal"}}},"toggle":{"styles":{"toggle":{"font-family":"Avant Garde, sans-serif","font-weight":"normal"}}},"productSet":{"styles":{"products":{"@media (min-width: 601px)":{"margin-left":"-20px"}}}}}});});}})();