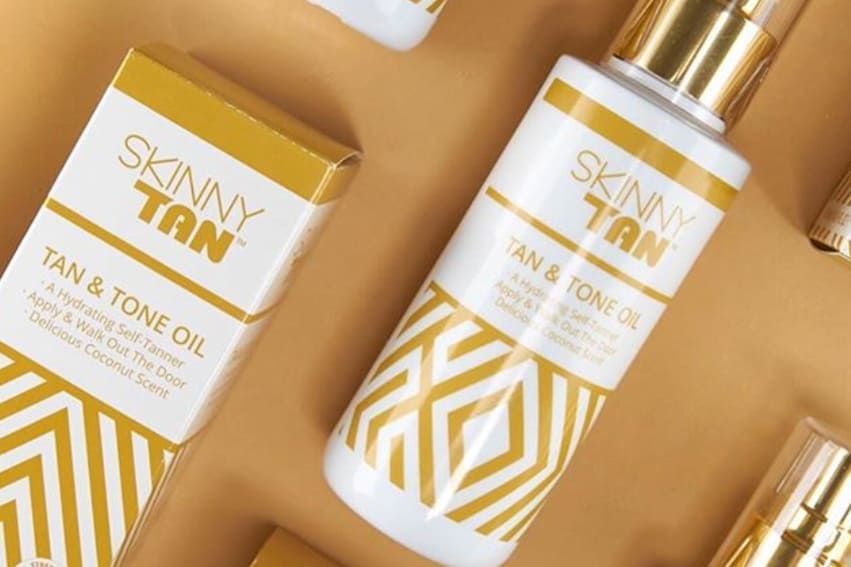 Another day, another beauty bag product and we think you guys are going to love this one! Thank you so much for all of your wonderful feedback on our inaugural post for our beauty bag series! If you missed it, you can read it here.
Today's post is all about one of our favourite products, and it's one of our faves because it's something that does double duty – you know how much we love a product that is multipurpose and hardworking!  
Skinny Tan's Tan & Tone Oil is not your ordinary fake tan. It's been designed for busy women everywhere (including us and including you!) and we're officially obsessed. Seriously. 
Two of the key ingredients in our fave Tan & Tone Oil are coconut oil and guarana, which is not only an ultra-hydrating combo, but the guarana is also an ingredient that fights cellulite. Sign us up! It's an eco-certified product that gives you a gorgeous glow and tones your body at the same time! We can't get enough!
But how do I get that glowing complexion? We're glad you asked because we're just about to tell you! 

We always exfoliate thoroughly in the shower before we apply any self-tan. We love Skinny Tan's Pre-Tan Primer to buff the skin's surface.

Don't you hate it when you apply fake tan and your knees, ankles and elbows go orange?! It's the worst so to prevent this we always apply a light layer of moisturiser to those areas.  

What we love about the Tan & Tone Oil is that all you need to do is lightly spritz it onto your skin (we always start at the bottom of our legs and work our way up) and then blend using an application mitt. (Side note: we use this one because it is double-sided with a super soft velvet finish for the smoothest application.)

We let it dry for 10-15 minutes and then get dressed and go about our day so the tan develops to the perfect colour and leaves us with a dewy, golden tan. 
Voila! You're done! Now go forth and look glowy, gorgeous and toned!