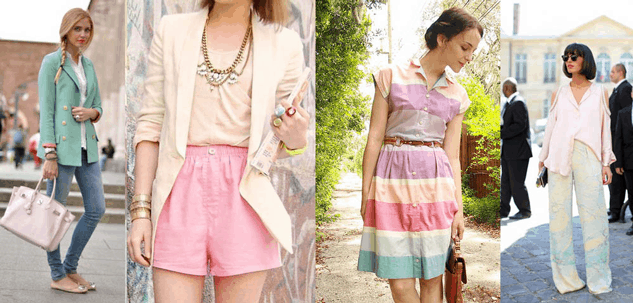 Pretty in pink or lovely in lemon?  The fashion pack are embracing pastel power this season. Think lavender pant suits like those seen on the runway at Givenchy or you can keep it cool in mint green.
It can be a fine line though between looking good and looking like you're a Stepford Wife.
Here are a few tips to make it work:
Accessorise with neutrals – Do not be afraid to mix pastel colors with neutral ones. Beige and coffee shades will help you balance the girly nature of pastels.
Keep silhouettes streamlined, you don't want head to toe pastel plus ruffles – that's too much. This is when you need to keep it simple and opt for clean lines.
Keep the sweetness to a minimum – watch your accessories. You don't want a pastel outfit plus a lace collar and girly beaded headband. That's overload. Toughen up the look with a studded clutch or statement jewellery.
If you are not self-confident yet about pastel clothes, start with small things here and there, use pastel accessories, like clutch, jewelry or shoes in candy hues.
Experiment with pastel makeup. Try a pastel pink lipstick or even pale blue nail polish, both would look amazing with a black dress or an all white outfit.
Get inspired: