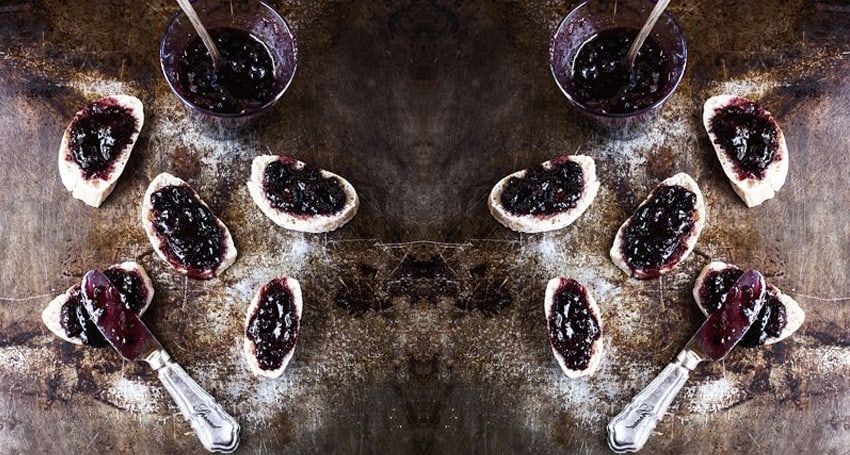 I hate when it gets to the end of winter and we have to say goodbye to some of the tastiest produce of the season.  I never want to let go of my fresh figs or pumpkin soup! But there are so many ways to preserve winter fruit and veg so you can enjoy them all year round.
Can them, pickle them, dry them out, even turn them into chutney and jam. Seriously, the possibilities are endless and soooo delicious. Plus they make a super cute, thoughtful, homemade gift!
Below are some of my favourite recipes that make ordinary fruit and veggies taste absolutely amazing, and in most cases, even better than they did before!
1. Jam
Making jam is the perfect way to preserve your favourite winter fruits.
The best fruits to make good quality jam out of should contain an adequate amount of pectin and acid.  So that includes fruits like sour berries, grapes, sour cherries, plums and cranberries. Make sure the fruit is already nice and ripe as it makes for a more flavoursome result.
Here's my top pick: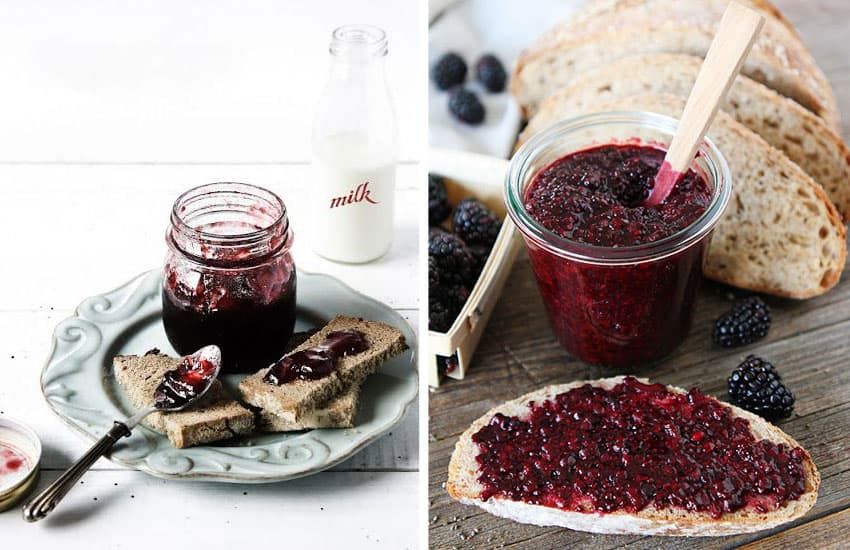 Homemade Plum Jam:  
Makes about 10 standard sized jars.

Ingredients:                        
Directions:

1.5kg plums, washed and stalks removed
Juice of 1 lemon
1 cup water
1.25kg sugar

Place plums, lemon juice and water in a large saucepan and bring to the boil, stirring occasionally.
Continue to cook, stirring frequently to prevent mixture from catching, until plums are well broken down.
Add sugar and stir until sugar is dissolved. Bring mixture back to the boil, stirring regularly, and cook until setting point is reached.
'Strain out pips. Pour into warm sterilised jars and seal immediately.

*Recipe courtesy of Sanitarium
2. Pickling and Fermenting
Pickling is great because it can be done with almost any fruit or vegetable!  However, pickling works best if the produce was picked no longer than 24 hours before.  Fermenting is a little different in that you use salt and water as well.  Fermented vegetables create their own acidic liquid that has amazing health benefits including healthy digestion.
Here's my favourite recipe for preserving cabbage: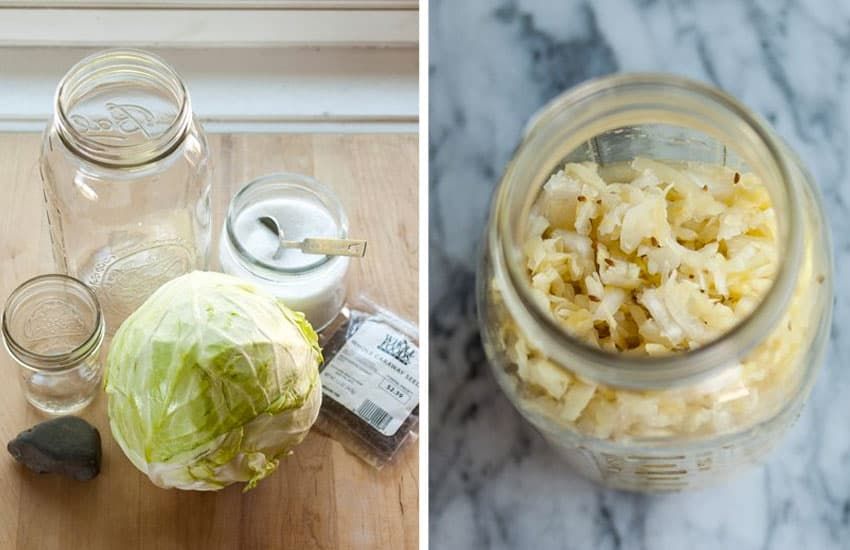 Sauerkraut in a Mason Jar
Makes approx. 1 kg
Ingredients    
Directions

1 medium head of green cabbage

1.5 tablespoons of kosher salt

1 tablespoon of caraway seeds

Cut the cabbage into quarters and trim out the core. Slice each quarter down its length, making 8 wedges. Slice each wedge crosswise into very thin ribbons.

Transfer the cabbage to a big mixing bowl and sprinkle the salt over top. Work the salt into the cabbage by massaging and squeezing the cabbage with your hands. Gradually, the cabbage will become watery and limp — then add the caraway seeds. 

Pack the cabbage into the mason jar with your fist and pour any remaining liquid into the jar as well.

Once all the cabbage is packed into the mason jar, slip the smaller jelly jar into the mouth of the jar and weigh it down with clean stones or marbles. This will help keep the cabbage weighed down, and eventually, submerged beneath its liquid.

Cover the mouth of the mason jar with a cloth and secure it with a rubber band or twine.

Over the next 24 hours, press down on the cabbage every so often with the jelly jar.

Add extra liquid, if needed: If after 24 hours, the liquid has not risen above the cabbage, dissolve 1 teaspoon of salt in 1 cup of water and add enough to submerge the cabbage.

Ferment the cabbage for 3 to 10 days: As it's fermenting, keep the sauerkraut away from direct sunlight and at a cool room temperature — ideally 17-20

°C

. Check it daily and press it down if the cabbage is floating above the liquid. Start tasting it after 3 days — when the sauerkraut tastes good to you, remove the weight, screw on the cap, and refrigerate.

Store sauerkraut for several months: This sauerkraut is a fermented product so it will keep for at least two months and often longer if kept refrigerated. As long as it still tastes and smells good to eat, it will be.

*Recipe courtesy of The Kitchn

3. Drying
Drying out produce is a fantastic way to keep them edible all year round.  In terms of vegetables, garlic, popcorn, chili peppers, tomatoes and chili peppers are the best to use.
Because drying also removes the juice of fruit and vegetables, it can completely change their flavour!  Often this means flavour is intensified.   Take dried tomatoes for instance – yum!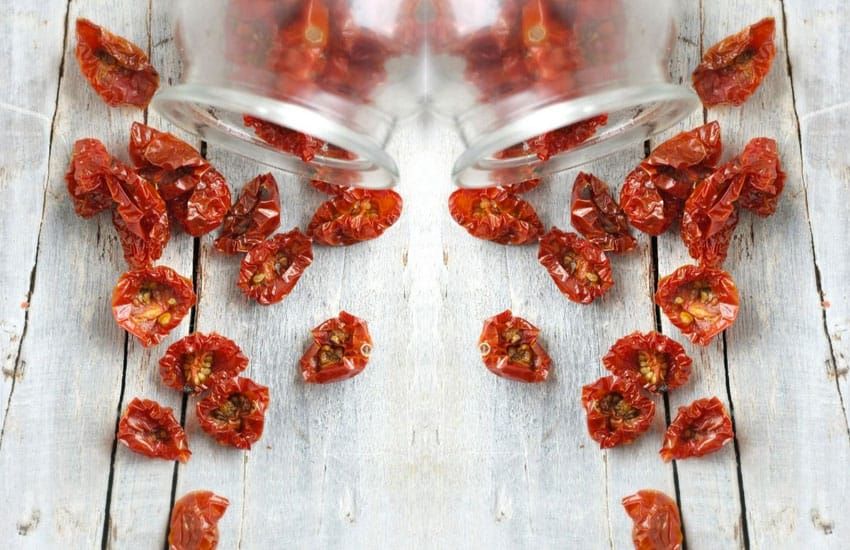 Oven Dried Tomatoes
Makes 2 cups
Ingredients: 
Directions:

2.5 kg of Roma tomatoes

Fine sea salt

Preheat oven to 100

°C

or the lowest setting possible.   Remove the oven racks.

Trim and discard the stem ends of the 

tomatoes

. Halve each tomato lengthwise. Arrange the tomatoes, cut side up, side-by-side and crosswise on cake racks set on the oven racks. Do not allow the tomatoes to touch one another. Sprinkle lightly with 

salt

.

Place in the oven and bake until tomatoes are shriveled and feel dry, anywhere from 6 to 12 hours. Check the tomatoes from time to time: They should remain rather flexible, not at all brittle.

Once dried, remove the tomatoes from the oven and allow them to thoroughly cool on cake racks.

Transfer the tomatoes to zip-lock bags. The tomatoes will last indefinitely.

*Recipe courtesy of Homemade

4. Chutney
Who doesn't love a great chutney?  Perfect as an accompaniment for roasts and steaks. It doesn't stop there though, we love to make sweet chutneys with fruit as well. For spicy chutneys, you'll want to use ingredients like tomatoes, onions and green capsicum.  For the sweeter ones, we love fruit like mangoes, dates or rhubarb. My personal favourite?  Date and rhubarb.  This one makes for a seriously scrumptious addition to any cheese plate.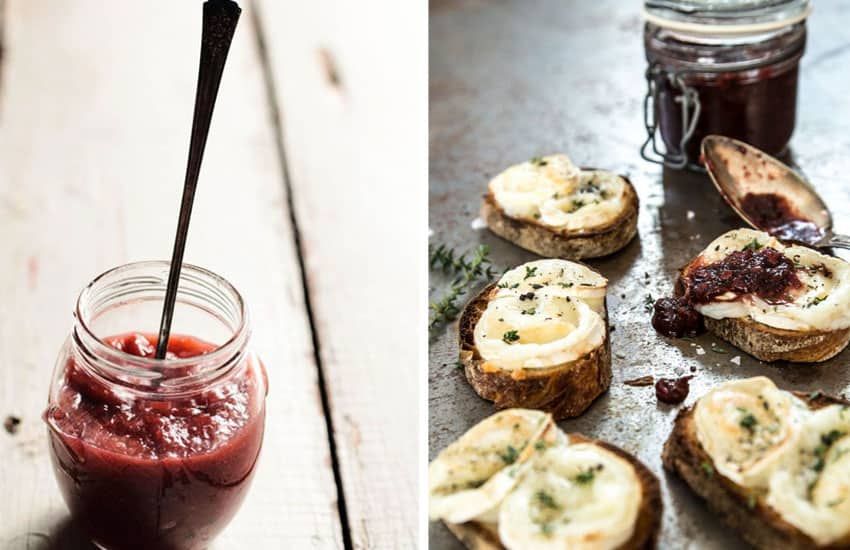 Date and Rhubarb Chutney
 Ingredients:   
Directions:

50g fresh root ginger, grated

300ml red wine vinegar

500g apples, peeled and finely chopped

200g pitted dates, chopped

200g dried cranberries or raisins

tbsp mustard seed

1 tbsp curry powder

400g light muscovado sugar

700g rhubarb, sliced into 2cm chunks

500g red onions

Put the onions in a large pan with the ginger and vinegar. Bring to the boil, then simmer for 10 mins. Add the rest of the ingredients, except the rhubarb, plus 2 tsp salt to the pan and bring to the boil, stirring. Simmer, uncovered, for about 10 mins until the apples are tender.

Stir in the rhubarb and cook, uncovered, until the chutney is thick and jammy, about 15-20 mins. Leave the chutney to sit for about 10-15 mins, then spoon into warm, clean jars, and seal. Label the jars when cool. Keep for at least a month before eating.

*Recipe courtesy of BBC Good Food
5. Relish
Relish, like chutney, can be made from either fruit or vegetables.  However, for this type of thing it's best to use the ones that aren't way too juicy (otherwise you'll have a sloppy soup on your hands!)  Cranberries are perfect to preserve during Winter, especially if you want to use them at Christmas time!
Give this recipe a go: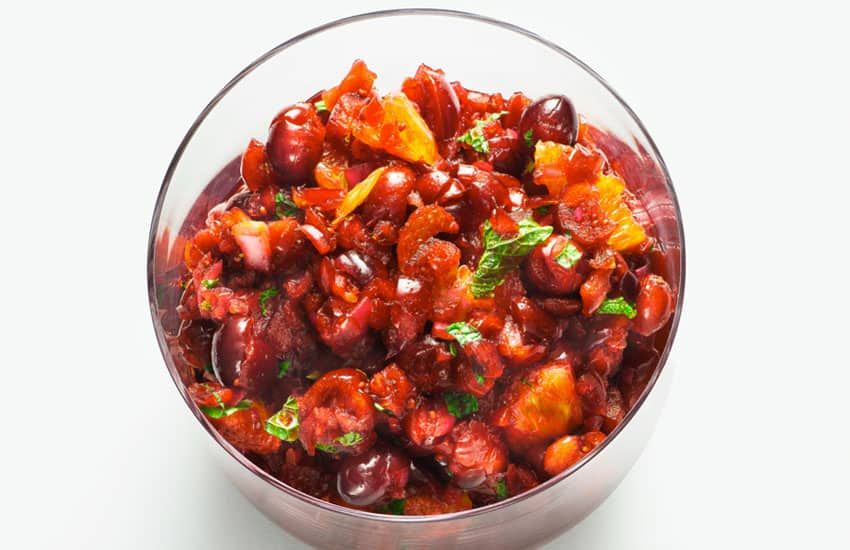 Cranberry-Orange Relish with Mint
Ingredients:

Directions:

680g, frozen or thawed cranberries

4 navel oranges

¾ cup sugar

½ cup minced red onion

¼ cup chopped fresh mint

1 tablespoon minced, peeled ginger

Pulse the cranberries in a food processor until coarsely chopped and transfer to a large bowl.

Finely grate 2 teaspoons of orange zest from 1 of 4 navel oranges; set aside.

 Using a sharp paring knife, remove peel and white pith from oranges.

Working over a medium bowl, cut between membranes to release orange segments

Coarsely chop segments; add to cranberries.

Stir sugar, onion, mint, ginger and the remaining orange zest into the cranberry mixture

Cover; let stand at room temperature for 2 hours. 

Can be made 1 day ahead.  Cover and Chill.

* Note – this relish can be frozen and kept for up to three months!

*Recipe courtesy of Bon Appetit
Still not convinced?  Check out some of these amazing ideas…