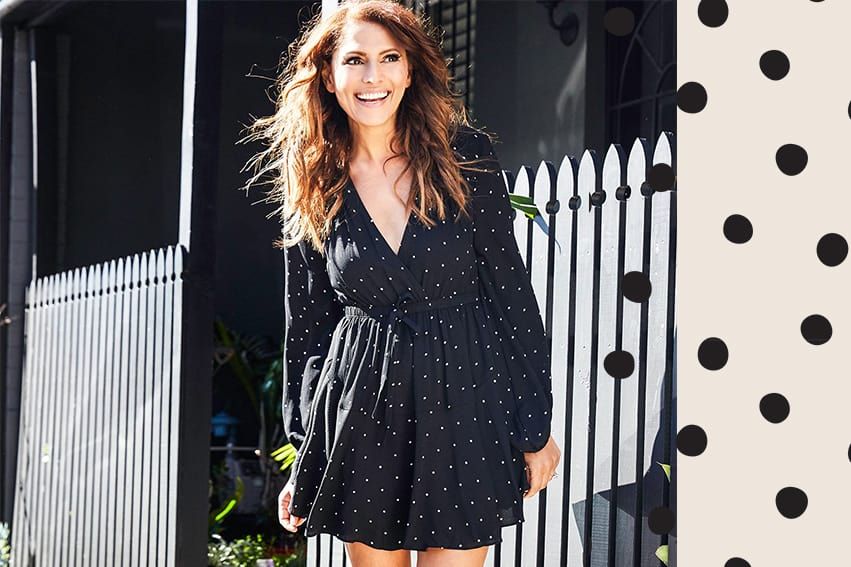 When we think of polka dots, we have vivid flashbacks to our childhood when we were constantly dressed in the pattern universally loved by all mothers everywhere haha! You too?
But the pattern once reserved for children under the age of ten has made a major comeback over the past year or two, and in all honesty, we love it.
The significance of dots in the New Year also doesn't go unnoticed. Apparently, in some culture's traditions if you wear dots or circular patterns in the New Year (we're going to say the whole of January), it represents coins and money for wealth in the coming year. Sign us up for ALL the dots if that is the case ha!
Whilst monochrome polka dots are the most popular, don't be afraid to wear polka dots of any colours. We personally love a red or pink polka dot! If you wear a head to toe polka dot outfit, we suggest mixing and matching tops and bottoms of a different size and colour, or wearing a black and white polka dot maxi, to elongate the body. 
If you're now on the hunt for some polka dots (don't forget they symbolise wealth in a new year!), then check out our favourite polka dot pieces below.

(function(){var scriptURL='https://sdks.shopifycdn.com/buy-button/latest/buy-button-storefront.min.js';if(window.ShopifyBuy){if(window.ShopifyBuy.UI){ShopifyBuyInit();}else{loadScript();}}else{loadScript();}
function loadScript(){var script=document.createElement('script');script.async=true;script.src=scriptURL;(document.getElementsByTagName('head')[0]||document.getElementsByTagName('body')[0]).appendChild(script);script.onload=ShopifyBuyInit;}
function ShopifyBuyInit(){var client=ShopifyBuy.buildClient({domain:'swiish-by-sally-obermeder.myshopify.com',apiKey:'b9bcd77eea223a9ac3df9c0117588ac0',appId:'6',});
ShopifyBuy.UI.onReady(client).then(function(ui){ui.createComponent('collection',{id:3617292301,node:document.getElementById('collection-component-7ffb582ea98'),moneyFormat:'%24%7B%7Bamount%7D%7D',options:{"product":{"variantId":"all","contents":{"imgWithCarousel":false,"variantTitle":false,"description":false,"buttonWithQuantity":false,"quantity":false},"styles":{"product":{"@media (min-width: 601px)":{"max-width":"calc(25% - 20px)","margin-left":"20px","margin-bottom":"50px"}},"button":{"background-color":"#fdcfcf","color":"#000000",":hover":{"background-color":"#e4baba","color":"#000000"},":focus":{"background-color":"#e4baba"}}}},"cart":{"contents":{"button":true},"styles":{"button":{"background-color":"#fdcfcf","color":"#000000",":hover":{"background-color":"#e4baba","color":"#000000"},":focus":{"background-color":"#e4baba"}},"footer":{"background-color":"#ffffff"}}},"modalProduct":{"contents":{"img":false,"imgWithCarousel":true,"variantTitle":false,"buttonWithQuantity":true,"button":false,"quantity":false},"styles":{"product":{"@media (min-width: 601px)":{"max-width":"100%","margin-left":"0px","margin-bottom":"0px"}},"button":{"background-color":"#fdcfcf","color":"#000000",":hover":{"background-color":"#e4baba","color":"#000000"},":focus":{"background-color":"#e4baba"}}}},"toggle":{"styles":{"toggle":{"background-color":"#fdcfcf",":hover":{"background-color":"#e4baba"},":focus":{"background-color":"#e4baba"}},"count":{"color":"#000000",":hover":{"color":"#000000"}},"iconPath":{"fill":"#000000"}}},"productSet":{"styles":{"products":{"@media (min-width: 601px)":{"margin-left":"-20px"}}}}}});});}})();