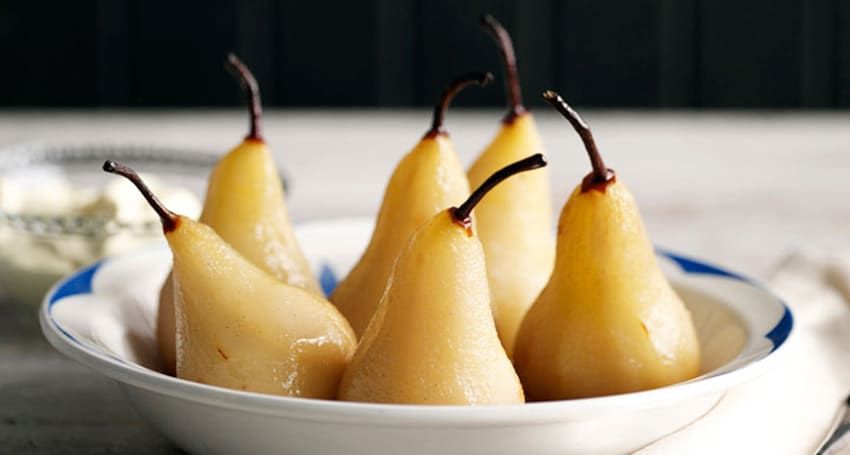 Pears… quite simply, we love 'em! They're versatile, delicious, insanely healthy and right now, super cheap as they're in season.
If you're in need of a fibre hit, try eating a pear. Want to amp up your antioxidant consumption? Go a pear. Oh what's that? You're looking for anti-inflammatory foods? Lucky then, as pears have that covered too. Got the 3pm munchies? Have a pear and be sure to leave the skin on as it contains half of the dietary fibre (just wash thoroughly first if eating non-organically grown pears).
It's no secret that we love to use pears in our Super Green Smoothies but here are a few other delicious ways to make the most of this powerhouse fruit.
Read on. We promise you won't be disappointed!
COCOA PEAR CHIPS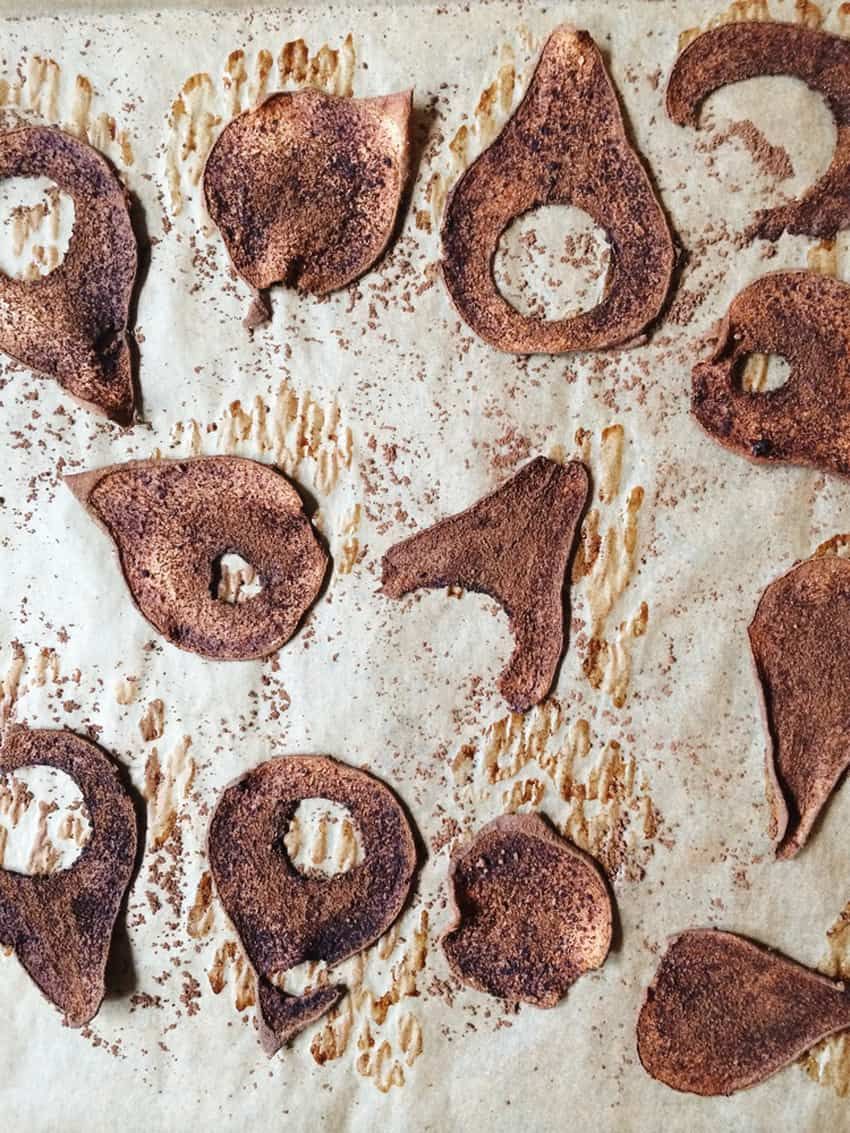 WHAT YOU'LL NEED:

3 ripe pears
3 tbsp stevia (optional)
1 tsp cinnamon
2 tbsp cocoa

WHAT TO DO:

Preheat oven to 180C
Halve each pear and cut out core
Slice each pear half into very thin slices on a mandoline (should make about 10 slices per half pear)
Mix cocoa, cinnamon and stevia (if using) in bowl
Place pears on baking paper lined trays
Sprinkle the pears with mixture and bake for approximately 1 hour or until dry.
Cool on rack or sheet. Store up to 2 days.

*Original recipe here
PORK & PEAR TRAY BAKE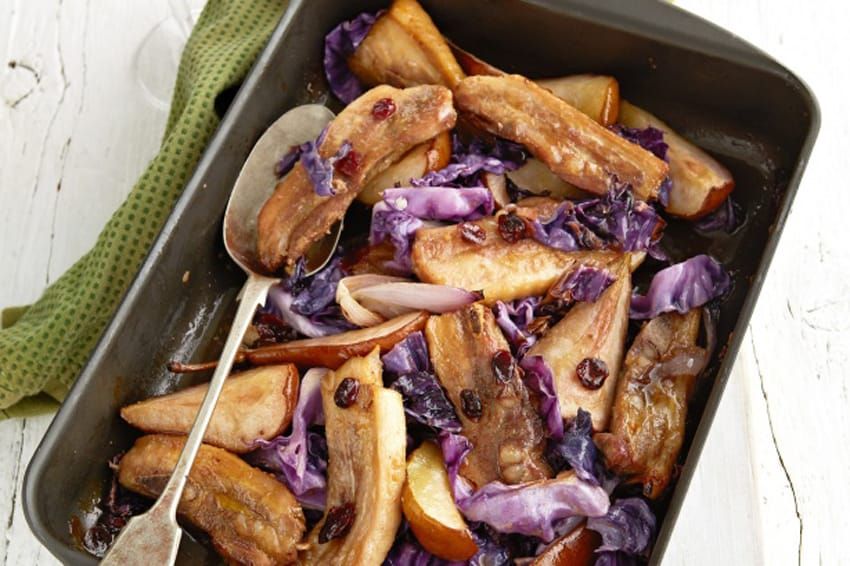 WHAT YOU'LL NEED:

8 spare pork ribs
1 medium red onion, cut into wedges
3 garlic cloves, crushed
2 tablespoons olive oil
1/3 cup maple syrup
1/2 baby red cabbage, thickly sliced
3 pears, quartered & cored
1/2 cup dried cranberries

WHAT TO DO:

Preheat oven to 180°C/160°C fan-forced. Combine pork and onion in a large roasting pan. Combine garlic, oil and half the maple syrup in a jug. Drizzle over pork mixture.
Bake for 20 minutes. Turn pork. Add cabbage, pears and cranberries to pan. Drizzle with remaining maple syrup. Season with salt and pepper. Bake for 40 minutes or until pork is cooked through and pears are tender. Serve.

*Original recipe here
ALMOND, PEAR & OLIVE OIL CAKE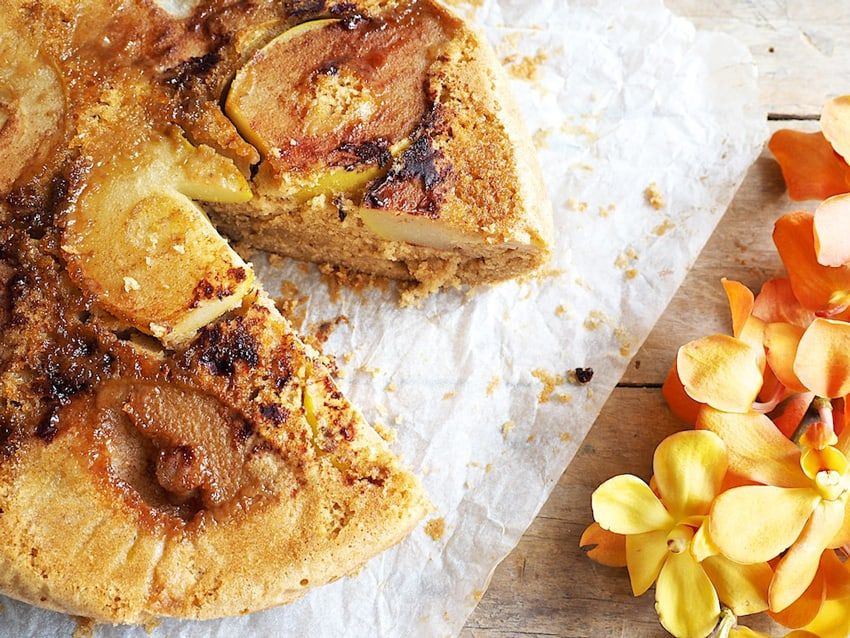 WHAT YOU'LL NEED:

3 small pears
1 cup brown sugar
Cinnamon
1/3 cup extra virgin olive oil
1/2 cup buttermilk
juice of 1 mandarin
1 cup almond meal (almond flour)
1.5 cups SR flour

 WHAT TO DO:

Preheat oven to 180°C
Line a round cake tin with baking paper. Sprinkle the base with 2 tablespoons of brown sugar and a little cinnamon
Cut the pears into two, scoop out the core, then cut each half into two, lengthways. Line the base of the cake tin with the pears
Beat the eggs with sugar until fluffy, add 1 teaspoon of cinnamon, oil, buttermilk and mandarin juice and whisk well. Add the almond flour and the sifted self-raising flour and gently incorporate them into the batter without over mixing. Pour the batter over the pears and bake for 40-45 minutes or until a skewer comes out clean when inserted into the center of the cake.
Turn up side down and leave to cool on a rack for 30-45 minutes before serving. Enjoy as it is or with vanilla gelato, cream or thick Greek yoghurt.

*Original recipe here