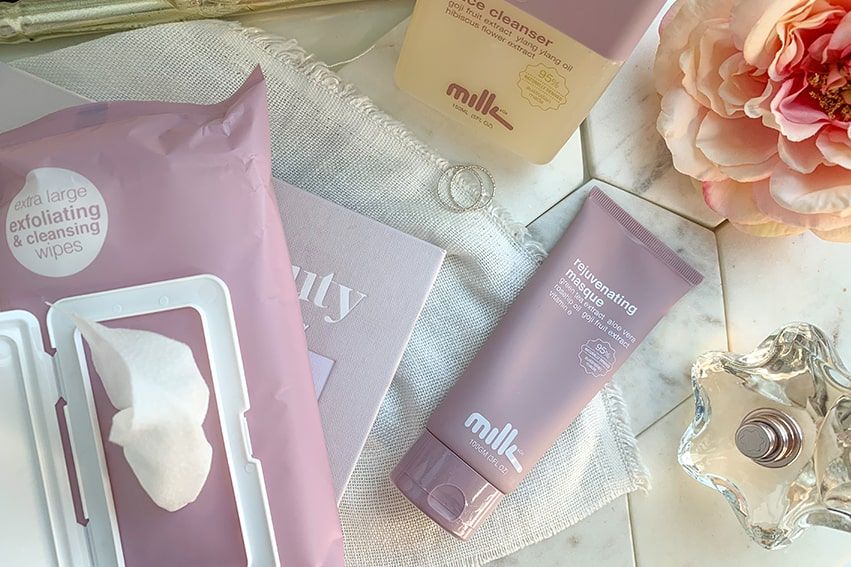 There are two kinds of people. Those who, when packing for a trip take just their toothbrush and toothpaste (who are these people – LOL). 
And then there are those who decide they need EVERYTHING … even if it is just an overnighter. Hands up if that's you, because it certainly is us!  You pack all these things and then before you know it your toiletries bag weighs more than a long haul suitcase. 
Because we can't bear to leave anything at home – we've found the perfect solution. Milk & Co has three of our all-time favourite products all packed in together – ready to go, so you can nourish and pamper yourself, without being weighed down.
Here's what's included: 
Face Cleanser 
Designed to wash away your day, this naturally based foaming cleanser, is perfectly scented with essential Geranium Oil and Ylang Ylang, and with the right amount of extracts of Hibiscus Flower and Turmeric. 
This Face Cleanser is the ideal wash to invigorate the senses and refresh the skin. And of course, it is paraben free and perfect for all skin types. 
Beauty Wipes
Offering exfoliating micro beads on one side to wipe away the muck and grime, whilst offering the perfect cleansing tool on the reverse side. These extra-large wipes will be your saviour during both work and play. 
These dual sided beauty wipes are also paraben and alcohol free, lightly fragranced and suitable for all skin types. No doubt you'll love them as much as we do.
Rejuvenating Face Mask
Containing all the right ingredients such as green tea extract, aloe vera, rosehip oil, Goji fruit extract and vitamin E. No surprises there! 
Milk & Co. have combined these multiple fruit extracts with vitamin E and green tea extract to exfoliate, smooth and moisturise your skin, clearing away dead cells. 
For under $40 we think we've struck gold with this pack. It even comes with a cute bag too! To get your hands on one head here.